Hello everyone!
Today I have swatches of the newest collection by my beloved Cult Nails. This is the Dance all Night collection. This release consists of Three lovely creme polishes, and Three fantastic layering glitterbombs. If you are not a part of "The Cult" yet, this is the perfect collection to start off with as it showcases the strengths of Cult Nails so well. There is a little bit of everything for everyone.
Even though the collection is made up of "complimenting" pairs, I decided to do some more unexpected layering combinations to really make each color pop.
Cult Nails Center of Attention over Cult Nails Nakizzle's Shizzle
Center of Attention is a magnificent blend of vivid Pink-Rose sparkling hexes in varying sizes accented by a heavy dose of smaller iridescent sparkles in a clear base. The slightly larger hexes have a very minimal curve to them, but they all lay flat. This polish is like a bouquet of sparkling flowers in a bottle. Formula-wise, it is a little thick, I did not find this to be a problem. I used One coat of Center of Attention over my sky Blue base. I could wear this layering combination for ages.
Cult Nails Nakizzle's Shizzle
Nakizzle's Shizzle
is an amazing shade of vivid, clean Sky Blue creme. This is your quintessential shade of Sky Blue. This shade is beautifully bright, yet flattering and completely wearable. The formula on this color is Cult Nails at their finest; so glossy, even and smooth. This color practically applies itself, I used Two effortless coats for my swatch.
Cult Nails Walk of Shame over Cult Nails Love at First Sight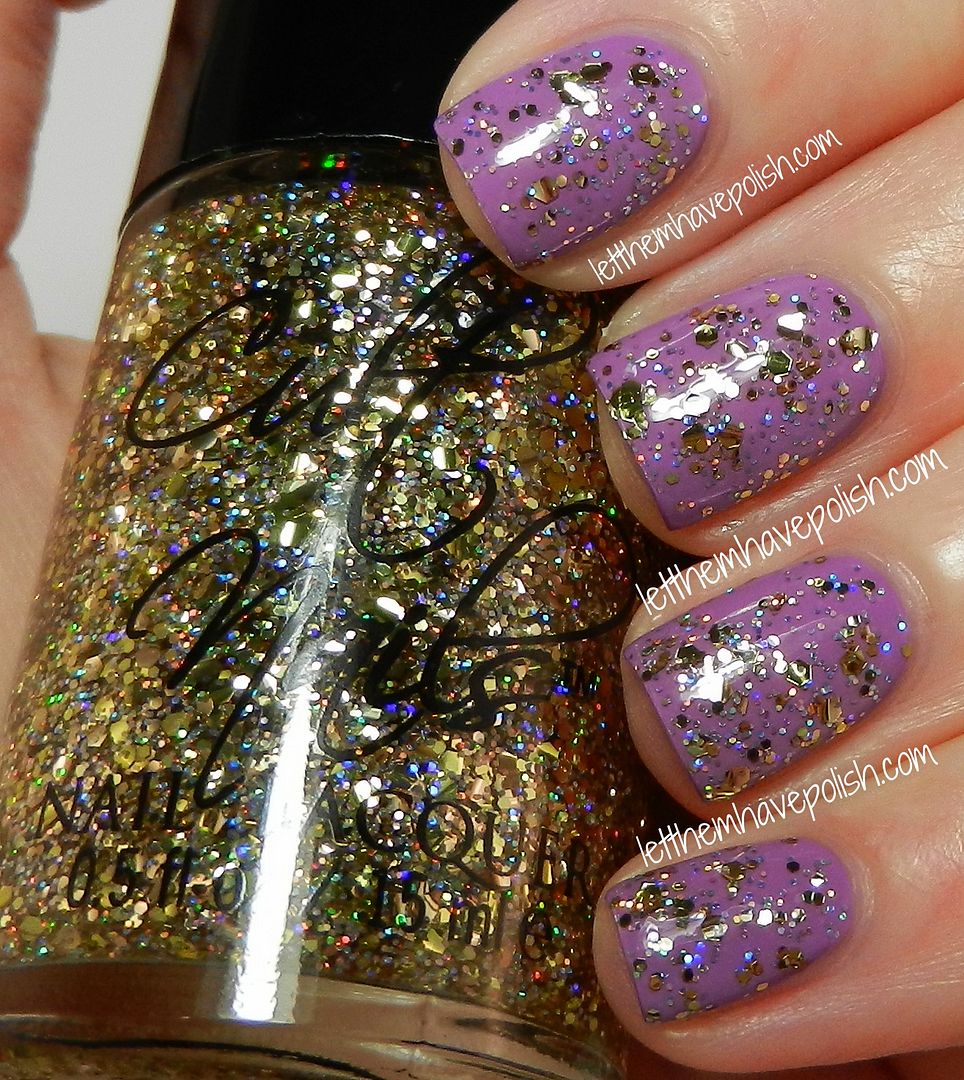 Walk of Shame
is a glitterbomb of most epic proportions. This glitter mixes bright, vivid Gold hexes in varying sizes and small Prismatic glitter in a clear base. This photo does not do this amazing, blingy topper justice. I tried taking photos in the Sun, and my camera freaked at the amount of bling. The formula on this glitter is also a bit thick, but very manageable. I used One coat of glitter over my Orchid- Violet base.
Cult Nails Love at First Sight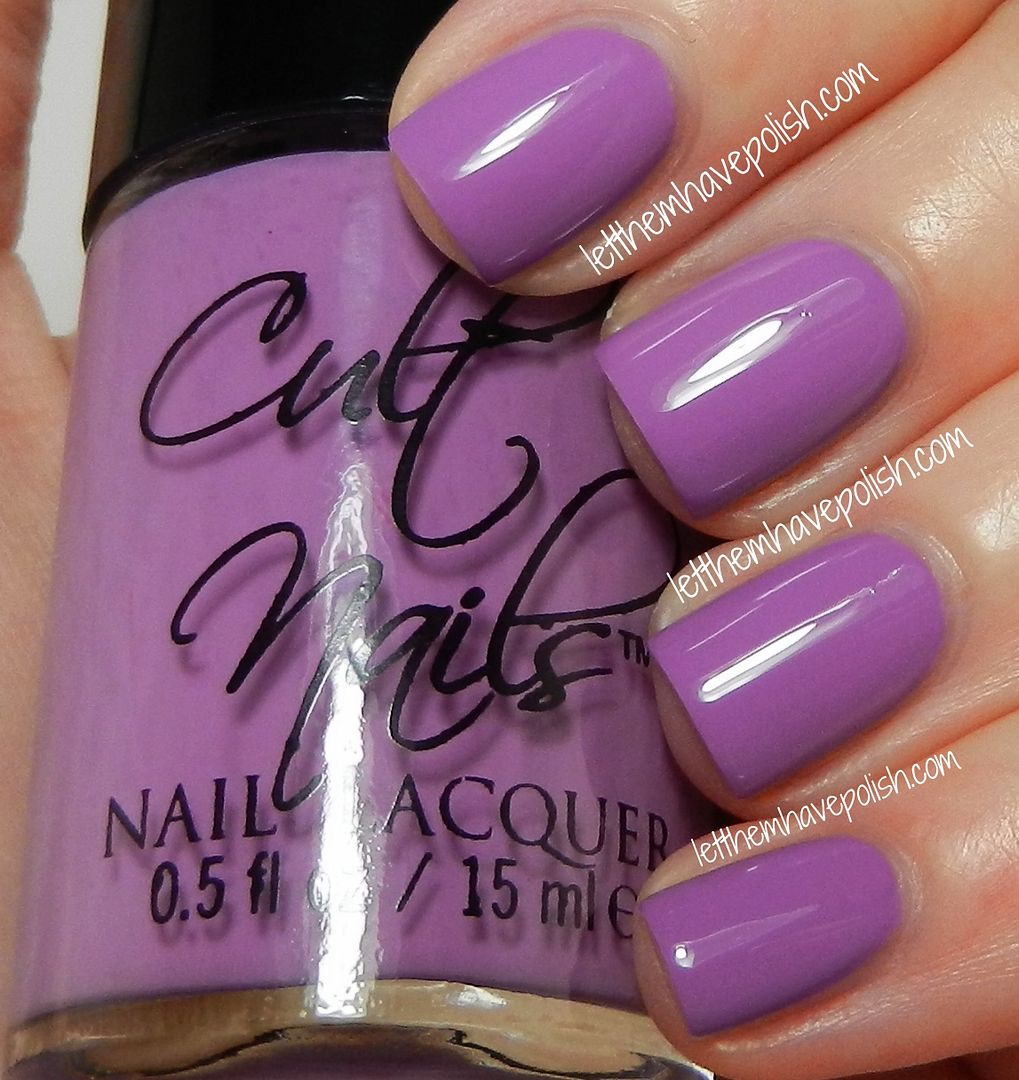 Love at First Sight
is another fantastic representation of what Cult Nails does best, AMAZIIIIIINGG cremes! This shade is a beautiful, feminine tone of light, Pink toned Purple. When I think of Orchid- Violet, this is what comes to mind. This color has an amazing glossy and smooth formula that does great in Two coats.
Cult Nails Dance all Night over Cult Nails Faded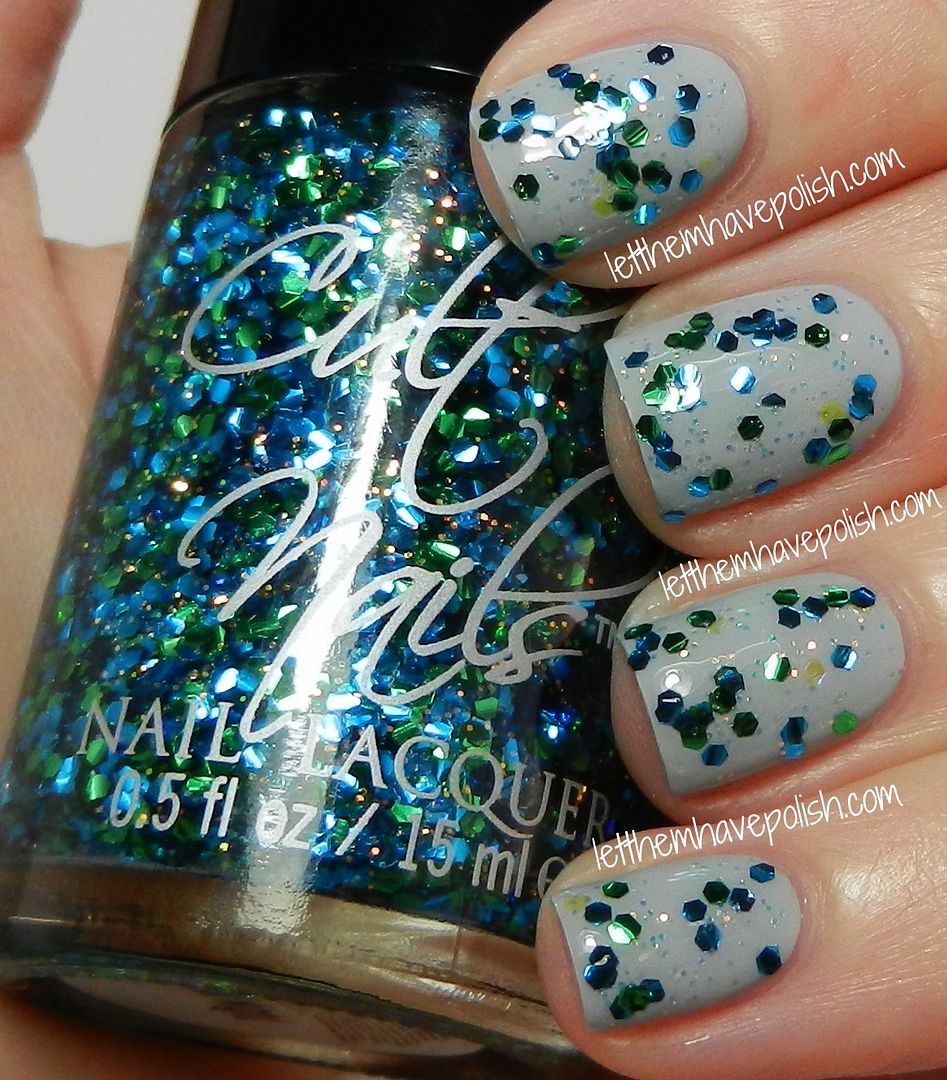 Dance all Night
is the namesake of the collection, and quite a beautiful topper. This glitter topper mixes Blue, Green and Iridescent hexes partnered with smaller iridescent sparkle in a clear base. The larger hexes in this polish also have a slight curve to them, but they do lay flat. The formula on this polish is also a bit thick, but as with the rest, I did not find this to be a problem. How awesome does this look over
Faded
?!
Cult Nails Faded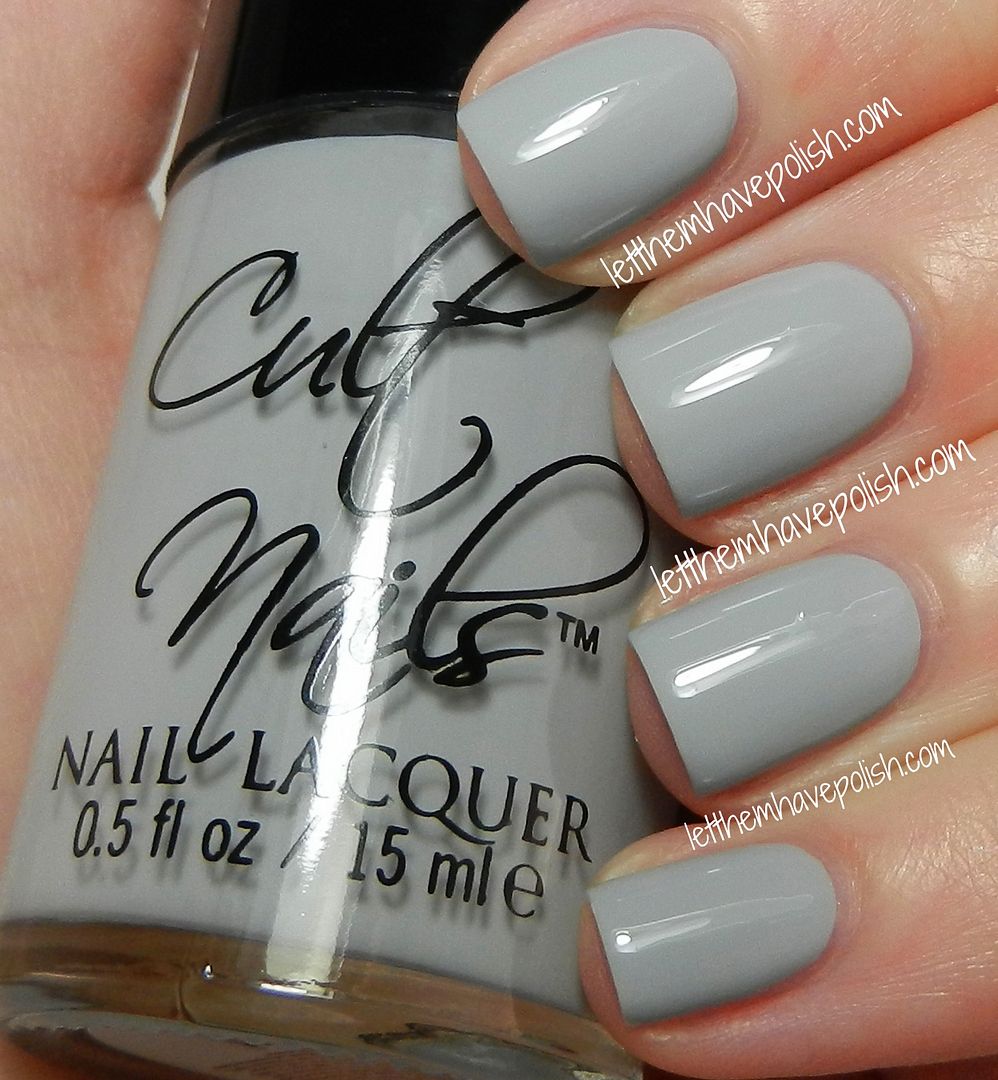 Faded is a very faint, clean shade of Grey creme. This lovely shade of Dove Grey has an impressive formula. I really love this shade and I can see myself reaching for it a lot in the coming months. I used Two uber easy coats for my swatch.
These shades are fantastic and I can't even pick favorites. They all so beautifully executed, I really could not pick a favorite. These areso flattering, easy to wear and just plain FUN! Which are you loving?
PS: I want to thank you all for your support on the matter of Muffin. It really means a lot to Daniel and I.