Hello everyone and happy Thursday!
Today I have a crazy busy manicure haha! I'm kind of calling this my "kitchen sink mani". I just couldn't stop doing things to my nails. The whole idea originated from my bottle of KBShimmer's Totally Tubular. I kept swirling it in my hands and being hypnotized by the amazing blend of colors and shapes. And so this mani was born, inspired by the beautiful colors in Totally Tubular. I will be sharing swatches of KBShimmer's full Summer collection very soon!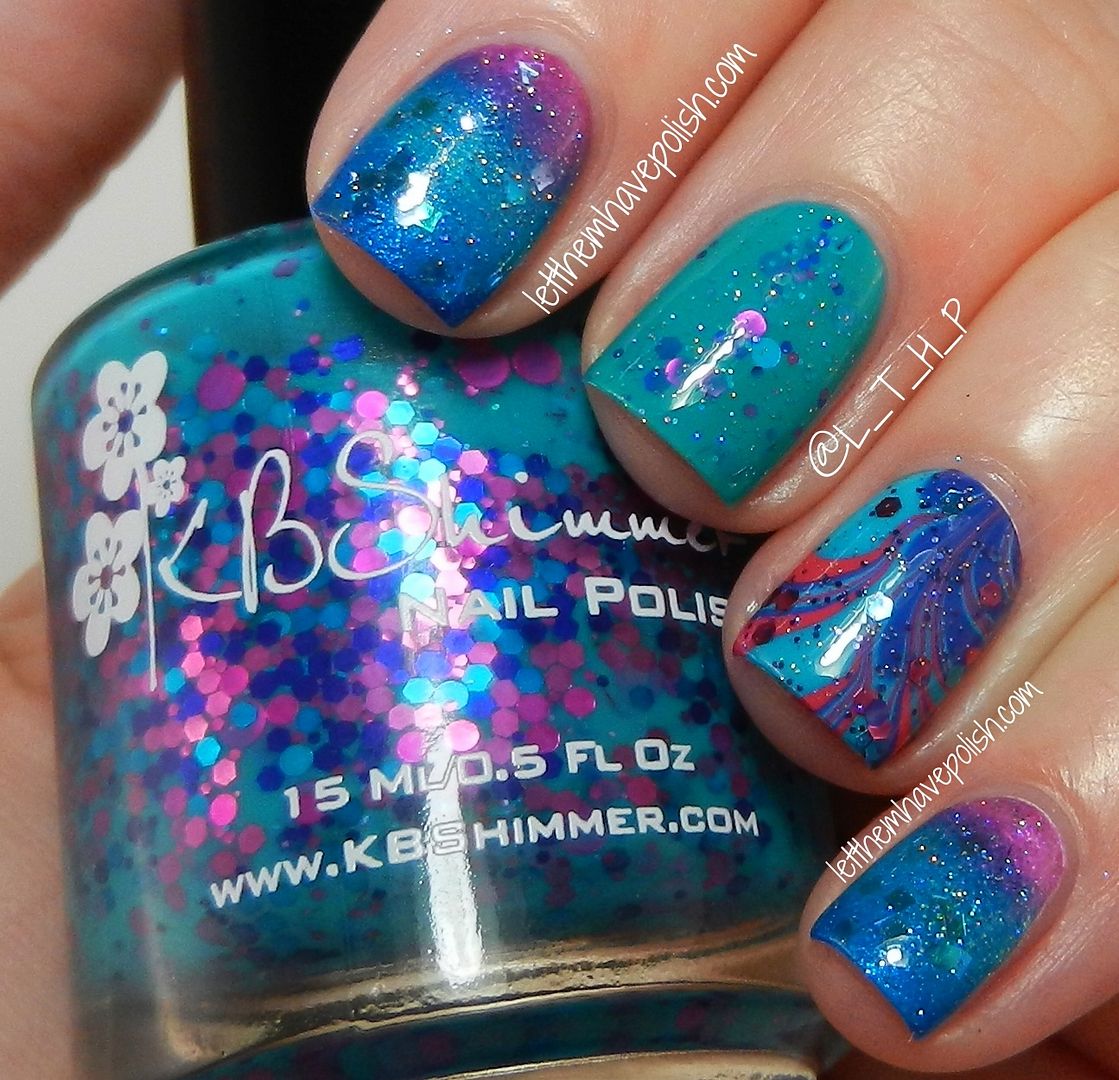 On my middle nail is Totally Tubular by KBShimmer. I will be reviewing the polish itself soon. For now, I really want to focus on this colorful nail art that got me through my days at the Mayo Clinic.
So, as I mentioned above, the nail art itself was inspired by the colors in Totally Tubular. I loved the mix of Teals, Magentas and Blues. So, on all my nails but my middle nail I did a White base of Cult Nails Tempest. For my water marbled nails I used Bettina Aqua, Pink Bikini and Premium Wash. I then topped off my marbled nails with O.P.I Polka.com.
For my gradient nails I used Bettina Picnic, Sparkle and Glitter Jean. I topped off my gradient nails in Aphrodite Lacquers V.I.P Room. I finished off the entire manicure by topping all of my nails off with some KBShimmer Clearly on Top and then some INM Northern Lights sparkle top coat.
I CANNOT believe I forgot to take pics of my thumbs! I really loved how the marble pattern turned out on them. I had never been able to get a full flower design on my nails before! So, I'm so sorry, but here are some crappy cell pics of my thumb marbles. I think they were about Four days old at this point.
I loved wearing these nails. My days at the Mayo Clinic were really intensive, exhausting and not entirely successful.. But my nails were looking FIERCE the whole time. I got so many compliments from people while I was there. It was nice to have the distraction of my colorful nails and hair while I was going through all that stuff.
Oh and some cool stuff happened right before the Mayo trip. I got to meet the awesome Kelly of
vampyvarnish.com
!! It was an awesome lunch meeting with my Florida beauties and Kelly. Thank you
Courtney
for the lovely photo!! From L to R: Steph of Imperfectly Painted, myself (goodness I need to do my roots soon!!), Maria of Cult Nails, Kelly of Vampy Varnish, Kari of Once Bitten and Courtney of Phyrra.
Thank you all for stopping by today!! If you have any questions about Mayo, feel free to ask in the comments, I will try my best to answer them. I just didn't want to get into all that in the post itself.
XO!