(**China Glaze Press Sample**)
Hello darlings and happy Wednesday!
It is a dark, Grey and gloomy day here in (what is supposed to be) Sunny Florida. I don't know about you guys, but bad weather makes me a sad panda. I get so lazy, slow and just plain out of it. I know I can't be the only one lol. Anywho, if you follow me on Instagram (@L_T_H_P), you know of my obsession with all things Black Milk Clothing. I am simply addicted to the shiny nylon goodness. Everything they make is so unique, fun and colorful.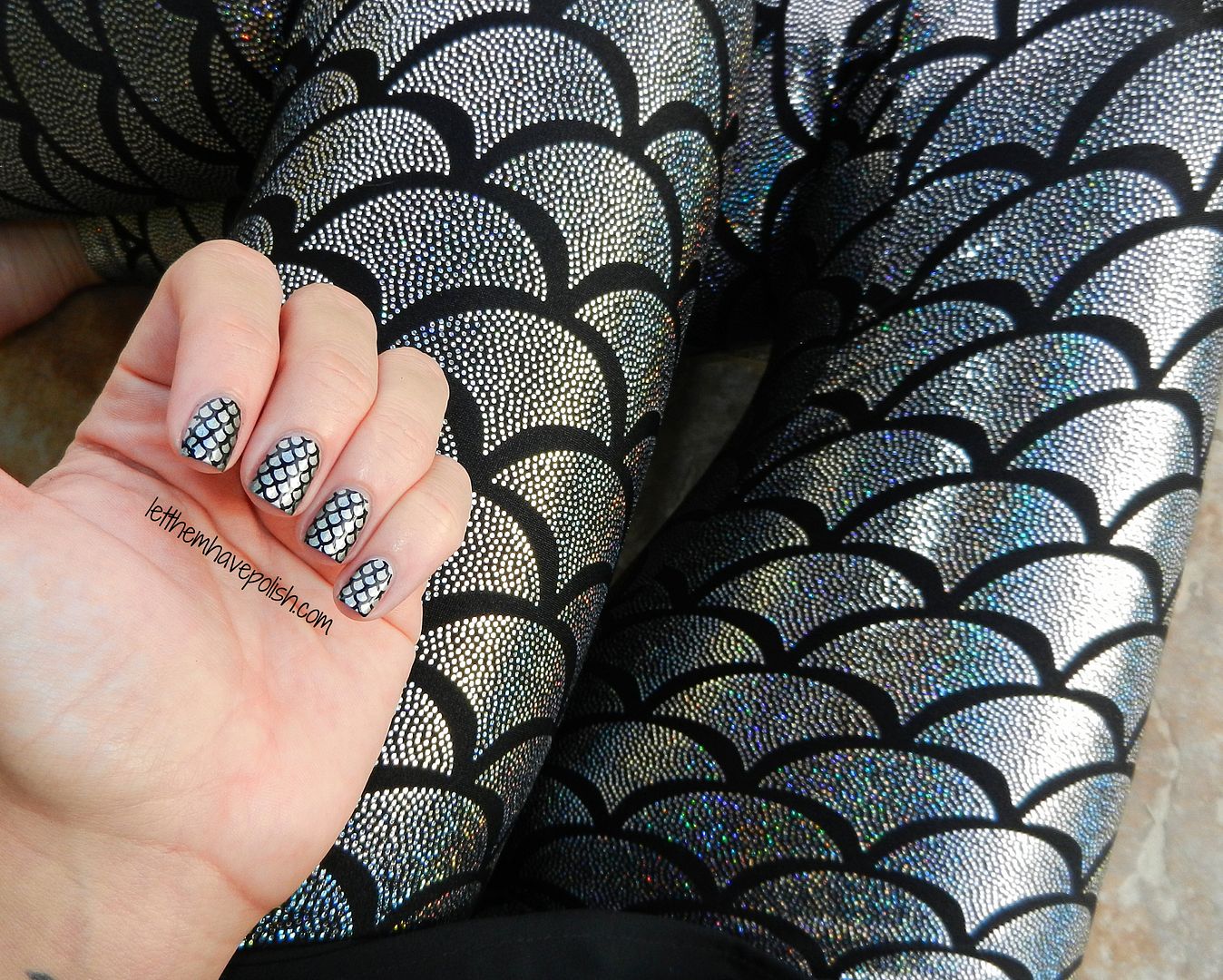 I own about Seven pieces from Black Milk Clothing. Two of my favorites are my mermaid legs. I own them in Purple and Silver holo. I seriously want everything in this fabric, in all colors. I am so obsessed with anything mermaids. The "scales" are craaazy holographic. It was very hard to capture in my photos. Every time I wear my Black Milk pieces I always get so many compliments. I just adore their clothing to pieces.
So I really wanted to match my nails to my Silver mermaid legs, because you know, that is entirely a thing.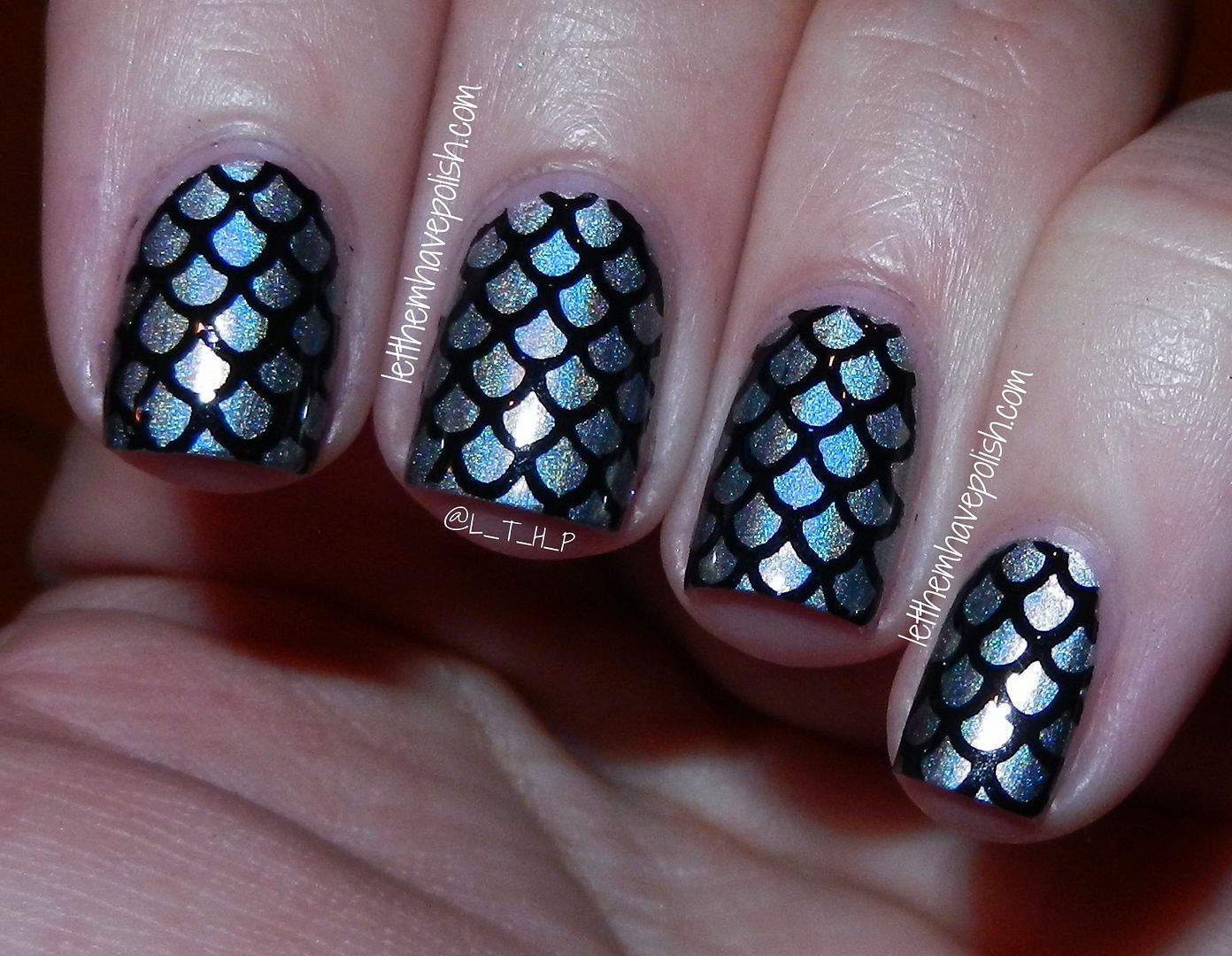 I had to take this pic in weird lighting to get the holo to come out, the Sun was long gone at this pont. SO, for my mermaid nails I started with a base of China Glaze's Cosmic Dust from the Hologram collection. This is a lovely shade of light Gunmetal grey holographic awesomeness. For my mermaid scales stamp I used Red Angel stamping plate RA-111 and Konad Black special polish. I topped off my nails with some Seche Vite and called it a day. They were a perfect match to my fierce leggings.
Here is a shot of my base color Cosmic Dust. This holo has a nice-ish formula. As it applies it looks a bit frosty and streaky, but as it dries the streaks and frost disappear and turn into holographic awesomeness. I used Three thin coats to achieve evenness and full opacity. In the photo below I had not top coated my nails yet. When added a top coat, it did mute the holo finish just a bit. Sorry about my weird-looking skin here, I had a hard time capturing the holo effect properly.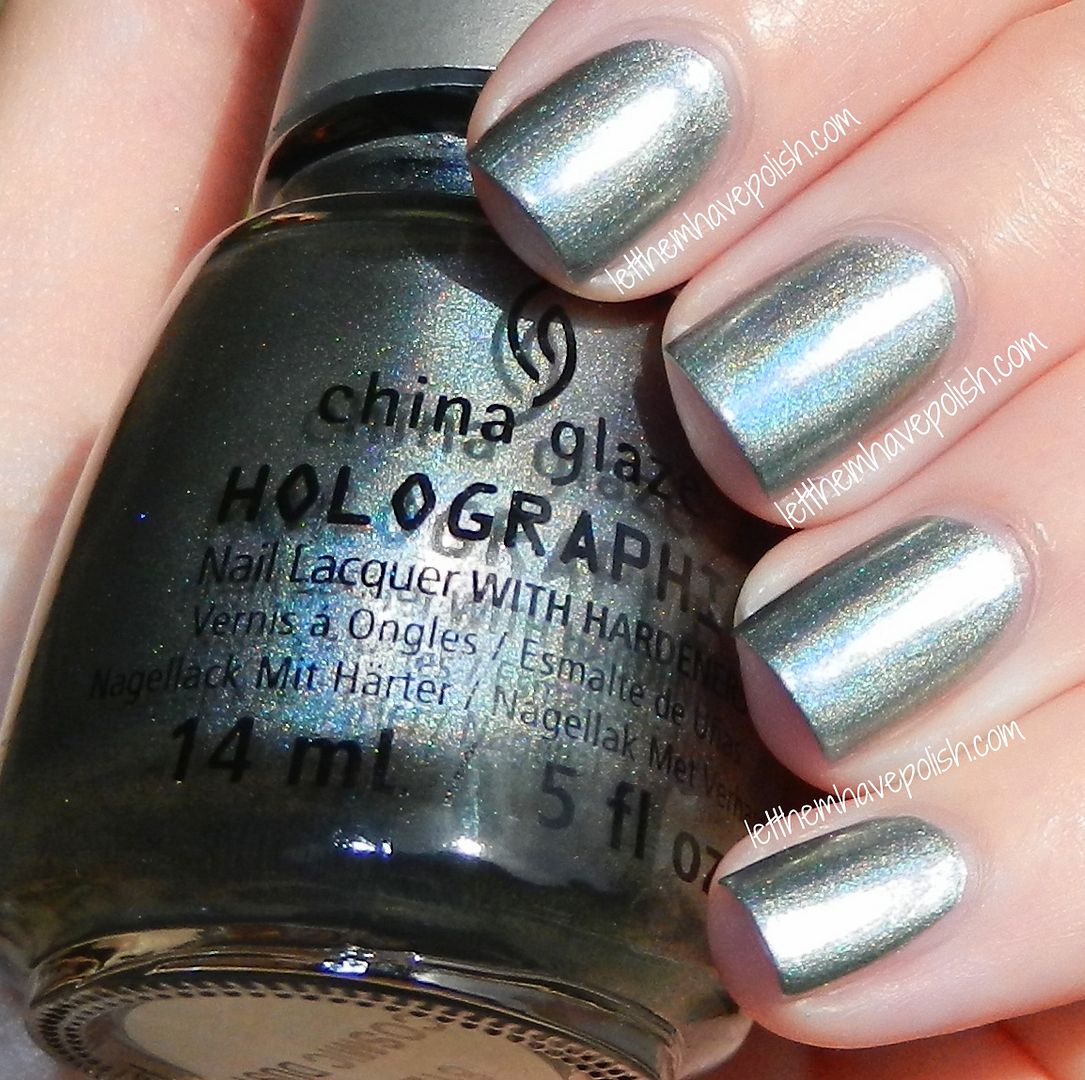 Do any of you guys own any Black Milk clothing pieces? They are seriously amazing. Oh and for shiggles, here is a pic my husband took of me last time I wore my Silver mermaid legs. I had the huge honor and fangirl moment of having
Black Milk share this photo on their Facebook fanpage.
That same day they had also shared one of my photos on their Instagram as well. It was so surreal having my favorite clothing line share my photos with their fans!
Oh and for the record, there was no photoshopping done to this photo. This photo is a cellphone pic. I am naturally slim and will not make any apologies for it. People called me anorexic, a bad role model because I'm "too thin" blah blah blah.. WHATEVER. Us girls can't win.. We're too thin, we're too fat.. What is right then? Me, I'm happy with myself, I am happy with my body and I will flaunt it while I have it. My tattoo was done by tattoo artist Robbie Ludders of Sarasota, Florida.