Good afternoon lovely people!!!
Today I have a very... VERY delayed post. I feel like a complete tool for getting these out so late. This is the AMAAAAZING Spring 2013 collection by KBShimmer. Worry not, I will be having the KBShimmer Summer Swatches up early next week! I was just saying on LTHP's Facebook how behind I am in my collections. However, I've been feeling well and I'm ready to tackle the mountain of polishes I have to swatch.
Onto this collection, I am so sorry it has taken me this long to get these swatches done and up. I do hope you still enjoy these swatches though! I am just enamored with KBShimmer. Her polishes are perfection in every way. I always look forward to a good KBShimmer swatchathon because they never disappoint.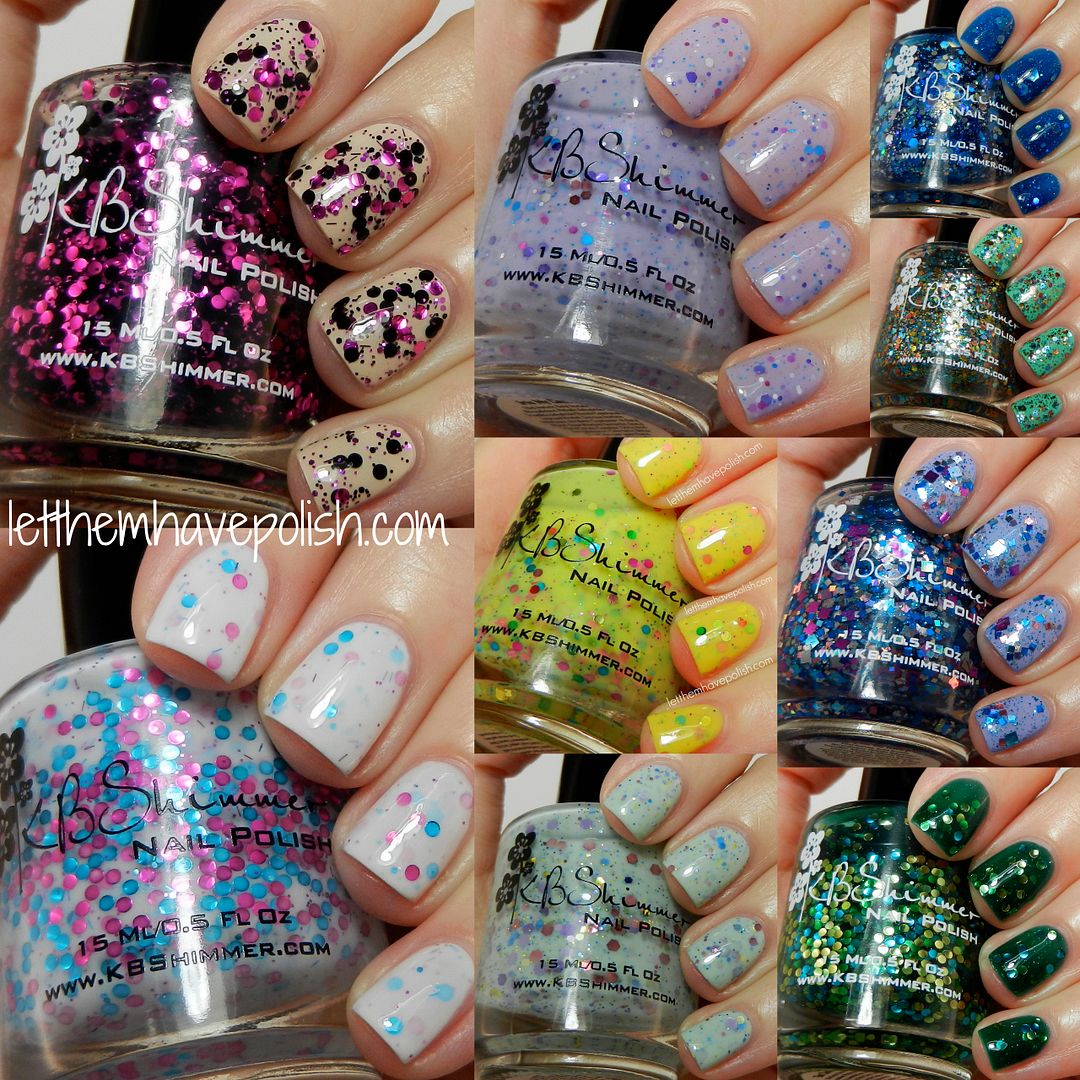 Since there are a lot of pretties to cover I am doing a jump today. Trust me, you want to see these up close and personal, so keep on reading ♥.
This collection was made up of Nine glittery beauties. Four of the polishes were creme-jelly based, Two were jelly based and Three were layering toppers. I was just on KBShimmer's site and most of these pretties are still available, but some have been discontinued. All swatches are shown with a top coat of KBShimmer Clearly on Top.
KBShimmer Pastel me More over Inglot O2M #688
Pastel me More is a beautiful glitterbomb made up of all hex shaped glitter in varying sizes suspended in a clear base. There are a TON of colors in this blend. I could make out Blue, Copper, Yellow and Pink and maybe some prismatic shades as well. This baby is packed and has a great spread of glitters. I used Two coats over my base color.
KBShimmer Squared Away over O.P.I You're Such a Budapest
Squared Away is a great mix of Blue, Magenta and Silver prismatic squares in varying sizes suspended in a clear base. There is also a heavy dose of beautiful micro Blue shimmer suspended in the base. This glitter was so easy to work with, I was really impressed. There was no need for fishing out the large pieces and there was no issues when getting them on the nail. I used Two coats of Squared Away over my base color.
KBShimmer A Dot Mess over O.P.I My Vampire is Buff
A Dot Mess is this cool mix of Black and Fuchsia glitter. There are small hexes, micro bars and then tons and tons of dots!! I LOOOOOVE dot glitters. They are just so cute, different and surprisingly easy to work with. I used Two coats of glitter over my base color. This shade also has a great spread of glitters.
KBShimmer Lottie Dottie
YAYAYAY for more dotties! Lottie Dottie is an adorable Blue and Magenta glitter blend suspended in a White creme-jelly base. There are dots, small hexes and micro bars packed in this cutie. The formula on this color was utter perfection. I could have done with Two coats, but I used Three thin ones instead. I absolutely adore this shade and still can't get over how amazing the formula was on this color.
KBShimmer Get Clover It
♥ Get Clover It is a stunning, deep Forest Green jelly base packed full of Twinkling shimmer and many dots in Blue, Green, Light Green and Gold. This is such an interesting shade and I love how the glitters look like they are swimming on your nails. I used Three coats of color for my swatch. The formula was really good with this one. Delicious jelly!
KBShimmer I Got a Crush on You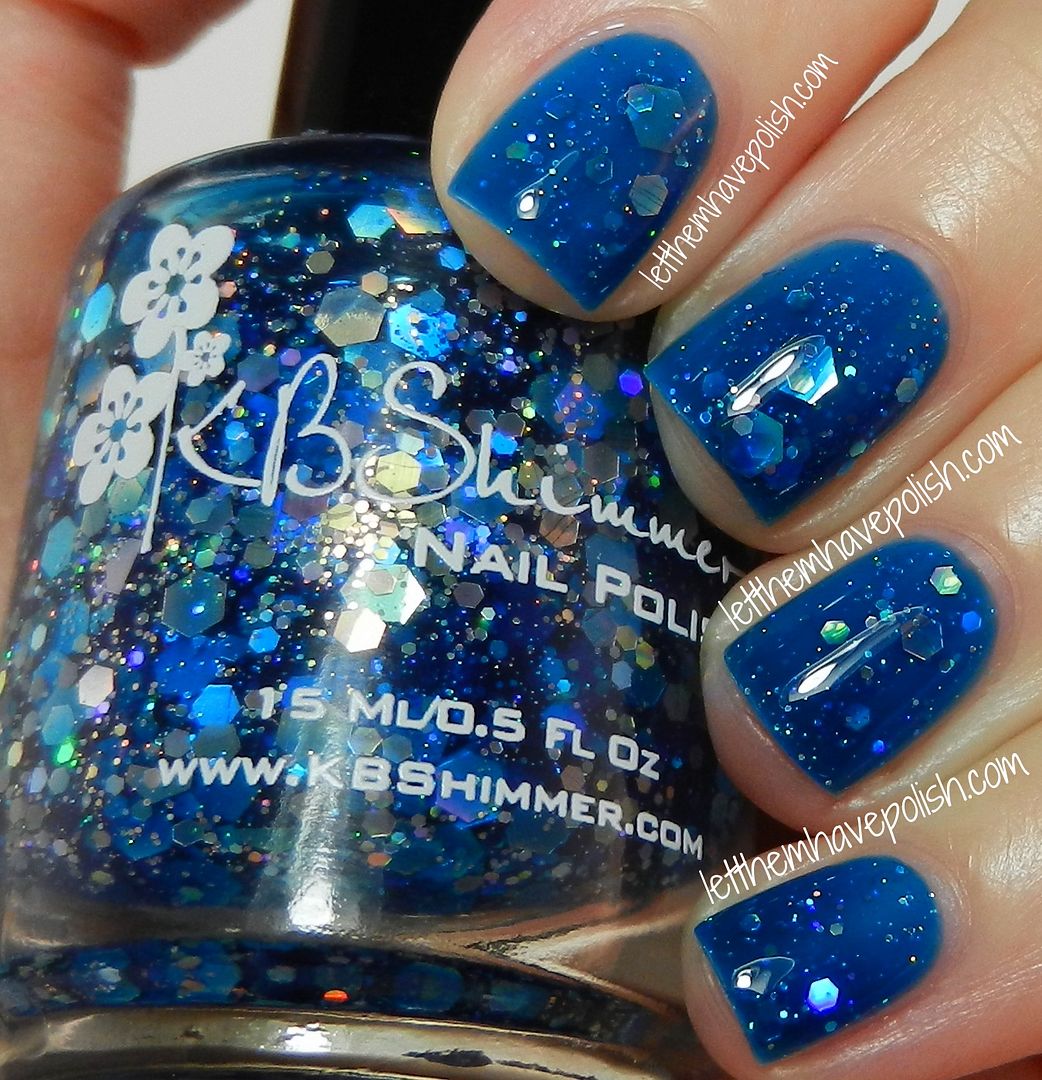 I Got a Crush on Blue is a stunning Cobalt Blue jelly base packed full of prismatic Silver hexes in varying sizes. This shade has that same effect that Get Clover It has, where the glitter looks like it is swimming in the base. I used Three thin coats for my swatch.
KBShimmer Iris my Case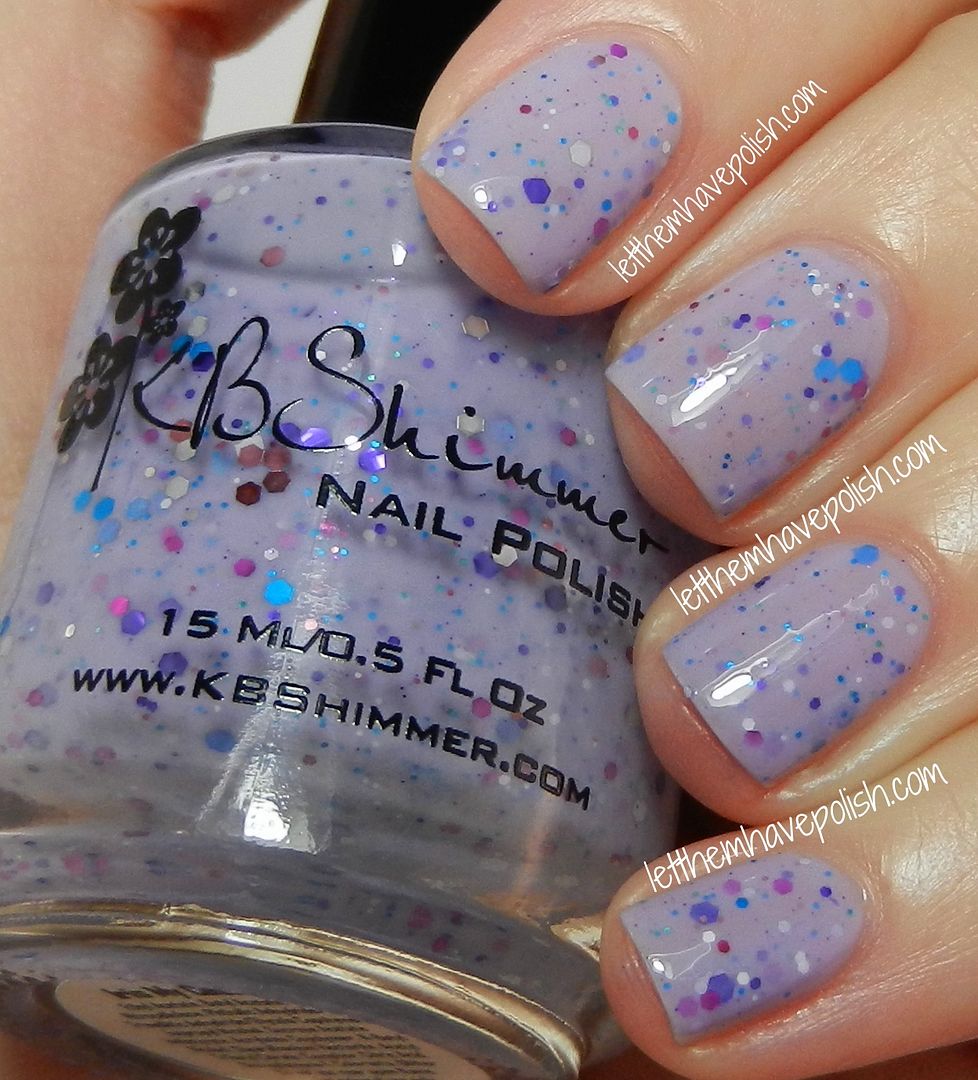 Iris my Case is an absolutely stunning, perfect crelly Lilac base packed with glitters. All the glitters are hex shaped, in varying sizes. There are Purple, White, Silver, Pink and Fuchsia glitters that give a lovely "speckled egg" effect. The formula on this shade is absolutely perfect. What you see in my swatch is Two effortless coats.
KBShimmer Spring Training
Spring Training is a playful, muted Mint Green crelly base packed full of all hex glitters. There are varying sizes of glitter in Purple, Pink, Yellow, Lavender and Blue glitters suspended in the base color. I LOOVE the bigger chunky bits in Spring Training. The formula on this baby is perfection. I only needed Two coats for my swatch.
KBShimmer Where my Peeps At?
Where my Peeps At? is an adorable, soft Yellow jelly with small Pink, yellow and green glitter accented by Circle glitters in Gold, Green, red and Pink. This polish is just TOO CUTE!!! The formula once again, PERFECT!! I used Three thin coats for this swatch.
What always gets me about KBShimmer nail polishes is that they are always SO easy to work with. There is no fussing, no manipulation, no fishing. You can just apply them and not worry about anything. I enjoy swatching her polishes so much. I am always excited for KBShimmer's creations because I know I never have to doubt the formula or creativity of the polishes. It is always such an eyegasm to wear a KBShimmer color. I really cannot wait to show you the Summer collection!! I could never pick a favorite polish from my KBShimmer stash. They are all standouts in my collection.
What are some of your favorite KBShimmer polishes?