(**Milani and Pinky Paraside press samples**)
Good morning and happy Tuesday!
Truffle will be here with her pick later on. For now please enjoy this quickie post covering the Milani Shadow Eyez Neutral pencils. These babies are a limited edition release. That said, they are still available online and I have seen them in stores (mostly CVS pharmacies).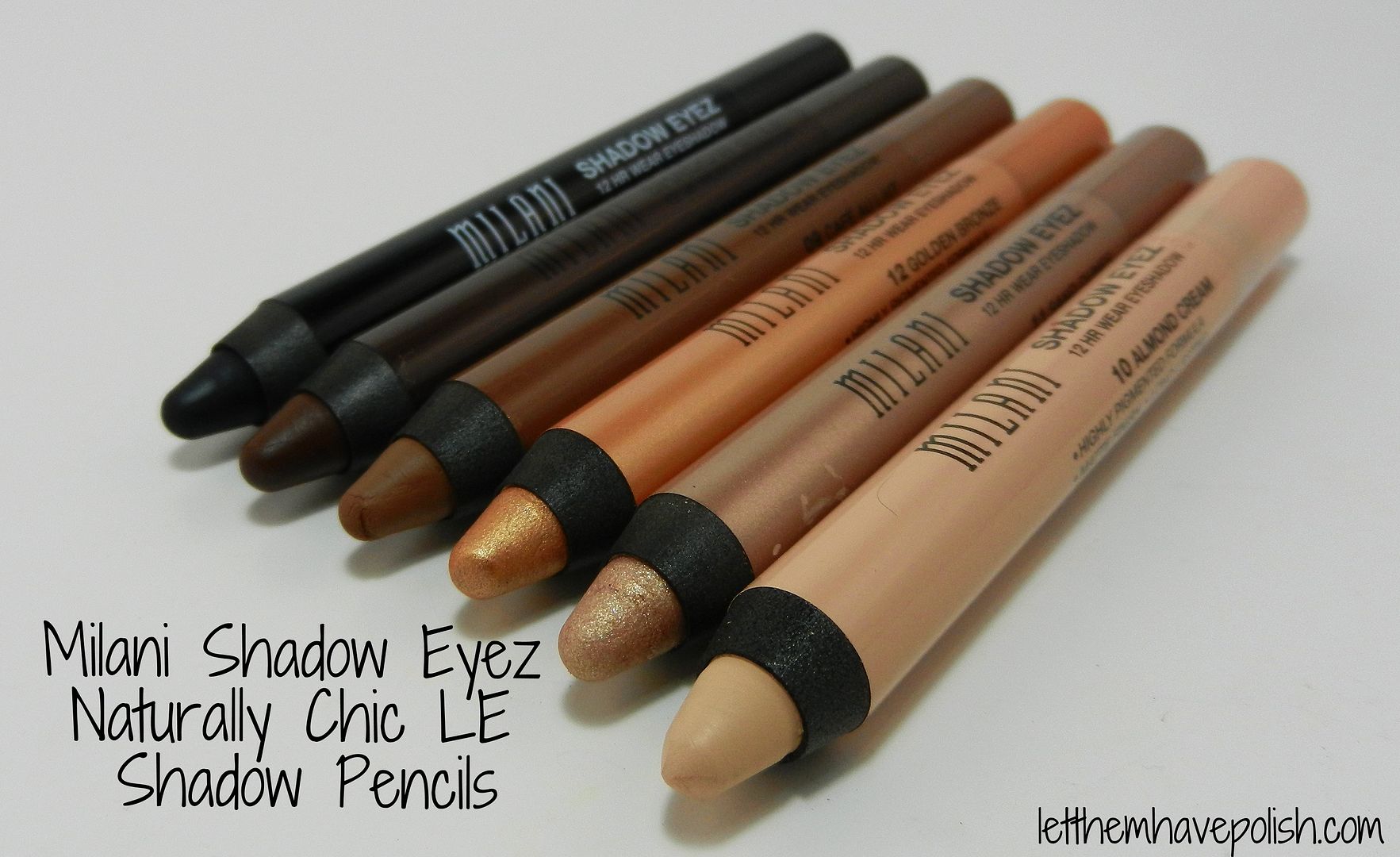 I was/ am a HUGE fan of the
original Shadow Eyez pencils
. So, when I found out that Milani was releasing a set of neutral shadow pencils I was fairly ecstatic. I love everything about them. They are insanely versatile. I've used mine on their own, as powder shadow bases, as pigment bases, as an eyebrow filler and brow bone highlighter. And I dare say that they even improved the formulation of their pencils. These are SOOO much creamier, smoother and blendable. The pigmentation of every single shade is superb, perhaps even a bit much (if there is such a thing). Some of these shades are best applied with brushes, rather than using the pencil directly on the lid.
The wear on these is AMAZING. When they say 12 hours, they mean 12 hours. They are also truly waterproof. These do set quite quickly so I do have to work a bit fast with them, and one eye at a time.
Almond Creme: an amazing shade of matte Vanilla toned creme. This shade has become my holy grail brow-bone shade as well as one of my favorite all-around bases. I will usually do a layer of my Milani eye shadow primer then a light layer of Almond Creme as a base for many of my eye makeup looks.
Sand Dunes: another MUST HAVE from this set. I mean, really! This pencil has the smoothest, creamiest application of them all. This shade is also very shimmery, but not in a tacky way. The shade itself is a very, very light shimmering Taupey-Gold It just seems to light up my lids perfectly. I also love this as inner corner highlights. This shade is sheer so it can be built up or just swiped on for a touch of shimmer.
Golden Bronze: this shade is a great accent on lids for a quick sultry Summer look. This pencil also has a very creamy application. This shade is very pigmented and a light hand works best to blend and build up.
Cafe Au Lait: is a lovely, light cocoa brown matte creme. This shade is great on the crease. This pencil if highly pigmented and is best applied with a brush.
Espresso Line is a deep, true Brown matte creme. This shade is great to darken the outer V's of the crease as well as on the waterline. But, by far, my favorite use for this pencil is to fill in my brows. It has made it effortless for me and they always wear all day long. This shade is also best applied with a brush.
Black Ink I have not gotten to use a whole lot. I did, however, use it as a base to layer light Golden shadow over and it created the most amazing effect I had ever seen! This shade is also crazy pigmented and best applied with a brush.
Just for shiggles, here are some looks I've done using these pencils. I've applied the shadow pencils with brushes for these looks. I found this to be the best way to get even application and for ease of blending.
Featured in this look are Almond Creme, Sand Dunes, Espresso Line and just a bit of Black Ink. The lashes are some of Ardell's Double Up, #202 in Black. Milani Grandissimo lahses mascara. The cateye was done with Jesse's Girl waterfproof liquid eyeliner pen.
This was an "adventure" look for me. I wanted to try a new shape and look. I was inspired by Sokolum's signature "Almond Cat-eyes". For the Purple bit I used a mix of Shadow Eyez in Royal Purple and then I used Milani Liquid- Eye, Liquid Like pencil in Perfect Purple. I used a brush to blend and create the cat eye shape. For the Pink accents I used Urban Decay 24/7 glide on eye pencil in Woodstock. I also used Sand Dunes and Almond Creme. The purple lashes are Sugarpill's Angel Baby falsies. I had a lot of fun with this look and actually got a ton of compliments. It's always fun to try something new!
Have you picked up any of these Milani Shadow Eyez pencils? I will insist that if you have not, you are SO missing out!! These are a great product at a great price point. My faves from this set def have to be Sand Dunes, Almond Creme and Espresso Line. But they are all worth having.
Any of these catch your attention?