Good morning darlings!!
This am I have the Milani Color Statement Lipsticks in the Browns and Neutrals family. I was going through my folders and was fairly shocked to see that I had not posted these yet! This family is made up of Nine shades in the Neutrals and Browns family. There is a great range of creme, metallic and shimmer in this group.
I am quite the opposite of most girls in that I don't feel right in neutral tones. For me, the brighter the better. So I have actually not made it around to wearing that many of these. But I did do some arm swatches for you guys of course.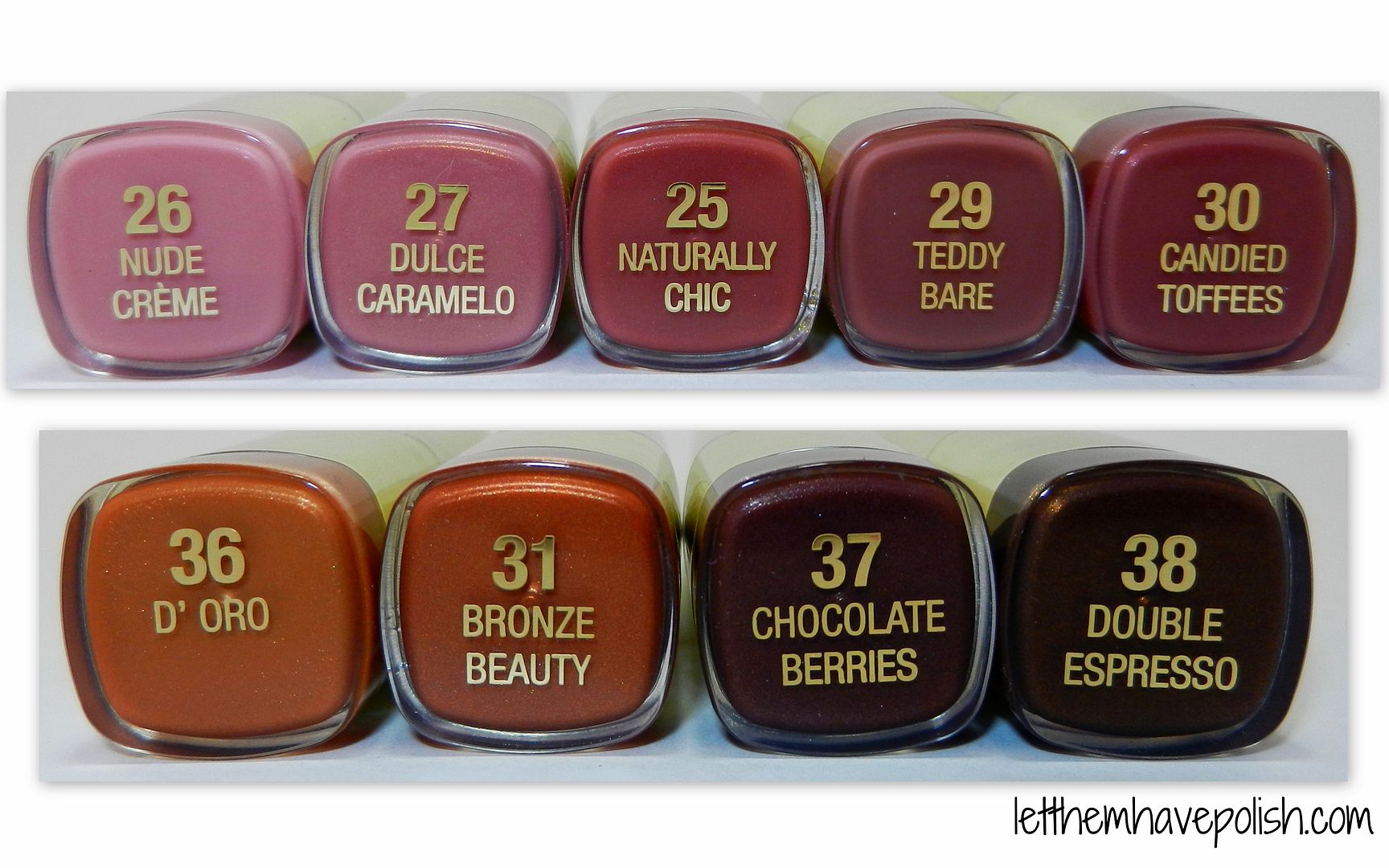 These all had a fantastic formula and great pigmentation. I've LOVED every other Color Statement lippy I've gotten to try and I'm sure the feel of these is no exception.
Nude Creme: A lovely Pink toned peachy-beige creme.
Dulce Caramelo: A sweet, light shimmering Taupe with light Pink undertones.
Naturally Chic: A wearable shade of deeper Peachy- Beige creme.
Teddy Bare: A light shade of Cocoa creme.
Candied Toffees: A deep caramel shade with slight hints of Golden shimmer.
D'Oro: Warm Golden metallic shimmer.
Bronze Beauty: An Orange toned Bronze shimmering metallic.
Chocolate Berries: A deep shimmering shade of Maroon.
Double Espresso: A true Brown, wearable shade with warm golden shimmer.
They also released Two complimenting shades of lip liners for these colors.
I need to venture into wearing some Nudes so I can find out what looks good on my skin tone. I've never really gotten into the world of Nudey lippies. I've been so wrapped up in my brights all Spring and Summer long. Maybe when Fall starts peeking it's head around I'll be in a more Earthy mood.
Have you picked up any of these? Which are your favorites?