Longest. Week. Ever!
OMG it's finally Thursday! I have no idea why, but this week has really dragged on for me... My goodness I am ready for the weekend! Today I am sharing my swatches of one of Milani's new nail polish collection releases. I always get excited when I find out that Milani is doing new polishes. As far as drug store polishes go, Milani takes top billing for me. They hardly ever disappoint, they have great formulas and they have a great color range.
This is the Fantastic Plumage Collection. This group is made up of Five vivid cremes and one Black & White glitter topper. The cremes in this collection are absolutely to die for!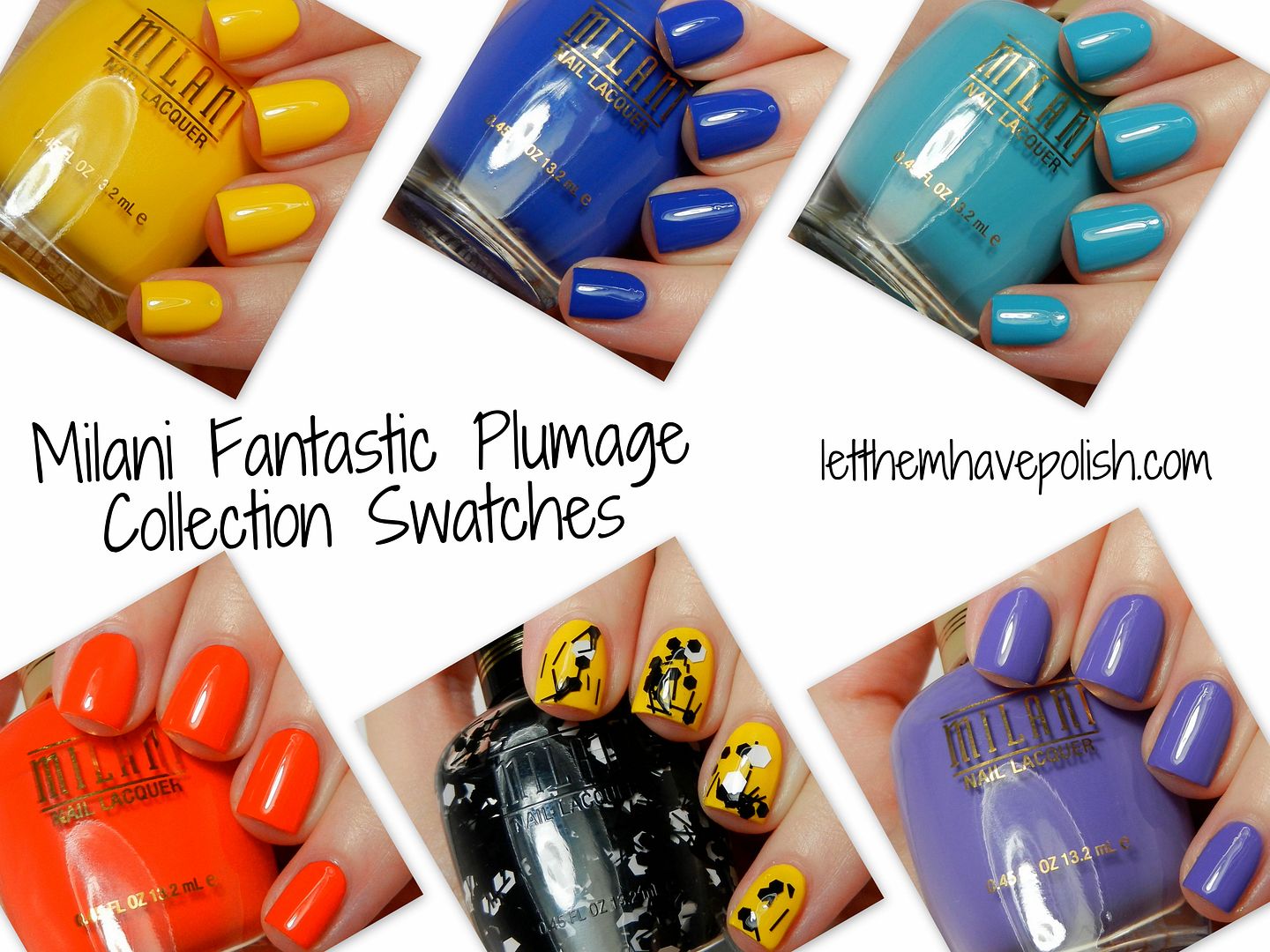 To see close up swatches of these fun pretties just continue reading.
Blue Jay is by far my favorite shade in this collection. This pretty is a beautiful shade of vivid Cobalt Blue creme. The formula on this color is amazingly smooth and saturated with color. I could have almost gotten away with one coat, but I did Two. This baby has a super shiny finish.
Milani
Purple Martin
Purple Martin is a beautiful shade of medium Balanced Purple creme. This is a great shade for Purple lovers everywhere. The formula is amazing on this color and did well in Three thin coats.
Milani
Scarlet Ibis
Scarlet Ibis is a crazy hot shade of saturated Coral creme. There is the slightest shimmer in this but it is barely noticeable. The formula on this shade is fantastic and does well in Three thin coats. Needless to say, my camera had a bit of a freak-attack at the brightness of this shade.
Milani
Canary
Canary is a sunny shade of Primary Yellow creme. This shade is Summer in a bottle. The formula on this Yellow was quite nice. A little patchy, but it evens out at Three thin coats. I didn't really have any major problems with application.
Milani
Peacock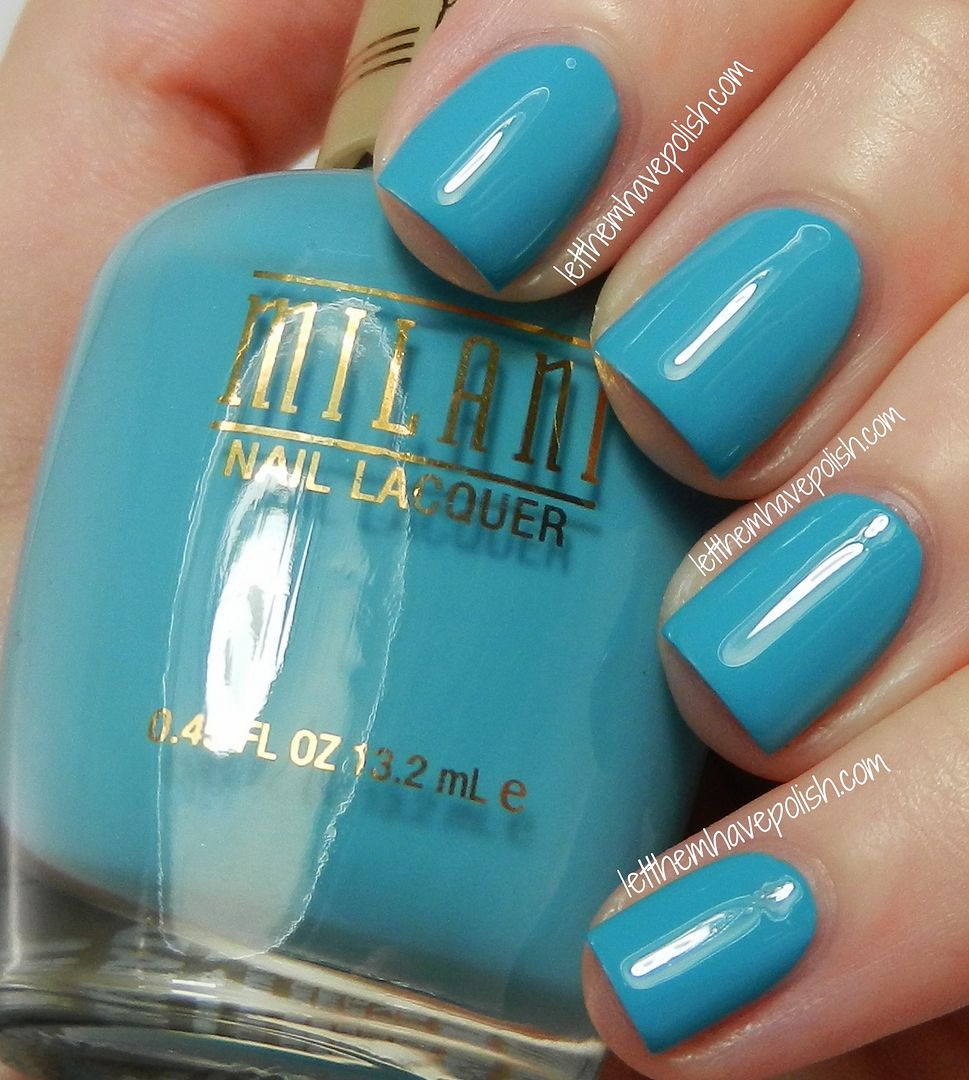 Peacock is a lovely, muted shade of smokey Sky Blue. My camera made this look a bit more vivid than it is in person. This is one of those dreamy Blue shades that are eye-catching, but not in-your-face. I just love it. I used Two easy coats for my swatch.
Milani
Carnival
over Milani
Canary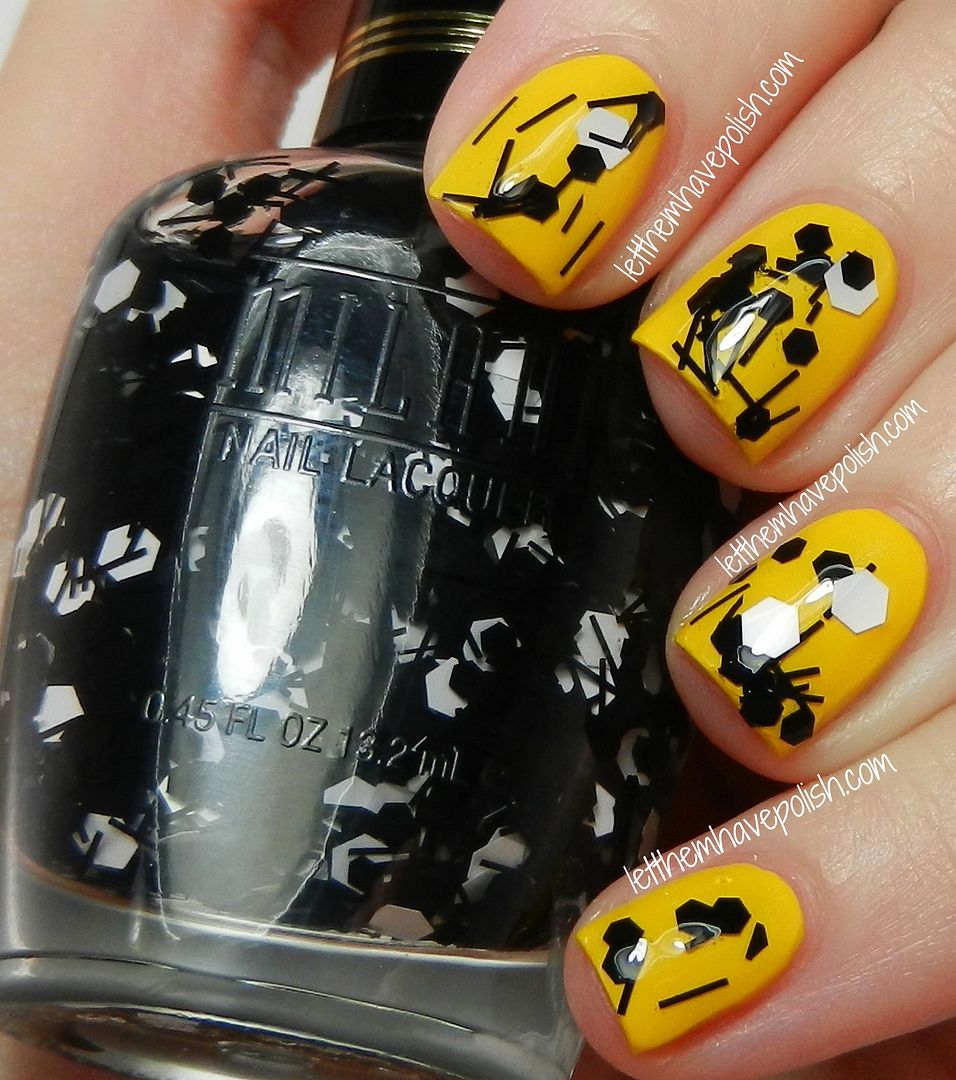 Carnival is a glitter toppers made up of chunky Black hexes and bars accented by even larger White hex glitters suspended in a clear base. I have to be brutally honest; this topper was a pain to work with. I really had to manipulate the bits and do a ton of fishing to get the bits to come out. It might have been easier to pick out the bits with a toothpick and place them on my nails... I had such a hard time getting it to look good for this swatch, that I could not bring myself to layer it over all the other shades. It was just too frustrating and time consuming. It is a really fun look once you get it "down" though. I can't say I don't like the look, I just don't like the poor application.
My favorites from this group are Blue Jay, Canary and Scarlet Ibis. These shades will be available in early August in select CVS and Meijer stores, though some stores might have them out already. They retail for $4.49. Do you have any favorites in this bunch? Will you be daring enough to pick up Carnival?