Good morning darlings,
Today's post is dedicated to the beautiful Talia Joy Castellano (
TaliaJoy18 on Youtube and IG
). Talia was a beautiful, bubbly and amazingly talented young woman. The beauty community lost a little ray of Sunshine when Talia lost her Six year battle to Two rare types on cancer on July 16th. She was only 13, but she really made her mark on this community and on the world in her short time with us. Childhood Cancer is an awful thing, so very unfair. To find out more about Talia's story you can visit the
[Official facebook page for Angels for Talia]
. My thoughts are with her family and friends during this most difficult time. My thoughts are also with the families of children all around the world who struggle with cancer. Talia was very fortunate to have the love and support of her family as well as her millions of fans. She was a very loved person and will be equally missed. Not many children are that fortunate, so lets keep them in out thoughts too; and hope that some day childhood cancer (cancer in general) is nothing more than the stuff of horror science fiction.
These series of Mint-themed posts you might be noticing around the "bloggerspehere" today were organized by
Nicole of Nail Polish Wars
. One of the very last photos that Talia posted to her Instagram account was a particularly touching one. It was her hand, her sister and her mother's hand all together and they are all wearing the same, lovely, Mint green polish. Nicole thought it would be a beautiful memorial for us to come together in posting our Mint Manis in memory of Talia Joy. The second I laid eyes on this shade I knew it would be the one I would wear, the name turned out to be a beautiful coincidence. I went with Cadillacquer's
Remember Me
. And remember I will...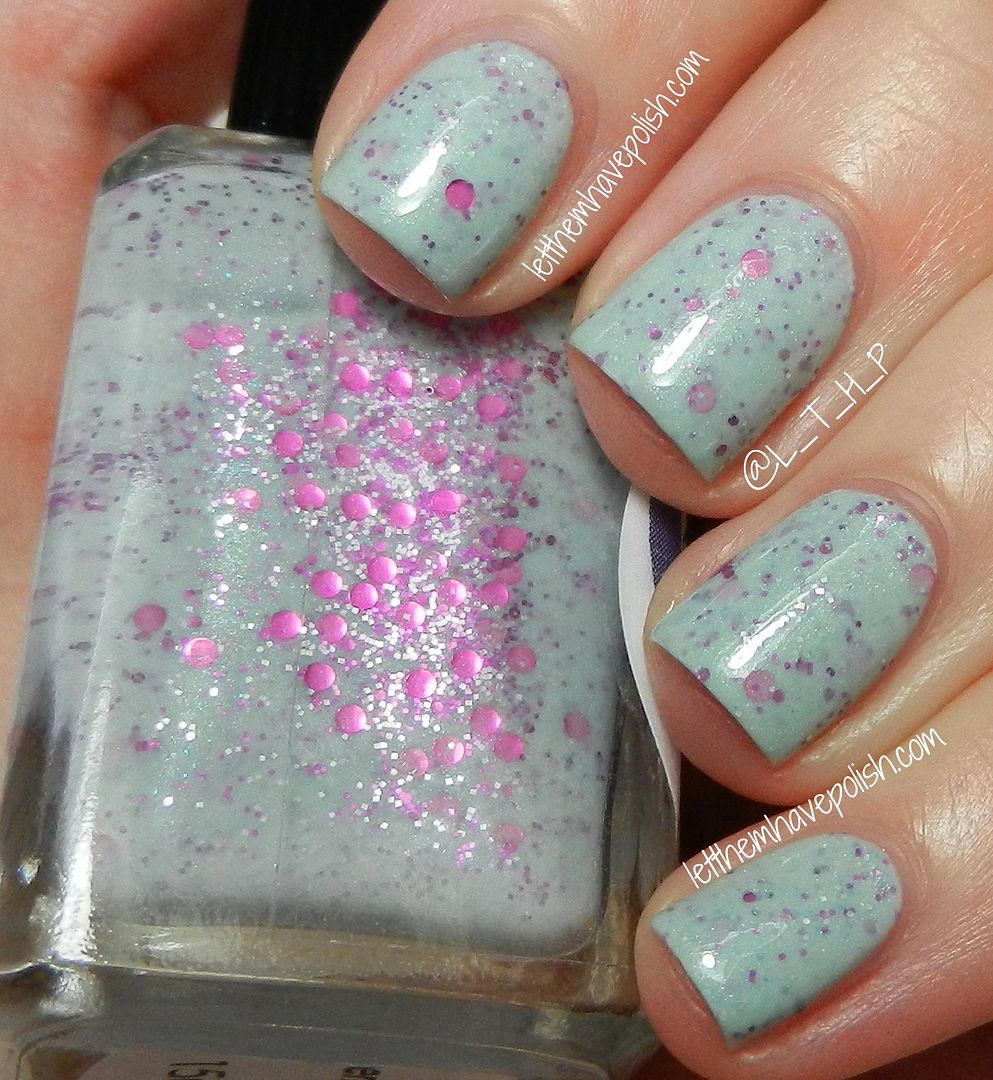 Remember Me is such a beautiful shade. I think Talia would have liked this color. I love how delicate, yet eye-catching it is. It felt "right" for the occasion, ethereal and angelic. This color is a beautiful shimmery Mint crelly base packed full of Silver and Magenta glitter and dots. The formula is perfection and I only needed Three thin coats. I love this shade, and now it has a new meaning for me. I love this dreamy shade and how peaceful it looks.
It's funny how someone you have never met can touch your life in such a way. Talia's strength gave me strength. That may be weird for a 26 year old woman to say about a 13 year old girl. But I always thought, if this little girl can go through all that with a smile on her face, then why can't I go through my stuff without a smile too? My thoughts are with Talia's family and friends during this difficult time.
Thank you to all those of you who are taking part in this today. Don't forget to use the hashtags #MintManisforTaliaJoy or #MintManisforTalia and #TaliasLegacy when sharing your Mint manis!
To see all of the other ladies who have joined in sharing thei mint manis just click to continue reading. The count is up to 200+, and it just keeps growing! It has been amazing to see the beauty community come together like this.