Good evening my darlings!!
Today I have some random mani-spam for you guys. I also have a teeny bit of "news" today. If you follow
LTHP on Facebook
, you may have already seen this update, but I wanted to post it on the blog too.
Muffin's passing was a very hard, sad and almost traumatic experience for me, she was such a big part of our home, and this blog. I was heartbroken to have to bring "Muffin Mondays" to a close in such a sad manner. But that said, I knew that I had to keep the tradition of polish-picking kitties going on the blog. SO, starting tomorrow a new weekly feature will begin with Truffle picking up where Miss Muffin left off. Every week, on Tuesdays, Little Truffle will be picking me a polish to work with. Truffle Tuesdays are a-comin'! After all... my blog tag line does promise Nails, makeup and CATS!!!
To see closeups of all these pretties, just continue reading after the jump.
Sation Queenie in a Bottle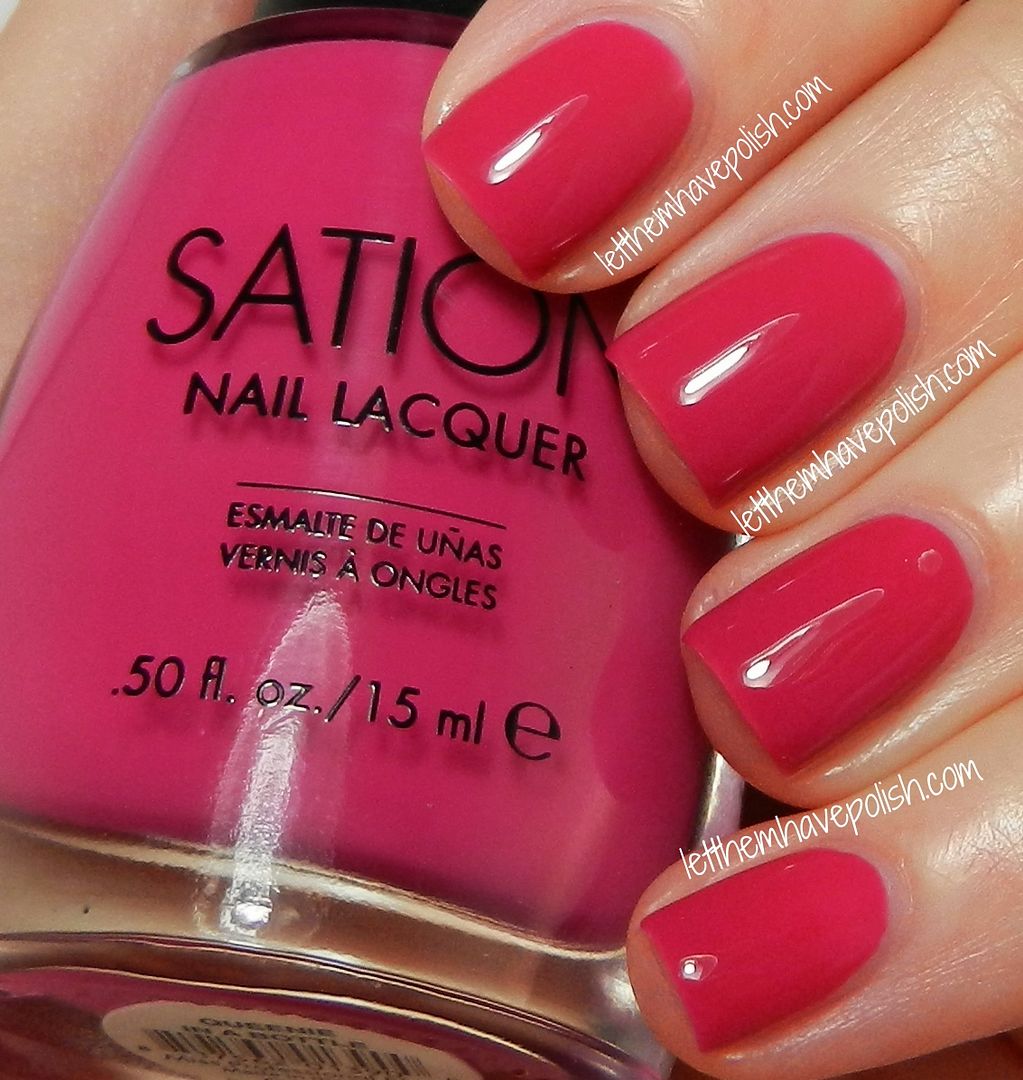 Queenie in a Bottle is a delicious shade of bright Raspberry creme-jelly. This shade was significantly brighter in person, like a hot Magenta Pink? I was honestly amazed at how much I loved the color on my nails because it did not look that special in the bottle. The formula on this shade is a dream to work with and only needed Three thin coats for full coverage.
Lac Attack The Horcrux of It over A England Tess D'Urberville
How cool is this polish? It is so deep and mysterious. Anywho, The Horcrux of It is a deep, Blackened jelly base packed full of Copper, Gold and Green hex glitters in varying sizes. For this swatch I did layer THOT because I really wanted to bring out the glitters in it. I used Two coats of The Horcrux of It over my base color.
A England Tess D'Urberville
Oh Tess... A England always takes my breath away. Tess D'Urberville is a Blackened base packed full of micro Emerald Sparkle. This shade is very deep and vampy, the shimmer comes out to play the most in Sunlight. I could have almost done with one coat of Tess, but I used Two.
Lac Attack Weasley's Wizard Wheezes over Zoya Gaia
Weasley's Wizard Wheezes is an amazing Blend of vivid Orange hexes and Bars accented by Marigold hexes in varying sizes all suspended in a clear base. This shade has a great spread of glitter, and how AMAZING does it look over Zoya's Gaia?
Cadillacquer The Dark Whatever, Easy as Pie and Cute Poison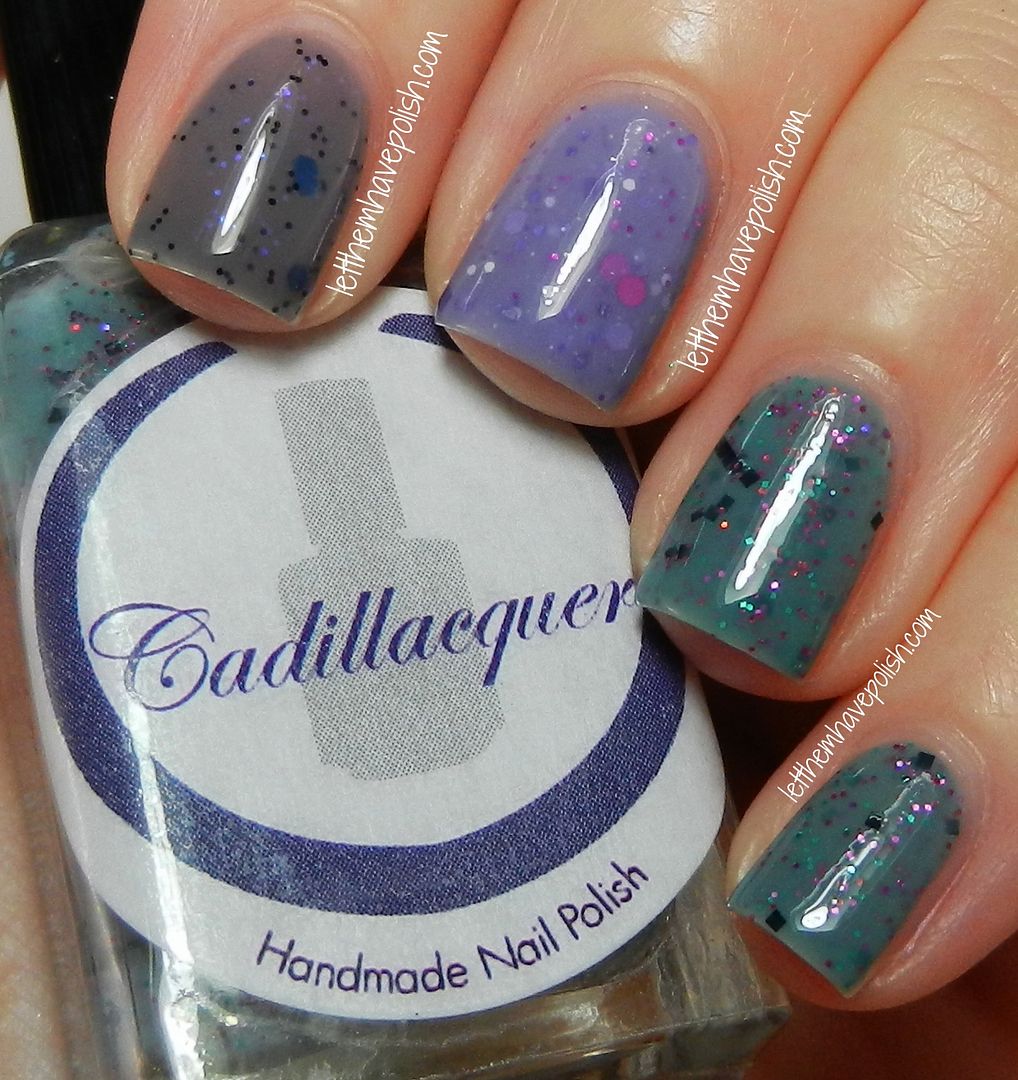 Cadillacquer!!!!!! I am SOOOO into these creations. I mean, seriously.. Just look at these! Ok, The Dark...Whatever is a true Grey jelly base packed with small Black and Violet glitter, accented with Blue hexes. Easy as Pie is a lovely lavender crelly base packed full of Fuchsia dots, and varying sizes and shades of Purple hexes. Cute Poison is a magnificent, dusty Teal crelly base packed full of small Violet and Aqua sparkle, accented by Black squares. All Three of these pretties has great formulas and all did well in Three thin coats.
Sation
No Rings Attached
over O.P.I
A Definite Moust Have
No Rings Attached is a glitter topper made up of all vivid Yellow- Gold hexes and bars suspended in a clear base. This baby is insanely packed with glitter and has a great spread. I used one coat of glitter over my base color.
Incoco Applique Skittles
.... Oh Incoco how I wanted to love you.... Here's the deal. These are a great innovation, they really are. If you are not very good at painting your nails, not a fan of dry time, not good at nail art or just all around impatient; these are great for you. They give a lot of options for gals who want cool nails, but don't want to go to the salon, or just can't do them themselves....
Onto the issues I ran into with these:
1. There are not enough small sizes of appliques. This is why I had to go through Three different styles of appliques to get all of my nails covered. If you have small/ narrow nails, these will be a slight pain.
2. The application was not all that easy. This might have something to do with my narrow nail beds. But I found myself swearing a lot and wasting several appliques... Maybe I'm too much of a perfectionist for these? But it was killing me not to have a perfect look with an applique, because I know I can get pretty near perfection with some plain 'ol polish and a brush. I expected these to apply with ease.
3. They did not wear for more than Four days. The glitter one lasted 24 hours....
So MY opinion on these is that.. They are simply not for me. The ones on my toes wore a little better, but they were still a very frustrating experience.
So!!! Any faves here? Also, are you guys excited about Truffle Tuesdays?! I am, kitties will always be a part of LTHP ♥. Thanks for stopping by loves!
(**Press Samples**)