Hi hello and happy humpday!!
I swear I have not forgotten about Truffle Tuesday. She made a beautiful pick for me yesterday and I can't wait to get to work on the concept I have in my head. Yesterday was not a very good day for me health-wise. I had been feeling pretty well for the past few weeks, but yesterday and today have been quite rough.
Anyways, today I wanted to share this beautiful layering combination. These are Two polishes I had been lusting after for quite a long time. Mystic Glacier was/is one of those coveted indies. The kind that sold out within seconds of being listed on the website. I knew why, but once I actually got the polish in my hands, I absolutely understood why I needed Mystic Glacier in my hands. My jaw literally dropped when I opened my package that day. If you are a fan of polishes like Clarins 230, MaxFactor Fantasy Fire and the like, you absolutely need this beauty in you life.
Mystic Glacier is a Blue based micro shimmer shifter. This baby goes from icy Blue, to Green/Teal, to Purple, to Copper... It is just unbelievable. I'm fairly certain this polish can reach opacity on its own but I really wanted to see it layered. That is the bestest part about these incredible shifting polishes; layering them over EVERYTHING :D. I went with a dark base color to see what shades it would bring out.
Layering Mystic Glacier over Cult Nails Time Traveler brought out these beautiful Plum and Copper shimmer that shifted to Green-Teal at extreme angles. My nails looked like little, beautiful scarabs. I used one coat of Mystic Glacier over my base.
This shade dries a bit matte but adding a top coat brings out all that beautiful and amazing shimmer. I topped my nails with some KBShimmer Clearly on Top and wore these for about Four days.
Cult Nails
Time Traveler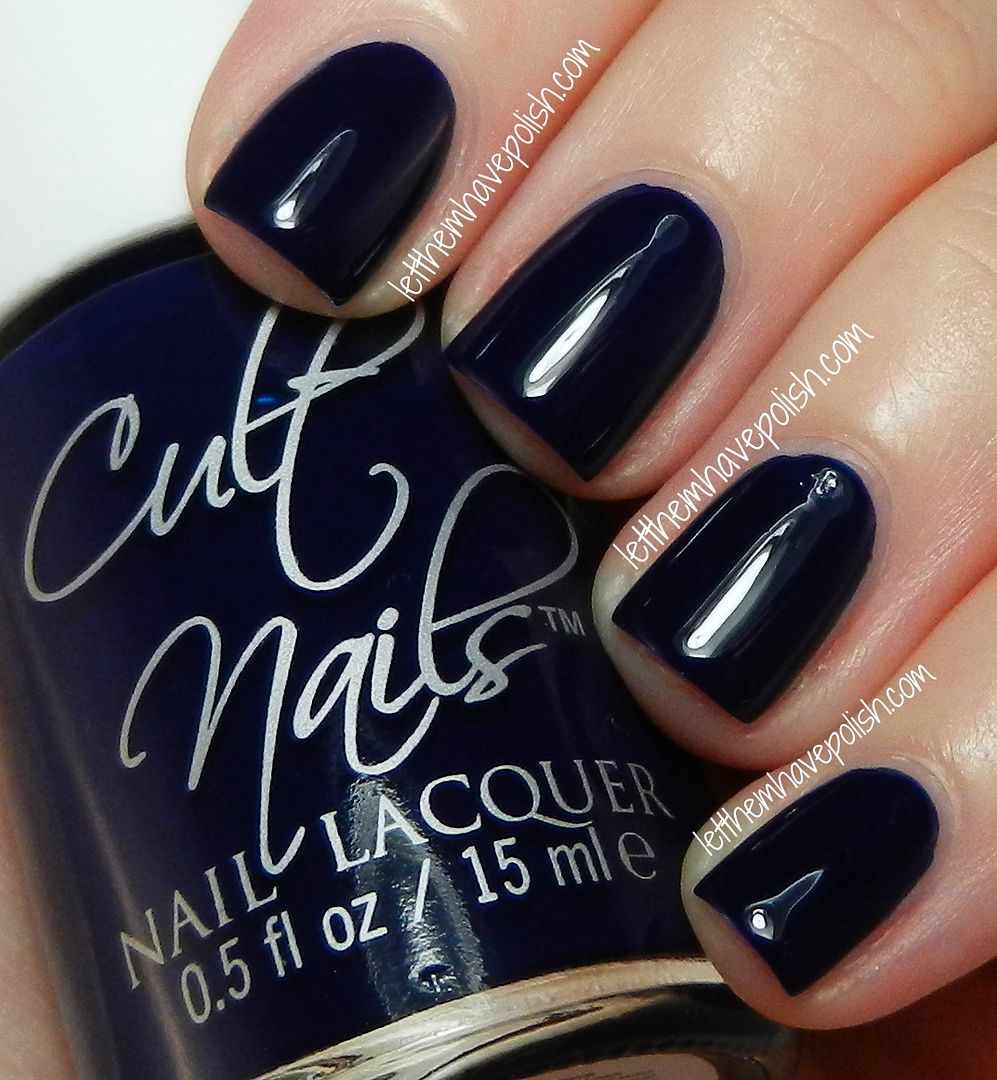 Time Traveler is this goooooooooorgeous shade of saturated, rich Navy jelly. It is a thick jelly, but thick in a good way. This color has incredible coverage, and if you have a light hand, you can do with one coat. I used two coats because I really wanted a deep, intense finish. This polish is also insanely glossy and that only gets better once top coated, like Navy patent leather. I love that it remains Blue in all lighting even though it is such a rich and dark color. I can't believe it took me so long to get this, but I am SOO happy I finally did.
I will be working on my nail care routine post! I'm pretty excited about that because it has definitely been a long time coming. Thanks for stopping by today loves!!
(**both products purchased by me**)