Happy Tuesday!
Where is the kitteh?!!!! Truffle will be on the blog later on this week. I kinda forgot to have her make a pick for me yesterday while the husband was home. When the hubs comes home later I will have him help me with Truffle Tuesday.. or Thursday maybe.
For today I do have some beautiful new colors by Cirque Nail Polish. This is the first half of the Arcus Collection. The Arcus collection was inspired by all the awesomeness of the Rainbow, my favorite color ;). This portion is made up of Six amazing layering polishes.
To see close up swatches of these beauties just continue reading ♥.
All of these swatches are shown with a top coat of KBShimmer Clearly on Top to smooth out the surface and bring out shine.
Cirque Magic Hour over A England Jane Eyre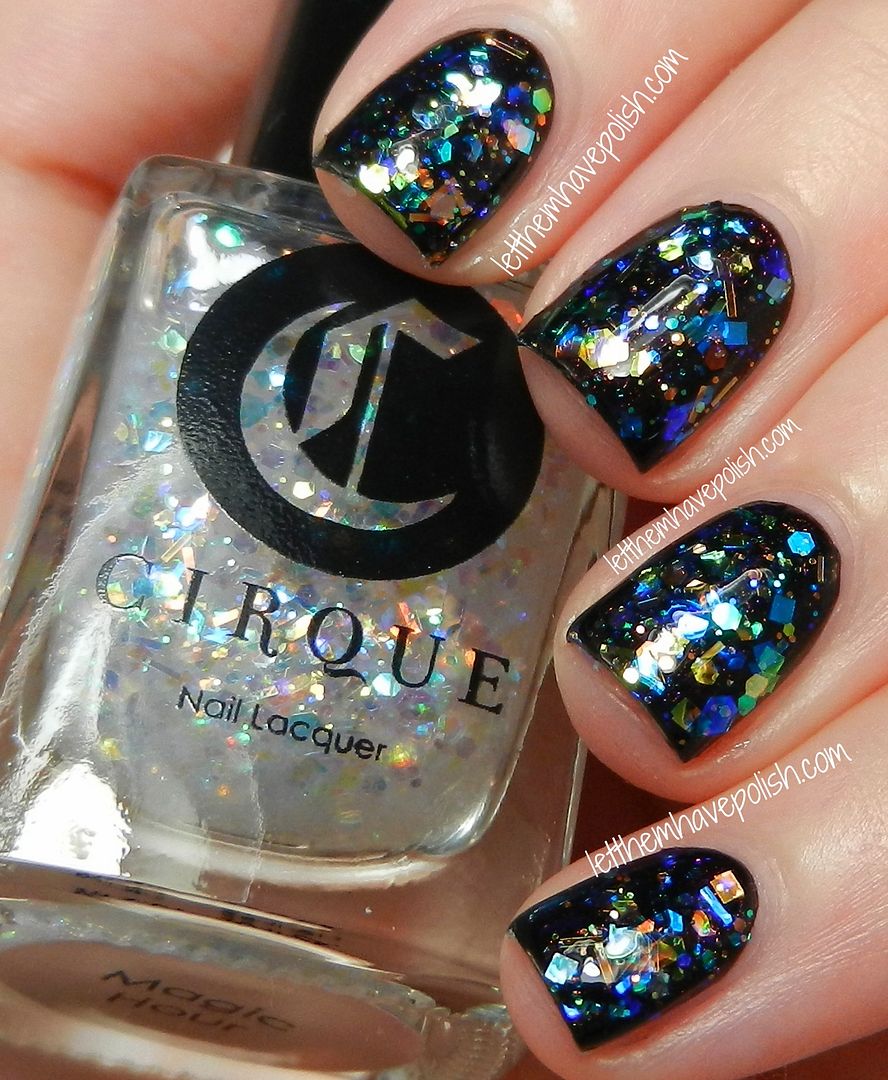 Magic Hour is a beautiful mix of iridescent/ opalescent glitter suspended in a clear base. This baby is PACKED with all kinds of beautiful shapes; squares, bars and hexes. The name on this polish is quite adequate as magic truly does happen when you layer this baby. Here I used Two coats of Magic Hour over my base color. This pretty has a good spread of glitter, the base is a bit thick, but not really a problem.

Cirque Iris over Milani Blue Jay
Iris is a gorgeous micro-shimmer topper. The sparkles in Iris flash Pink, Purple and Blue. There is a slight hint of a duochrome when it is layered. I used Two thin coats of Iris over my base color. Over this shade of Blue Iris created a stunning effect. I quite dig it.
Cirque
Lullaby
over Milani
Purple Martin
Lullaby is a dreamy blend of soft, satiny pastel glitter in varying shapes and sizes suspended in a clear base. At first glance I can pick out pastel Green, Purple, Pink and White glitter. This pretty has a really good spread of glitter for how chunky it is. I used Two coats of Lullaby over my base color. I love how delicate this looks.
Cirque
Le Invader
over Milani
Mint Chip
Le Invader is a super fun mix of, all square, sparkly glitter in a rainbow of colors. Literally, a rainbow of colors. This baby is PACKED, and I mean packed with glitter, in a thick clear base. I only needed one coat of Le Invader over my base color. This pretty needed quite a bit of manipulation to get the squares distributed evenly on my nails.
Cirque Kaleidoscope over Milani Peacock
Kaleidoscope is a party in a bottle. There are so many different shapes, sizes and colors of glitter in this topper. There are diamonds, hexes and squares in a fairly primary blend of colors. The base in this color is clear and fairly thick, which works with the chunky bits. I used two coats of Kaleidoscope over my base color. This shade also needs a bit of manipulation to get all the bits into place.

Cirque Electric Circus over Milani Almond Bliss
Ok, I LOVE LOVE LOVE this glitter topper!! Electric Circus is made up of non-reflective neon hexes in Blue, Green and Pink. The bits are soo bright and completely awesome! This pretty has a fantastic application and great spread of glitter. I used Two coats of Electric Circus over my base color. Have I mentioned how much I LOVE this glitter topper? Yeah, it is a lot :D.
The Arcus collection is available now from
Cirque Nail polish
as well as several other etailers. They range from $13- $15. I will have the second part of the collection up very soon. They are so beautiful and unique, as I've come to expect from Cirque. My favorites from this group would have to be
Electric Circus, Iris, Magic Hour
and
Lullaby
. Though, I really am enjoying all of them quite a lot.
Which of these are you loving?