Happy Thursday!
Today I am very excited to be sharing the KBShimmer 2013 Fall Collection. This was one of my most anticipated collections for 2013. As always, Christy has delivered a beautifully executed collection. This group is made up of Seven new shades, Two of them are stunning satin-matte finish. There is also a Halloween themed shade, as well as an amazing shimmering shade, and some of Christy's signature jelly-sammiches- in- a-bottle. These really put a smile on my face. They are just beautiful.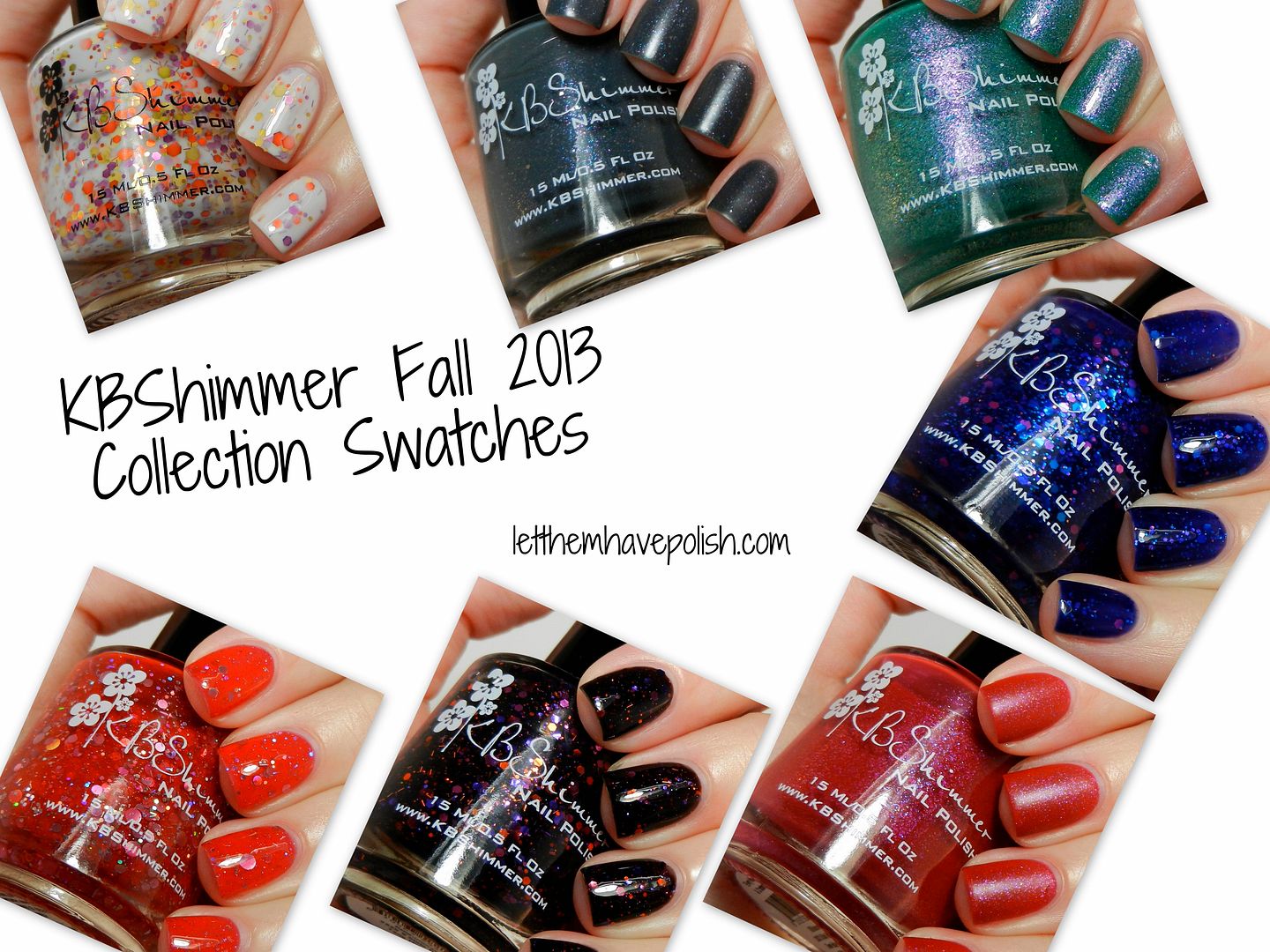 To see close-up swatches of this beautiful collection just continue reading ♥.
KBShimmer Teal Another Tail
Yeah, I am still in awe of this fantastic shade. Teal Another Tail is a stunning shimmering-glassfleck Teal base with strong flashes of Violet and Pink, at extreme angles it flashes Golden. This pretty is so multichromatic, at any given point you can see several colors on the surface of the nail. I took about 1,727 photos of this.. I might just make a video instead to show the shifting goodness of this beauty. This might just be the ultimate "Mermaid Polish". I used Two easy coats for my swatch.
KBShimmer Turbulence
Turbulence is one of the Two satin-matte shades. This pretty is a deep, slate Grey base packed with gorgeous Pink and Blue glassflecks. The formula on Turbulence is so easy to work with, and did great in Two coats. I really love what KBShimmer is doing with these mattes. They are stunning.
KBShimmer
Excuse me, I Blurped.
Excuse me, I Blurped is a beautiful shade of, you guessed it, Blurple jelly. The base is packed with beautiful Cobalt and Purple hexes in varying sizes. The formula on this jelly-based beauty is flawless and does great in Two easy coats. This is a beautiful take on the Navy Fall trend.
KBShimmer
Vicious Circles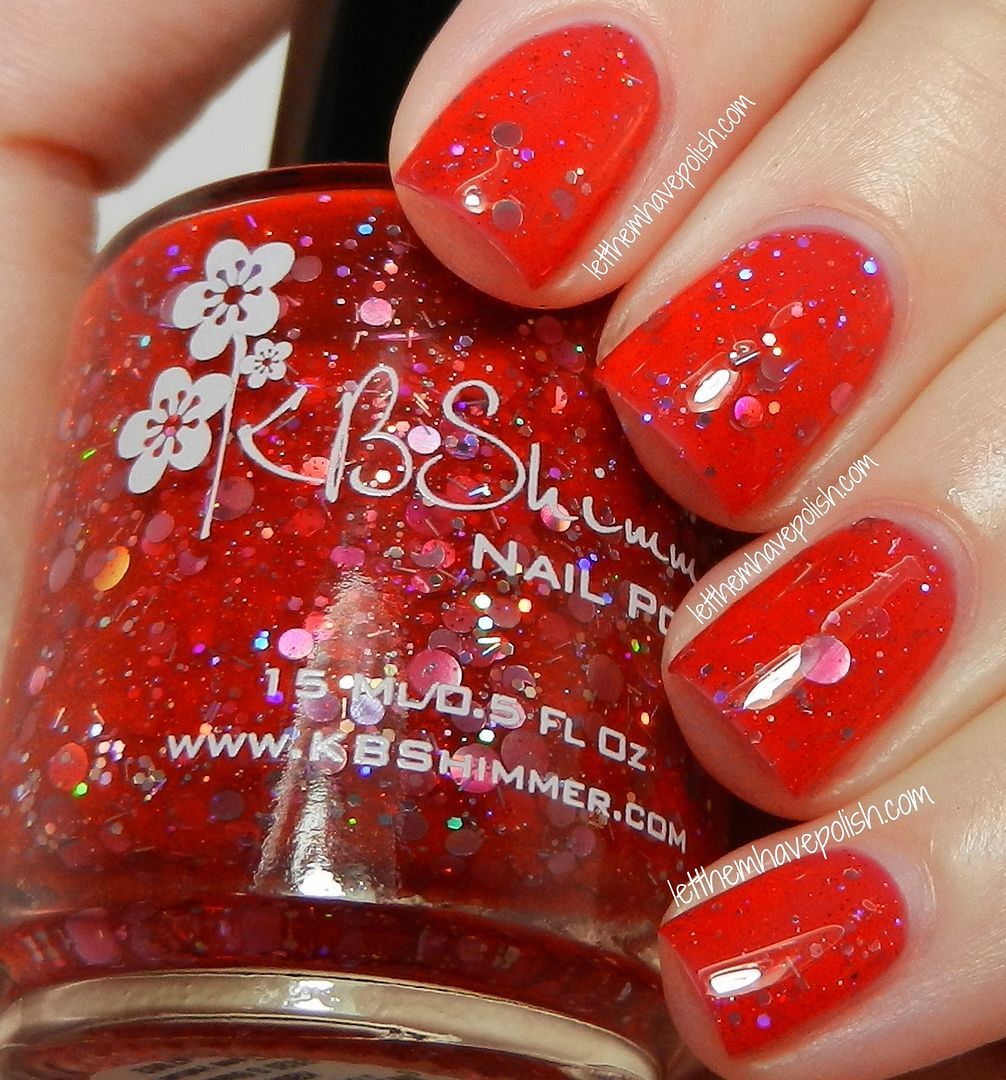 Vicious Circles is a juicy Pink-toned, red jelly base packed full of prismatic Silver hexes and dots in varying sizes. There are also a ton of micro bars and sparkles in the base. This shade applies really easily and has a great spread of glitter. I used Two coats.
KBShimmer
You go Ghoul!
Hahah I adore the name on this one. You go Ghoul! is a Blackened jelly base packed full of Orange and Purple hexes in varying sizes. This shade also has little micro bars and sparkles in the base that give the finished look a lot of dimension. I used Three thin coats.
KBShimmer You Autumn Know
You Autumn Know is a delicious, marshmallow-y white- crelly base. There are hexes and micro bars in Orange, Yellow and Purple packed in the lovely White base. I just adore the look of this polish. It reminds me of Fall, but a fun take on Fall. I love the White base with this mix of glitters. I used two easy coats.
KBShimmer
Every Nook & Cranberry
This is the second matte shade in the collection. OH. MY. GLOB!! I just love this shade. Every Nook & Cranberry is a beautiful cranberry shade packed full of Golden and Violet shimmer. The formula on this color is fantastic and I only needed Two coats for full coverage. I just LOVE how the sparkles look in this when the color is fully dry.
This collection is full of WIN for me. KBShimmer really knows the way to my heart :D. Christy's creations are always so inspired, unique and beautifully made. I don't know if I could pick favorites from this collection. I love them all equally, for different reasons. I must say, at the very top of the list is Teal Another Tail, closely followed by... everything else.
Will you be picking any of these pretties up? Which ones are speaking to you most?