It's a quickie, humpday treat!
Ok, so I am SUUUUUUPER excited to be sharing these!!!! Let me tell you why; I am such a HUUUUGE fan of these types of chubby- pencil balm stains. I know many of us in the beauty community have had nothing but praise for the Revlon balm stains and the like. For me, they are like Pokemon, I've gotta catch em all!
Well, Jordana has very recently joined the balm stain game with their new Twist & Shine Moisturizing Balm Stain collection. They have done a range of Eight beautiful shades at a price point that makes it impossible not to want them all! These babies will be available at Walgreens stores, as well as the Jordana website and they retail for $2.99!!! You read that right, $2.99!!!!!! And let me tell you, the quality is AMAZING, the wear is incredible and they feel soooo good on the lips.
They did a great job of covering the "color bases". The nudes are really wearable and I think they will flatter many skin tones. The Pinks are beautiful and I cannot wait to try the deeper shades. They are opaque, but not so opaque that they do not allow the stain color to work with your natural lip color. I hope that makes sense haha.
I've only gotten around to wearing Two of the shades, but the application was really nice, buttery and smooth. I didn't feel any pulling or dragging on my lips. They really do feel moisturizing and the wear on them is absolutely amazing. They are also versatile in that they can be worn as a wash of color, or built up to be full on vibrant. These also make great bases for lipsticks and do not need lip liner.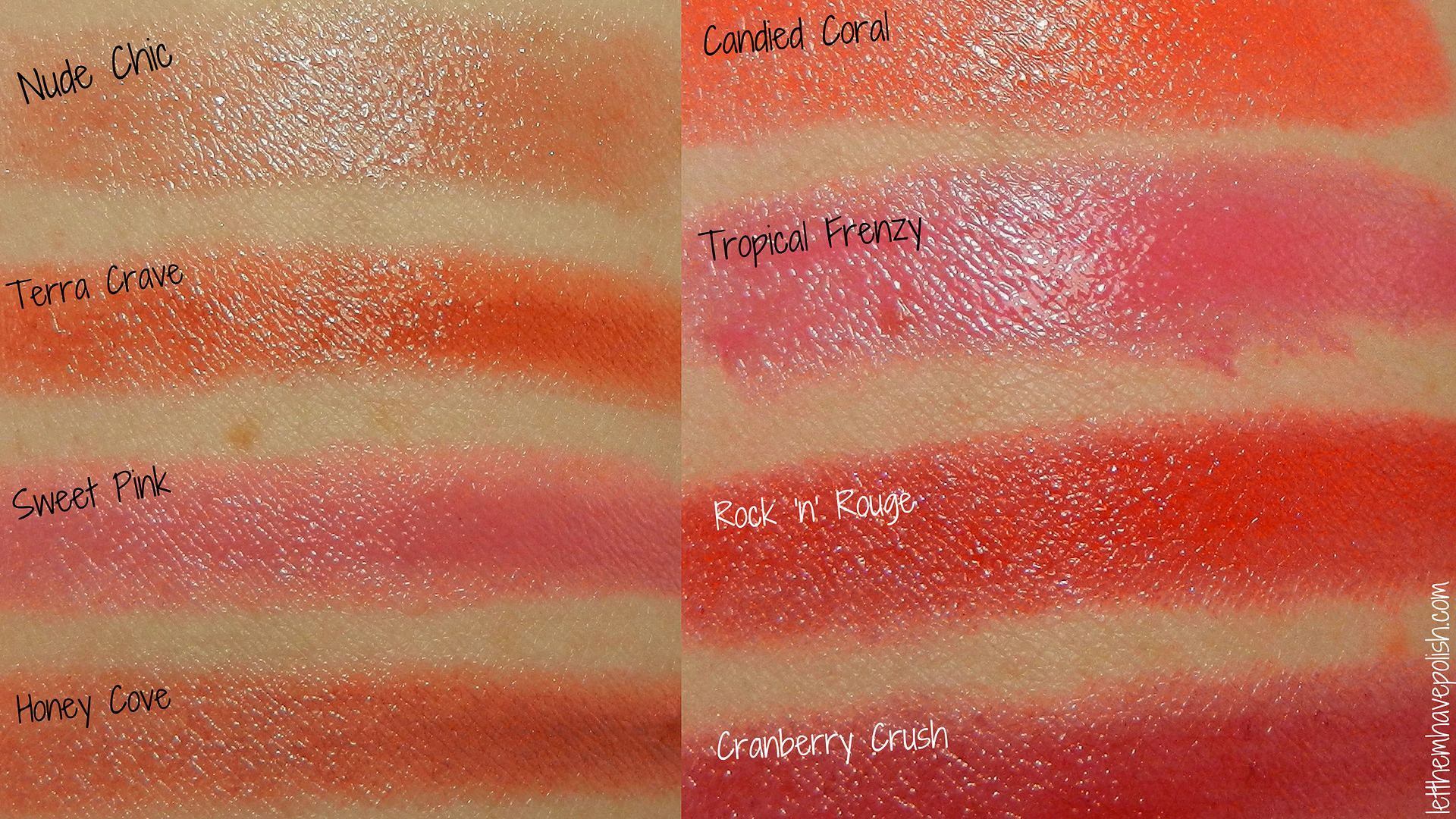 Nude Chic: A beautiful shade of light shimmering Taupe stain.
Terra Crave: A really wearable shade of Caramel- toned creamy stain.
Sweet Pink: A sweet shade of light, Blue- toned Bubblegum Pink creme stain.
Honey Love: A soft shade of Honey- toned creme stain.
Candied Coral: A gorgeous shade of wearable Coral creme stain
Tropical Frenzy: A fun shade of Magenta pink creme stain.
Rock 'n' Rouge: A beautiful shade of pinuppy Orange-toned Red creme stain.
Cranberry Crush: A sultry shade of beautiful deep Mauve-toned creme stain.

I don't know if there are dupes here for any of the other balm stains in the market as I've not had a chance to compare them. The only comparable ones I own to these are the Revlon Balm stains. I didn't find any dupes within the ones I own. Texture wise, I found these to be a bit smoother than the Revlon stains. The scent of these is so minimal, it barely needs mentioning.
I do have lip swatches of the Two pink shades I've worn so far. The wear on these was INCREDIBLE. I needed minor touchups throughout the day, even after eating and drinking. I would say I wore these for about 12 hours or so, and even after my shower my lips still had a slight Pink tint to them. I was especially impressed with Sweet Pink because it is a lighter shade of Pink and for some reason I was not expecting it to be so opaque and just plain awesome.
Jordana Twist & Shine in
Sweet Pink
I just adore this shade. I am a sucker for light Blue toned pink lippies. I think they are sweet and fun.
Jordana Twist & Shine in
Tropical Frenzy
This is right up my alley. Shades like these are my "safe colors". When I doubt, I Magenta. This baby is just my cup of tea.
So to recap, these are AWESOMESAUCE. Also, at a fraction of the price of most Balm Stains out there, these are a real steal. They retail for $2.99, but they wear and feel like a much more expensive product. These will be available at
Walgreens stores as well as online.
I really can't wait to wear the rest of the colors and do some mixing too. Of course, it is no surprise that I LOOOOVE the Pink tones. But, I really do love all the colors they released and I think they will flatter a lot of different skin tones.
Will you be on the lookout for these Jordana Twist & Shine Balm Stains? I will say this, if you were my bestie, I would tell you to run out and buy these!!