Happy Friday!!
Though I've never really been a fan of the Bond movies, I must say OPI has made some stunning polishes inspired by the franchise. Last year's
Skyfall Holiday collection
was full of WIN. So many of those shades are really stunning. This year O.P.I came out with a Six piece Liquid Sand collection inspired by the iconic Bond Girls.
I rocked the daylights out of these and loved every second of it. The colors and finishes of these are really interesting and beautiful. There is a great mix of classic, flashy and subtle in this group of colors. Overall, I am a huge fan of this collection.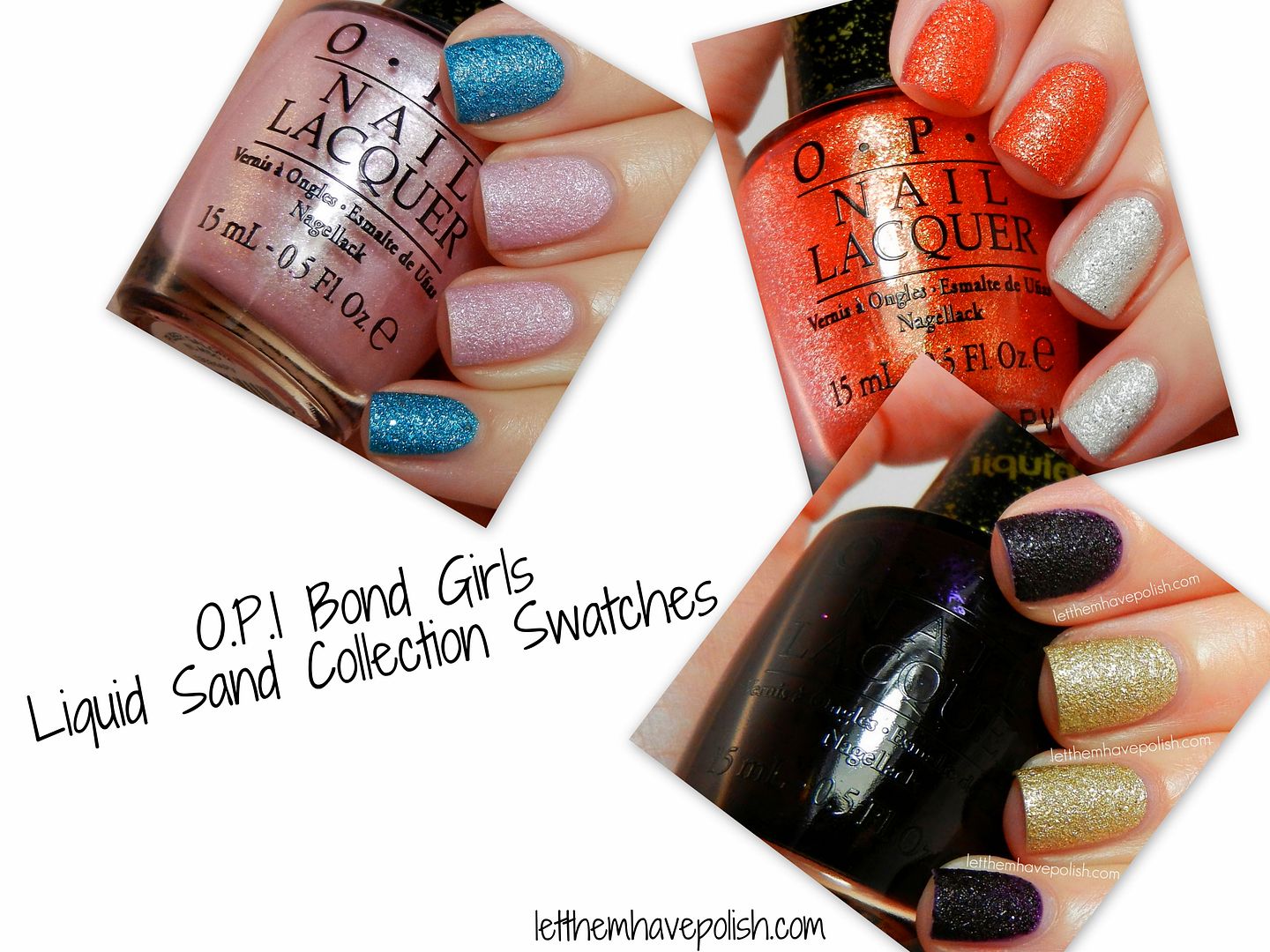 I went for pairings because most of these were actual manis that I wore for many days. The wear on all of these liquid sands is just ridiculously amazing. These do no chip, they do not fade and they wear like iron.
I don't want to sound like a broken record so I will get this out of the way now lol... The formula on all of these is AMAZING. They apply with much ease, I used Three thin coats for all these liquid sands. They were all good to go within 45 minutes. I don't know what sorcery is in these, but as they dry tge sparkle becomes more and more intense! I will never top coat these, they are just perfect in their beautiful matte form!
O.P.I Jinx and Solitaire
Jinx
is a beautiful, fiery shade of vivid Coral with a strong Golden duochrome. It reminds me of one of last years
Fall DS shades, but in liquid sand form
. I literally could not stop staring at this color once it was fully dry. It is just amazing.
Solitaire
is a really pretty Silvery-White base with little chunky Silver glitter accents. As it first applies it looks like an ugly frosty mess, and then it starts to dry... and it becomes the most interesting shade of shimmering textured White matte. I adore the complete transformation of this color as it dries. It is really chic and different from every other texture out there.
O.P.I
Tiffany Case
and
Pussy Galore
These Two shades have my full attention hee hee. Tiffany Case is probably my most favorite liquid sand ever. She is GLORIOUS! This shade is a heavy dose of matte cerulean Blue sparkle accented by small light Blue sparkling hexes. Tiffany Case is painfully sparkly and just magical in Sunlight. Pussy Galore is a playful matte sparkling Pink. It was very much like Solitaire, in that it looks frosty and ugly as it applies. As it dries the base becomes this beautiful sparkly Pink accented by micro, barely there, Magenta sparkle. It almost reminds me of a textured version of Suzi and the Lifeguard. I loved wearing these Two together as they reminded me of yummy cotton candy.
O.P.I
Vesper
and
Honey Ryder
I've actually already gone over these two beauties ont he blog before. You can check out the original post for
Vesper and Honey Ryder
[HERE]. Honey Ryder
has a very special place in my collection. She is just BEAUTIFUL!
My faves in this group are Tiffany Case, Honey Ryder and Jinx. Though I really do adore all of them and I love that there is a bit of everything in terms of color. They gave us delicate, vampy and flashy all in one collection.
Did you pick up any Bond girls? Which are your faves?