Happy Thursday!!!
Ahhh remember the days of etsy-stalking the
Nail-Venturous shop for Floam?
I sure do... I remember getting "cart jacked" so many times. I remember throwing hissy fits. I remember the day I finally got
Floam
in my hands thanks to a wonderful reader. It was a most glorious day. I also remember wondering how long it would take mainstream polish companies to catch on and start releasing dupes of indies.. The answer to that.... about a year and a half...
Enter the Salon Perfect Neon Collision Collection, available at Wal Mart, right MEOW! If you were a fan of
Floam
and all the other "floamy" releases, you will love the Neon Collision glitters. These neon glitter polishes are incredibly bright, fun and reminiscent of
Floam.
They even released a dead on dupe for
Floam
, which I will be covering in a later post. Micro neon glitters densely packed in a clear base? I'll take it in every single color combo you can think of!!
Salon Perfect Zapped over LVX Mynt
Zapped is a bright, lime neon Green and Blue neon glitter blend suspended in a clear base. The blend is heavier on the Green that it is on the Blue so it creates a cool, speckled effect. The spread of glitter is good on these, just a bit thick, not problematic. I think they could be worn by themselves, but I decided to layer all my Neon Collision shades for my swatches. I used Two coats of Zapped over my base color.
Salon Perfect
Bang
over LVX
Deco
Bang is an awesome blend of Neon Orange and Marigold glitter in a clear base. This one is the only one that has two different sizes of glitter as it has slightly larger Marigold hexes. I had a HARD time photographing this because it is SOOOOOO bright! I used Two coats of Bang over my base color.
Salon Perfect
Shocked
over Sation
Queenie in a Bottle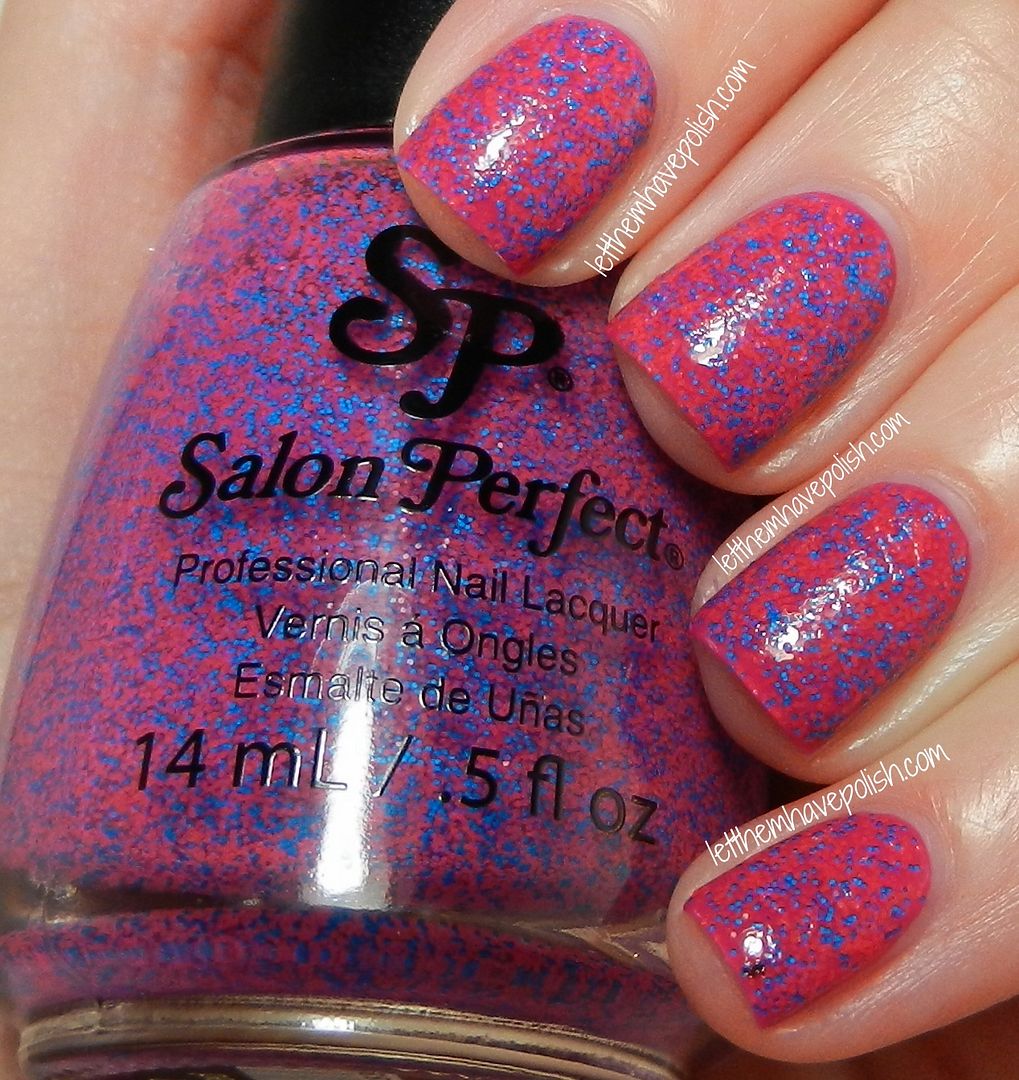 Zapped is an even mix of neon Pink and Blue glitter suspended in a clear base. I'd say this is most like Pink Floam. This baby was one of my faves in the bunch. I used Two coats of Zapped over my base color.
These babies are top coat eaters!!! You can see that on my photo of Shocked(Pink one). I had top coated it and by the time I had my photo, the top coat had settled into the glitter. So a good top coat is a must to smooth out these pretties. That said, these are awesome, bright, neon and badass!! I can't wait to wear and comp the Floam dupe for you guys! The Floam dupe, btw, is called Kaboom and I will be sharing that one by itself soon. I don't have a fave, I adore all of these!! I was always a sucker for this "colored sand" looking polishes.
What are your thoughts on the Neon Collision glitters?