Happy Thursday!!
If you have been a long time reader of LTHP, you know that for a long time Seche Vite was my go-to top coat. I have since found other top coats I really enjoy, but Seche Vite is definitely "old faithful" for me. So!! Today I have swatches of the Seche Clever & Confident Fall 2013 collection. Ever since Seche announced that they were going to be doing nail color, I just knew I had to try them. I am so happy that the first Seche shades I got to try were their Fall collection, because as many you guys know I just love Fall colors.
To see close up swatches of these pretties just continue reading ♥.
I really don't want to sound like a broken record so let me tell you why I love these polishes. These are not the most unique shades... But here's the deal, they have AMAZING formulas. Every single one of these swatches is just ONE coat of color. Yes, you read that right. All of these swatches are only ONE coat, followed by a top coat of KBShimmer Clearly on top.
Polishes like these will be great for many nail art techniques. I have a feeling these would be great for stamping, gradients, marbled and anything freehand. The formulas are thick, but they spread perfectly, smoothly and evenly. The OCD in me really wanted to do a Second coat, but I could not find a good reason to do one as they looked perfectly fine with just one coat of color.
Seche Silly but Sensible
Silly but Sensible is an amazing shade of Terracotta Creme. This reminds me of Camel- toned leather boots. I had a hard time capturing this shade, it is a bit more brown in person. I usually want to hate shades like this, but I end up loving them on me. This is a classic Fall shade.

Seche Happy, As Is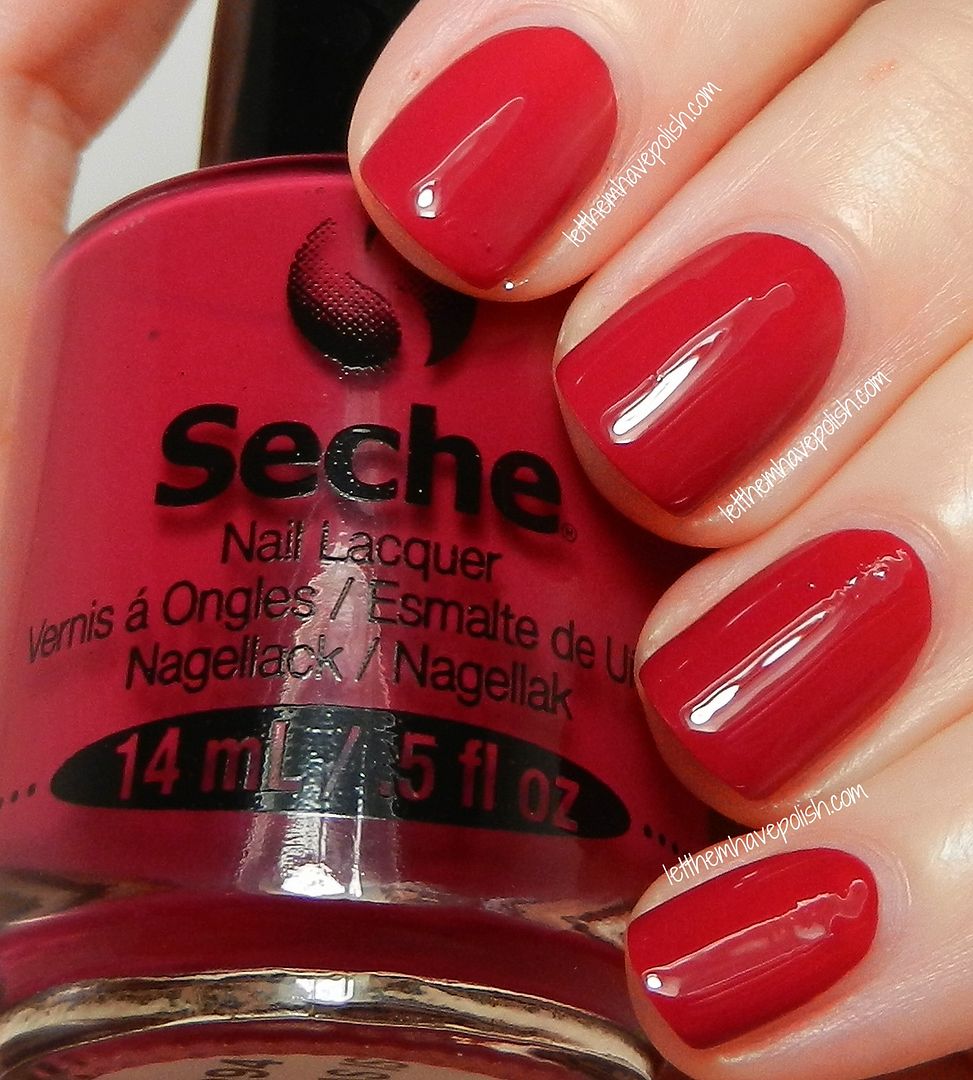 Happy, as Is is a classic shade of Raspberry toned creme. This shade has strong Red undertones, which made it tricky for me to capture as well. My camera does not enjoy Berry-tone shades haha.
Seche Clever & Confident
Seche Vesatile
Versatile is a gagagagorgeous shade of Emerald Green creme with slight Blue undertones. I absolutely adore this shade.

Seche Wonderfully Witty
Wonderfully Witty is an epically beautiful shade of deep Navy creme. Move over Revlon Royal, mama has a new favorite navy crelly. And yes, this is ONE coat!!!

Seche Intutition
Intuition is a classic Burgundy shade with a slight shimmer. This is classic Fall-ness in a bottle.
So, while the colors are not the most exciting or unique, I can't help but be blown away by the formulations of the colors. I am so impressed with the fact that they were all One coaters for me. Dry time was excellent of course. I can only assume that the wear is great on these, I might have to experiment soon. I am also excited to do some nail art with some of these. I'm really trying to venture off into the land of Freehand nail art and these might just make it easier. My favorite color is definitely the Navy shade, Wonderfully Witty.
Are any of these speaking to you? If you are a stickler for good formulas, these are SOO for you!