Good afternoon my loves!!
Today I feel slightly hungover. No, I was not out drinking last night. I don't drink, ever (more like can't)... Anywho, I was at The Makeup Show in Orlando all weekend long and it was a beauty high for the ages. If you follow me on Instagram(@L_T_H_P) you may have gotten a glimpse of the madness that was this amazing show. I will be doing a few posts dedicated to the show. There was a lot of amazing things going on, and I really want to share some of my experiences with you guys.
Since Cult Nails had a booth at the show I decided to do a mani that mish-mashed a ton of Cult Nails shade into one amazing manicure. I wanted to represent for Cult Nails, not only because I consider Maria a friend, but because they are a brand that calls Florida home and I think that is pretty neat. Cult Nails also produces an amazing product, they never disappoint, and they always think outside of the box in their approach to seasonal collections. For me, they are a breath of fresh- air with every new collection because all of their color are always so different from everything else that is on the market at the time. SO, yeah.. I had to pimp some Cult Nails, and this is what I did :D. This look features shades from the Dance All Night, Road Trip and All Access Collections.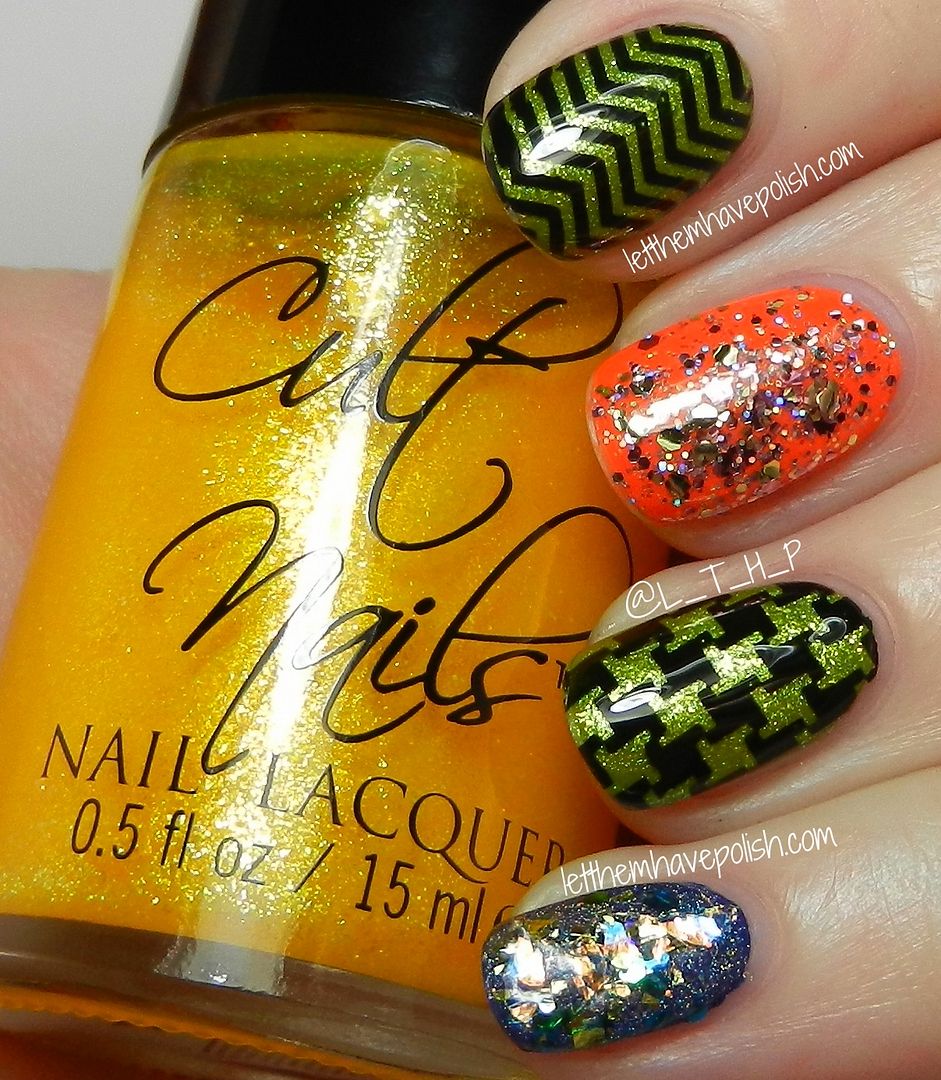 I will have reviews of Road Trip and All Access up very soon! I think it would be easier to break down this look by fingernail so.. let's do this!!
-Thumb and Pinky Nails: Feedback over Dance All Night over Mayhem over Wack Slacks. This was also done on my Pinky nails and you can see just how beautiful this layering turned out. They looked like some kind of jewel.
-Index Nail: Two Timer over All Out over Grunge. This layering created one of the coolest and most unique shades I've ever rocked! Maria didn't believe me when I told her it was all Cult Nails heehee. In the photo above I am holding All Out. You need this polish. I also did this same layering on my Ring fingernail.
-Middle Nail: Walk of Shame over Center of Attention over Be Loco. OMG, OMG, OMG. Ok, yes, so I LOVE this. I wish I had taken a macro of this nail because it was seriously so pretty and so girly and just SPARKLY!
For the stamped details I used Bundle Monster plate BM201 for the zig- zag pattern. For the geometric pattern I used Cheeky Plate CH13. I used Konad Black special polish for the stamps. I finished my whole look off with a coat of Wicked Fast, except for the stamped nails for which I used Seche Vite to avoid smudging the stamped designs.
During the show I had actually accented my nails with some Nail Veils by Chronicle Stones, but I didn't manage to snap a good pic of that. So here is an "ok cell" pic. I do want to go over the Nail Veils soon. I just adore these pieces. They are so edgy and different.
So here is a crappy cell pic of these awesome pieces. I will have an actual post soon! Oh and I ended up accenting my index with moons in You're my Dandylion and Inglot glitter stripes. I already had quite a bit of shrinkage going on at this point ahaha.
You can find out more about Nail Veils by visiting their site
http://nailveils.com/
. The pinkie piece with the dangle is one of my faves. It makes me feel very "old school glam". Or maybe like something Effie Trinket would wear. The piece on my middle finger can be customized by adding gems to the centers of the flowers. Su, the creator can make them with genuine gemstones or you can get them blank so you can use your own stones. These, semi-precious metal pieces are re-usable which would allow you to change the gems in the Flower veil piece. If you follow celeb nail artist Pattie Yankee, she is a huge fan of Nail Veils, and even had her own custom line created for NYFW this year.
Below are pics of my base colors which I will be reviewing soon they are Grunge, Be Loco and Wack Slacks. It is always so much fun for me to see the transformation of my nails from canvases to completed look.
Oh and for fun here is a sneak of the awesomeness that went down at The Makeup Show Orlando. This model was painted by the artists of the Makeup For Ever Academy. I always look forward to their booth because their demos are surreal, and their creature concepts are always beautiful and beautifully executed. This model was working the heck out of this look!! She was sparkling from head to toe.
My outfit, which pales in comparison to the beauty standing next to me, is all Black Milk Clothing. I wore The Awesome Suit as my top sine I wanted to show off my back tattoo. The skirt is the Purple galaxy skater skirt and I am also rocking the flapper hosiery. I went with simple converses because we had to do a lot of walking, but I liked it that way. The kitty ears are by
Locketship.
This year's show was an insane amount of fun. I met so many amazing people, and I got to show of my technicolor, armored nails all day long Saturday and Sunday. It was fun to wear my crazy makeup and not get stared at and it was even more fun to discuss all this beautiful makeup and all these new innovations with people who are just as passionate about this industry as I (we) are.
I'm really looking forward to sharing a few more posts about this show, because it really is an amazing resource for people in the industry or people trying to get into the beauty industry. That, and it was just too much of an amazing experience not to share with you guys! They are so welcoming, and they really give you the opportunity to be exposed to some of the most amazing influences in the MUA community.
For more info about
The Makeup Show you can head to their site http://www.themakeupshow.com/
.
Thank you so much for stopping by today my painted beauties!! I hope you enjoyed my Cult Nails mish-mash :D.