Yay for being able to get a post up!!
So all my photo editors I like to use decided that they were going to take a little nap over the past few days. I was not able to edit any photos until earlier today. I am one hot little potato haha. I just can't stand when I am held back by things that I cannot control.... Like photobucket deciding to take a crap haha. But.... Here I am, with day Seven of the #31DC2013. Day Seven calls for Black and White nails, I gave it a little twist and added some color too.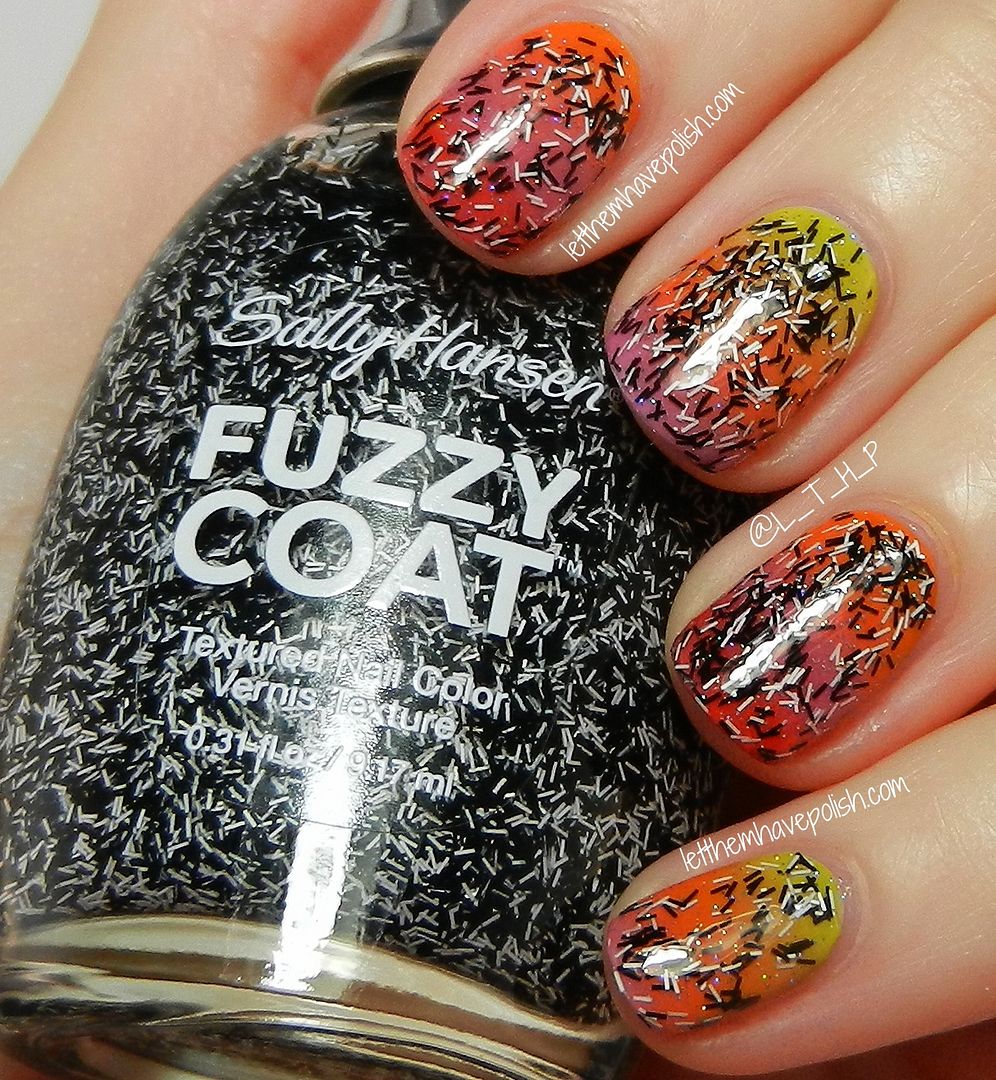 This look features Four shades from the Nicole by O.P.I Tinkerbell collection in gradients over Nicole by O.P.I Am I Making Myself Claire? of the Modern Family Collection. On my Pinky and Middle nails I did gradients in Sweet on Pete, Fairy Fairy Quite Contrary and Tink's in the Pink. On my Ring finger and Index finger I did gradients in Fairy Fairy Quite Contrary, Tink's in the Pink and Half Charming Half Alarming. I then topped off my gradients in my signature coat of INM Northern Lights to give the look some sparkle. To bring in the Black and White factor I topped off all my gradients in a generous coat of Sally Hansen Fuzzy Coat in Tweedy. I topped off the whole look with KBShimmer Clearly on top.
Below you can see my gradients before I added the fuzzy coat.
And for shiggles, here is a swatch pic of Am I Making Myself Claire? of the Modern Family Collection. This shade was perfect to gradient over, it really made the colors pop. I wanted to be bored with this shade, but I quite liked it. It is the perfect shade of violet leaning putty. This pretty has a great, Two coat, formula. Shown with top coat here.
Yay for playing catch up haha! I know I am SOO far behind from the rest of the gals that all started together. But I do have quite a few more prompts ready to go so yay for that!! I also have some swatchies coming your way soon. Mama is bustin butt over heah!!
Thanks for stopping by!