(**Most of these products were provided as press samples**)
Never go to bed angry...
And never try to nail art when you are sad... or you might end up with derpy looking cats on your nails lol. Now, lemme remind you of why exactly I don't freehand...
#31DC2013 Day Five- Blue Kitteh Nails
The base color for my moon is a custom made shade by Honeybuttons Nail polish. She made a beautiful memorial Periwinkle Blue shade for my Muffin called
Muffin Picks Blue...
It seemed fitting that I used my kitty inspired shade for my kitty nails. This look is a modified version of the
owl nail look
I did Two years ago. To give my kitties a fuzzy look I used a bit of Sally Hansen
Wool Knot
. For the eyes I used Nicole by O.P.I
Sweet on Pete,
and for the pink noses Barielle
Smarty Pants Pink.
All the Black details were done with Cult Nails
Nevermore
. I finished the whole thing off with some KBShimmer Clearly on Top.
#31DC2013 Day Four: Green Nails
I had actually attempted some more freehand over my Green base, but it was a failure... I shall keep trying.... I am determined to produce some blog-worthy freehand looks! So, for my green nails I give you Cirque nail polish in Erda, from the Arcus collection. This color alone is a work of art. This shade of rich Emerald Green is lit from within thanks to all the beautiful and fine microshimmer. I used Three thin coats for this swatch and a top coat to bring out shine.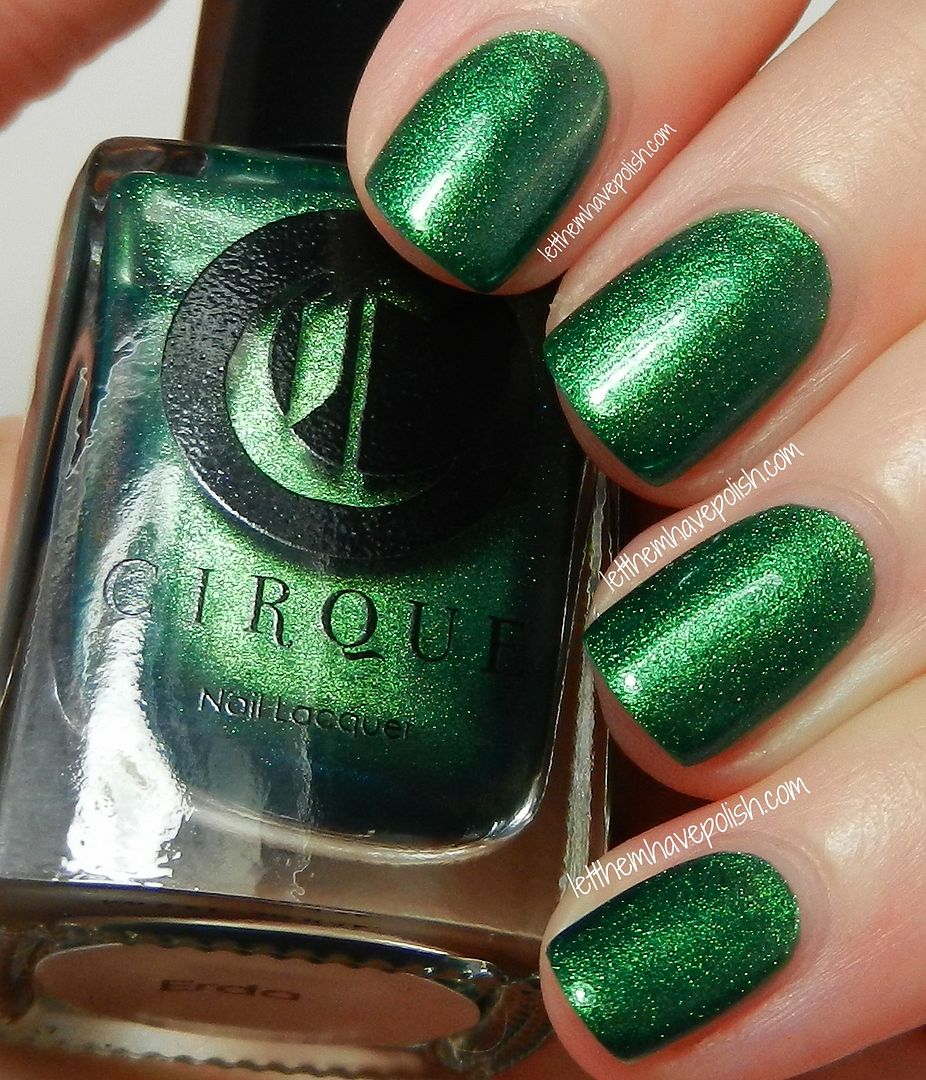 And with that I am official caught up on the challenge prompts! YAY!! Though I am really pondering if I will keep going with the challenge. I was looking at my desk and I am REALLY backed up... Like ridiculously backed up and it is bothering the crapola out of me. We shall see... I don't know what I was thinking when I decided to take this beast on again lool!! I should have known better.
Have you seen many awesome Green and Blue looks? I'm off to stalk the interwebs for some Purple inspiration. ♥.