Happy Tuesday!
Today I have Two of the most amazing handmade nail polishes EVARR!! So, when KBShimmer first started getting into nail polish she did came out with a bang. It took me a while to get my hands on these... But these two pretties have been KBShimmer staples for a while and I am so happy to finally have them as part of my collection.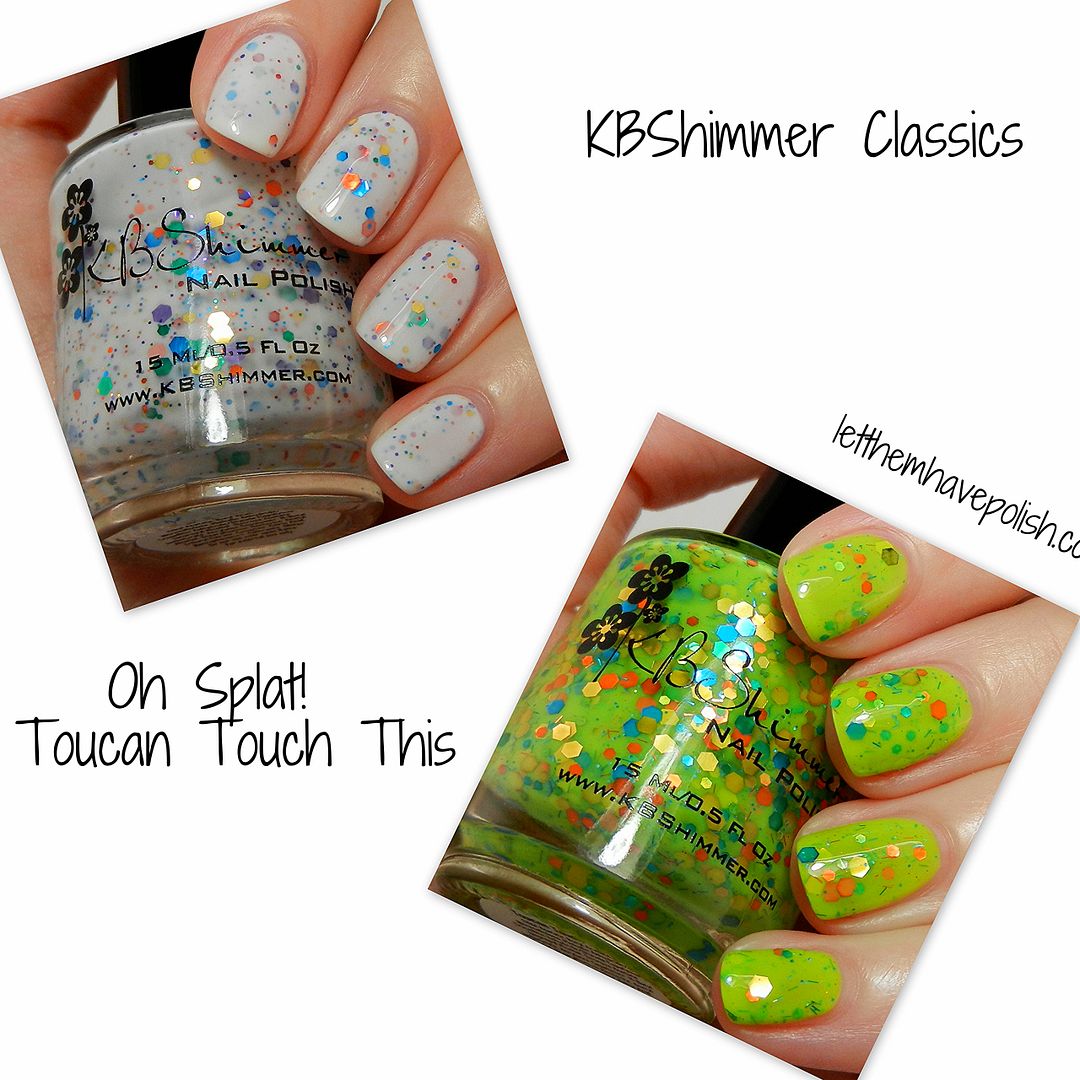 Both swatches are shown with a top coat of KBShimmer Clearly on top for smoothness and shine.
KBShimmer Toucan Touch This
Toucan Touch This is an incredibly unique, neon Lime Green based crelly glitter blend. Get all that? It's so complex but so much fun. The neon lime green base is like nothing else in my collection. There is a rainbow of hexes in varying sizes as well as micro bars suspended in this awesome base. I freaking love this color and I wore it for a good week and still did not want to take it off. The formula on this shade is AMAZING, I had no issues with glitter spread and it did great in Three thin coats.
Pardon the "lobster hands" I had to do some editing to get the color to look right in the pics. It's SOO bright!
KBShimmer Oh Splat!
Oh Splat! is the bestest, White crelly based, rainbow hex glitter blend. If you are a fan of the "birthday batter", "poptart icing and/ or cupcake polish look... Then you need this pretty. This shade has the best formula and great spread of glitter. I used Three thin coats.
Raise your hand if you've had these for ever!! I really feel kind of shamed that it took me so long to get my hands of these. I really send a huge thanks out to Christy Rose for always being such a rockstar and so kind and generous to LTHP! I am always honored and stoked to rock her creations!
Thanks for stopping by loves!!