Fashion! Turn to the Right!!!
Alright guys... first "fashion-y post".. Here we go!! I've decided to dedicate this post to one of my new-ish loves; Black Milk Clothing.
Ooooohhhhh Fashion!! Anywho, now that "that's out my system... It is absolutely no secret that I am obsessed with all things nylon, shiny, tight, obnoxious and awesome. Few brands cover all these bases better than, Aussie-based, Black Milk Clothing. I remember the first time I saw a picture of a pair of Black Milk leggings, I was blown away by how vibrant and just plain spectacular they were. It was a picture of, their very popular, Purple Galaxy leggings. Now, I know my style is definitely not for everyone, and I totally get that.
So back to BMC, I remember being all like "WHOA dem bitches are expensive" lolol... Needless to say I caved in because EVERY single photo I saw of Black Milk Clothing items was just amazing... And I HAD to find out what all the hype was about. I was done in from the second I got my first piece. Which was actually purchased for me by my amazing husband as a surprise. It was the Rainbow Galaxy dress. I was so blown away by how beautiful and colorful it was.
I love Black Milk Clothing because in their clothing I feel confident and like I can take on the world. It may sound silly, but wearing their clothes has so boosted my confidence. As a girl who used to struggle greatly with body image; this means the world to me. They are definitely a treat, but what a treat! I mean, IDK what sorcery is in these legings... It used to be I thought everyone who wore Black Milk had/has amazing bums.... No, it is just Black Milk sorcery (though I'm sure some of these gals really do have fantastic bums :). Sorcery I tell YOU!!
All of these pics are phone pics :(. And if you follow me on Instagram (@L_T_H_P) you may have already seen quite a few of these photos. However, I really wanted to do an "introductory post" to what LTHP style is like ;). As I said, I want to give you guys a glimpse into more aspects of my colorful life. I don't necessarily want to discuss the outfits, I mean it is pretty clear in the pics what is going on hahaha. I guess I want to create a funky "look-book" of sorts? Who knows! I just want to have fun with these posts, be gentle haha. So, in a way I really love these pics. They are "real", they are me, and I feel they really capture a bit of my essence. A huge thank you to my amazing husband, Daniel, who always is such a good sport about taking these photos :D. We have a lot of fun doing these.
I also love to jump in my photos haha. For several reasons: 1. It's fun. 2. It's fun. 3. It shows the clothes in "action". The top in this shot is from Target and my sandals from amiclubwear.com.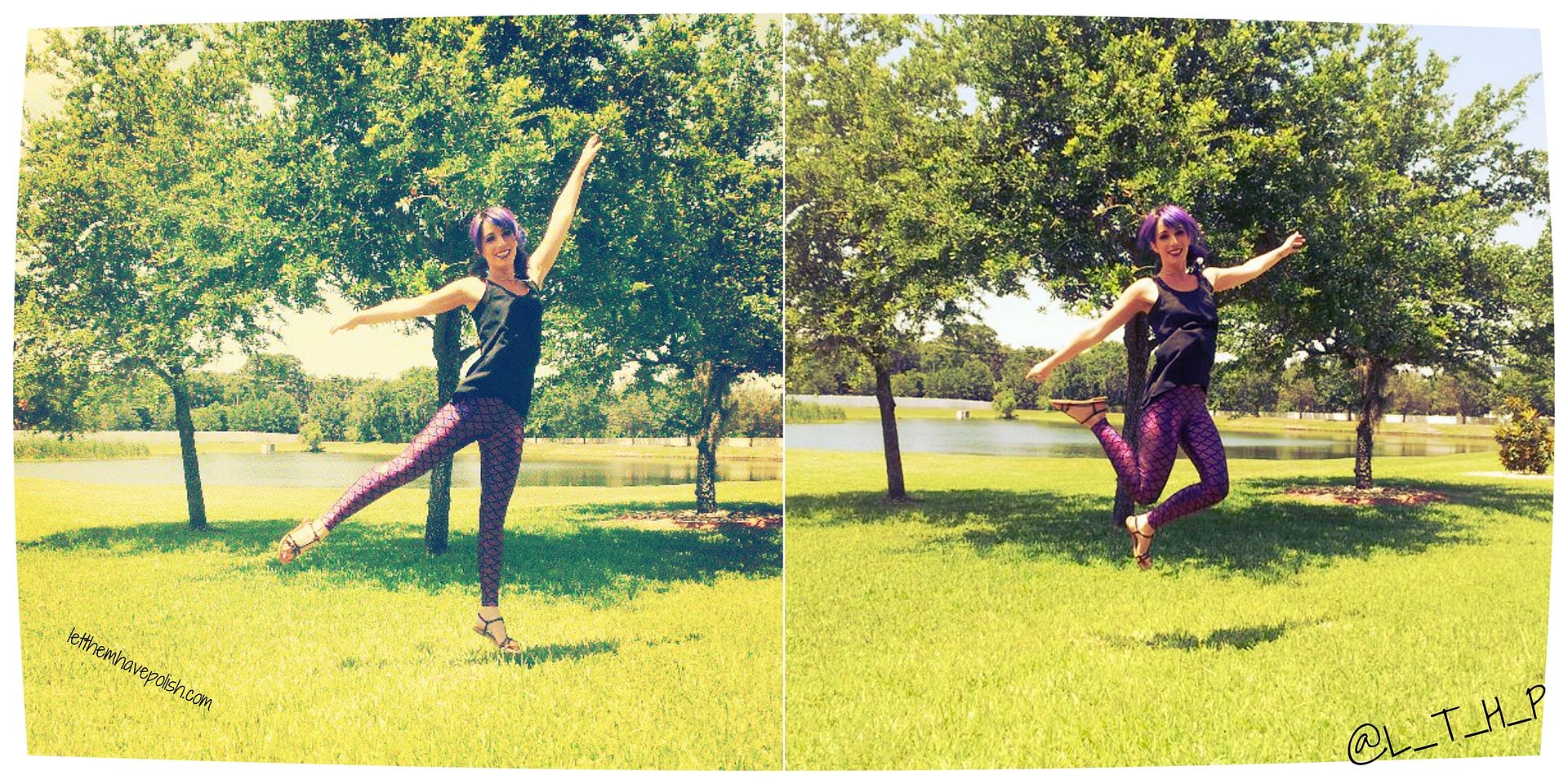 You guys remember this shot right? Remember the post where I
matched my nails to these leggings
? That was fun... I should do it with my Purple ones too!! I think Glitter Gal
Purple
holo might just be the perfect shade for that! Or maybe Zoya
Aurora.
One of my first BMC purchases were their original bone legs. I just love these to bits. They are a bit big on me now, but I dont care haha. I stil love them so much. Every time I wear them I get tons of compliments. The top is from American Eagle and sandals from Ami Club Wear. I am also wearing the BMC Wet Look bandeau, but you can't really see it haha.
And another of my favorite BMC pieces are my Hex Code leggings (these were very limited however, i think they are no longer avail.). How awesome are these!!!! The blogger nerd in me needed these the second I laid eyes on them!! They are so perfectly "me" haha. I just love that I can wear pretty much anything I want with them since they do have a full spectrum of colors on them. The tee is from Tee Fury and it features Pam from Archer. Where my Archer fans at!?? *sploosh!!* hahah
These are just a few of my fave pairs. I do have a few more, but no real good pics of them yet lol. It feels weird typing a post not about nails or makeup haha. But it also feels really good!! I know a lot of you come here for nails and makeup, but please, for the love of all that is good, don't be mean if this post is not up your alley. I know not everyone is interested in fashion or what I am wearing, but as a girly- girl and a general human being.... It feels good to write openly about some of my other passions. And if can inspire someone to really be themselves and dress how they want, because it makes them happy... my job has been done :D.
Well, this has been fun but I am actually off to swatch a lot of awesome Halloween collections! Like, REALLY, AWESOME! I am so impressed with what China Glaze and Dollish Polish did for Halloween this year and I cant wait to share swatches of those! I really hope that you guys enjoyed this post though. I hope to continue doing them, even if just for myself.
Do any of you guys own any Black Milk Clothing pieces? Any faves?