Happy Tuesday!
This past weekend was pretty quiet for the husband and I. I was not doing too great and had to take it easy. Yesterday was not good either... Then, there was a not- so- nice comment in my inbox this morning... It not- so- kindly requested that I post something... "Post something already, I know you are depressed but c'mon".... Something along those lines.... How sweet, right?
I don't even know how to follow up to this comment. Let's just say it's not OK to talk to anyone this way. That is all. I am fairly transparent with you guys about my health struggles because this blog originated as a result of these very struggles. Every now and then these issues will rise up and get in the way of my ability to produce content. This is out of my control, and I know a lot of you are very understanding of this matter. Sometimes, no matter how badly I want to post, swatch or do nail art.. I just don't feel well enough to do so. This has nothing to do with my depression or mental state. This is a physical thing, my body is not running at 100%. I do as much as I can, when I can. I don't think I should even have to explain this... Oh wait, I don't. But, I won't lie... It was hurtful to see such a comment. Behind all these pretty pictures of nails, and behind every single word; there is a person. A real human being with real human feelings... and they can get hurt too.
Right... the #31DC2013... I still have not decided if I will continue on with it. There is A LOT going on in my "real life" right now. The husband and I are doing a BIG MOVE in a few short weeks so there are a lot of preparations that have to take place. In hindsight, it was not a good idea for me to join in the challenge, but I might still take on the prompts in my own time.
I have SO MUCH product I want to/need to go through. I really don't want the blog to go dead during the time it will take us to move and settle in, so I have to swatch a lot and draft like a crazy lady. There is just an insane amount of work I have to get done in a tight time frame. We are very, very excited about this move though. It is something we have been wanting to do for a very long time.
So, now that we are kinda caught up... You guys, seriously, Jordana is KILLIN' IT right now with all their new releases. This post will focus on their new 12 Hour Made to Last Liquid Pencil eyeliners and their new
Bold Liquid felt tip eyeliner
. These new Jordana products will be available at Walgreens stores as well as
online
. This new range of Six new eyeliners will retail for $2.49 each. I am so madly in love with these pencils.
They have done a classic, creamy matte Brown and Black, along with Four shimmery, metallic shades. These all have such creamy and highly pigmented formulations. They glide with easy and don't feel like they pull at any time. The Black and Brown pencils are fantastic for the waterline and tightline. My eyes can be fairly sensitive and I have ran into no irritations with any of these pencils. They don't make my eyes tear up when I am applying them either.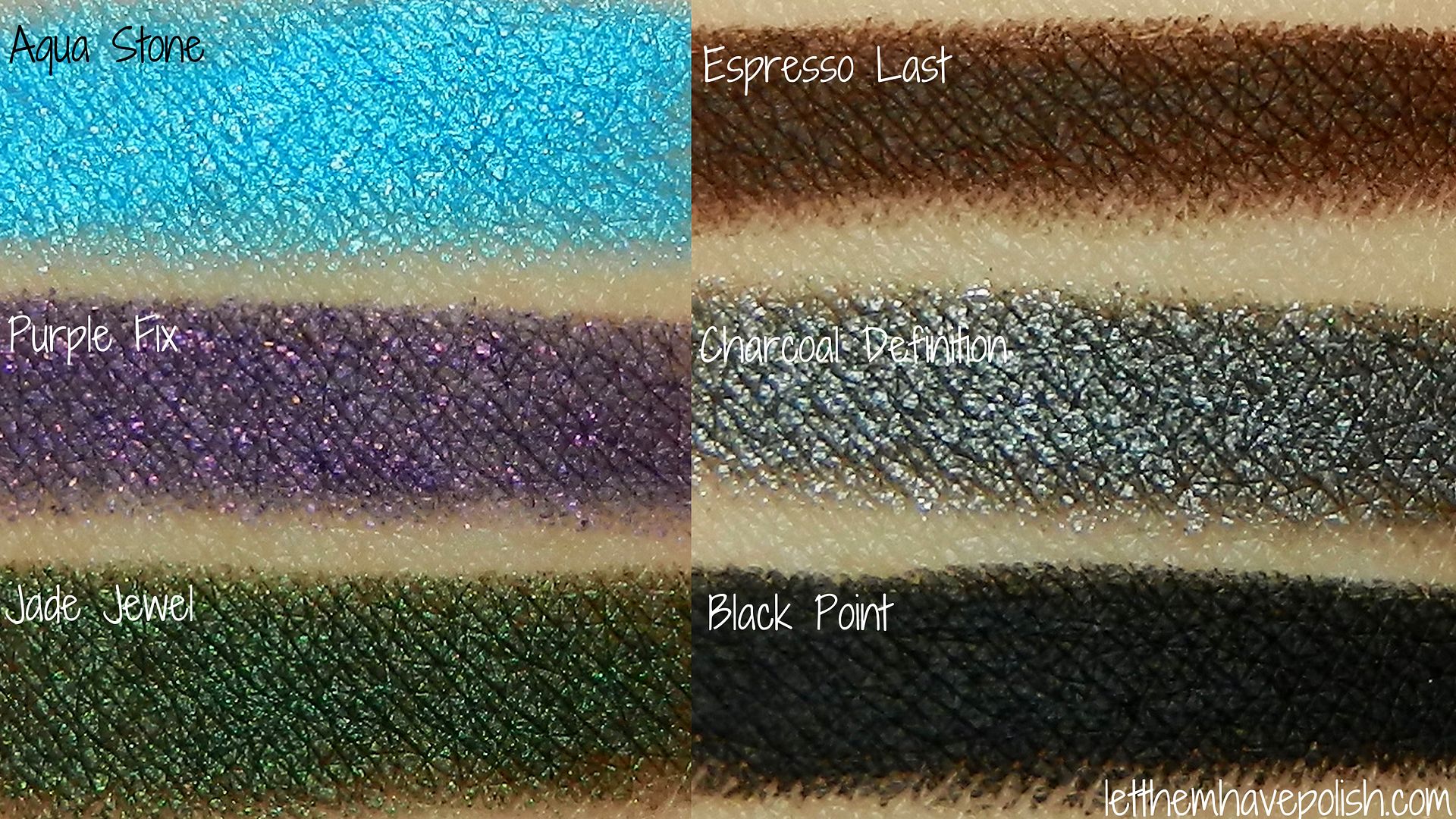 Aqua Last: gagagagorge metallic Sky Blue pencil.
Purple Fix: smokey shade of Amethyst Purple with hints of Silver sparkle pencil.
Jade Jewel: deep shimmering Olive drab pencil.
Espresso Last: creamy coffee brown pencil.
Charcoal Definition: super shimmery shade of charcoal grey pencil.
Black Point: opaque black matte creme pencil.
I don't have favorites here. I adore them all. Of course I am really enjoying all the shimmering shades. But, a girl can't have too much Black or Brown eyeliner. Jordana also did a bold eyeliner pencil. These retail for $2.99. The only issue I have with this liner is that it is not waterproof. Other than that it has great pigmentation and good wear (long as it does not get wet). This pencil creates really awesome bold lines with ease.
I am so impressed with all these new Jordana releases. The quality has been incredible, they have released beautiful colors, and the price has been oh-so-right. I also have some new mascaras by Jordana and I think that should do it on all the new Jordana products. These are available at Walgreens stores.
I hope you guys have a great day today! I am off to do a ton of work around the house. My motto for today is "swatch, drink (water lol), breathe". Mama has a LOT of work to get done.