Random post time!
Last weekend I got to attend The Makeup Show in Orlando. That is where one of my dreams came true. I got to "meet" Sutan Amrull, of ANTM and RuPaul's Drag Race fame. He might be better known to some of you as the amazing Raja Gemini, winner of Season Three of RPDR. I got to watch this man in action and it was incredible. I also got to turn into a bumbling idiot in front of him, but who cares?!! I actually met one of my idols. I got to watch him work and the entire thing was just incredible.
Sutan and James Vincent go way back to working together at the first M.A.C counter. It was really surreal to have exposure to such incredible talent in one place.
MAAAANY more pics after the jump ♥.
James intruding Sutan.
His keynote was incredibly inspiring to me. I found myself in tears at some points because of how much he allows people to relate to his story. While he prepped his model, whom he had met minutes before his keynote we watched [
THIS VIDEO] on SoulPancake
. It was really quite touching.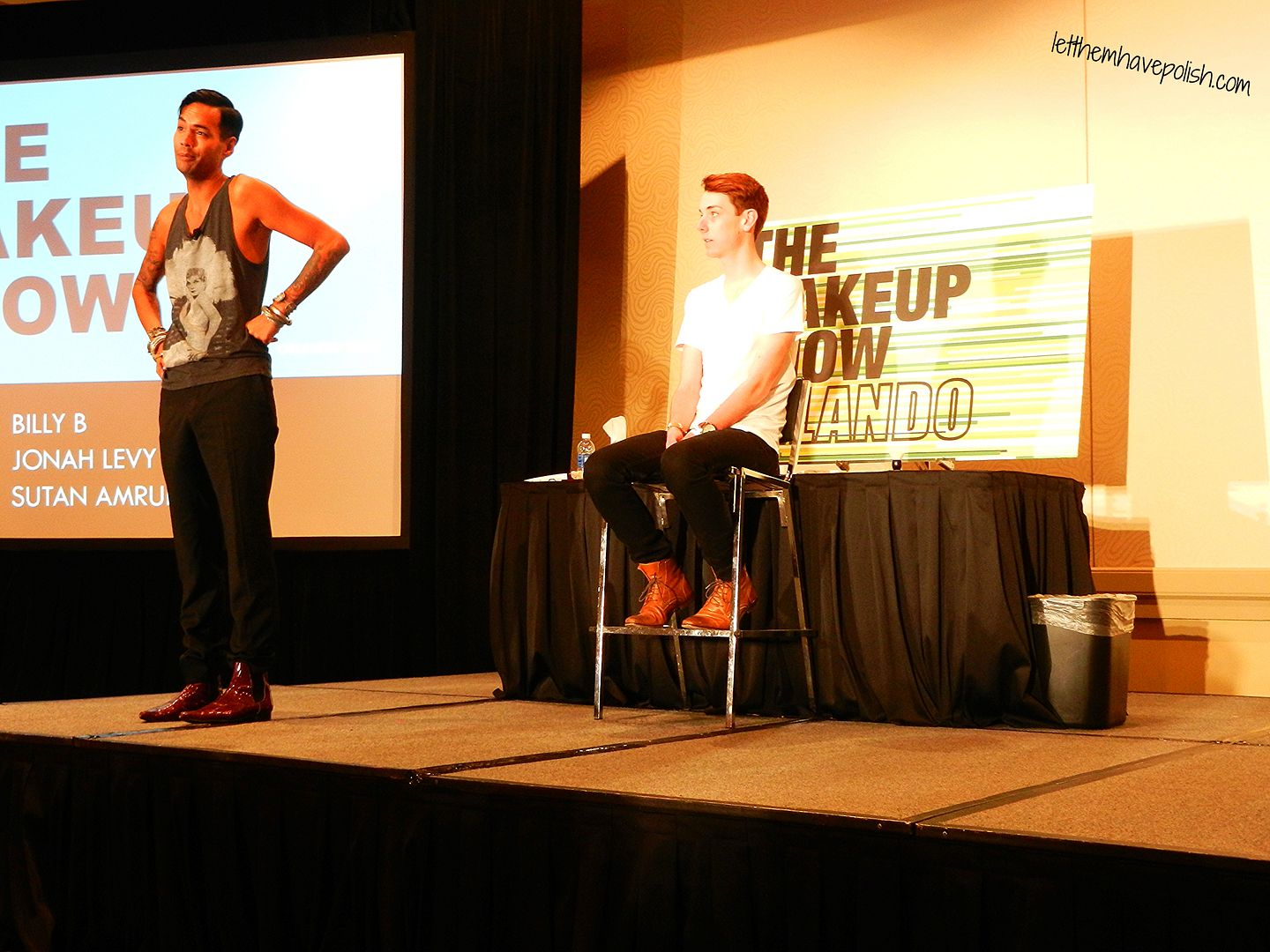 At this point he had begun a Q&A session with his crowd while working on his model, Robert. If I recall Sutan worked mainly with the MUFE Flash Palette and Skin Toned Flash Palette. He literally came up with this look on the spot and it was mazing to watch him work while he chatted away with the crowd. He was going for a halloween inspired, editorial gothy look.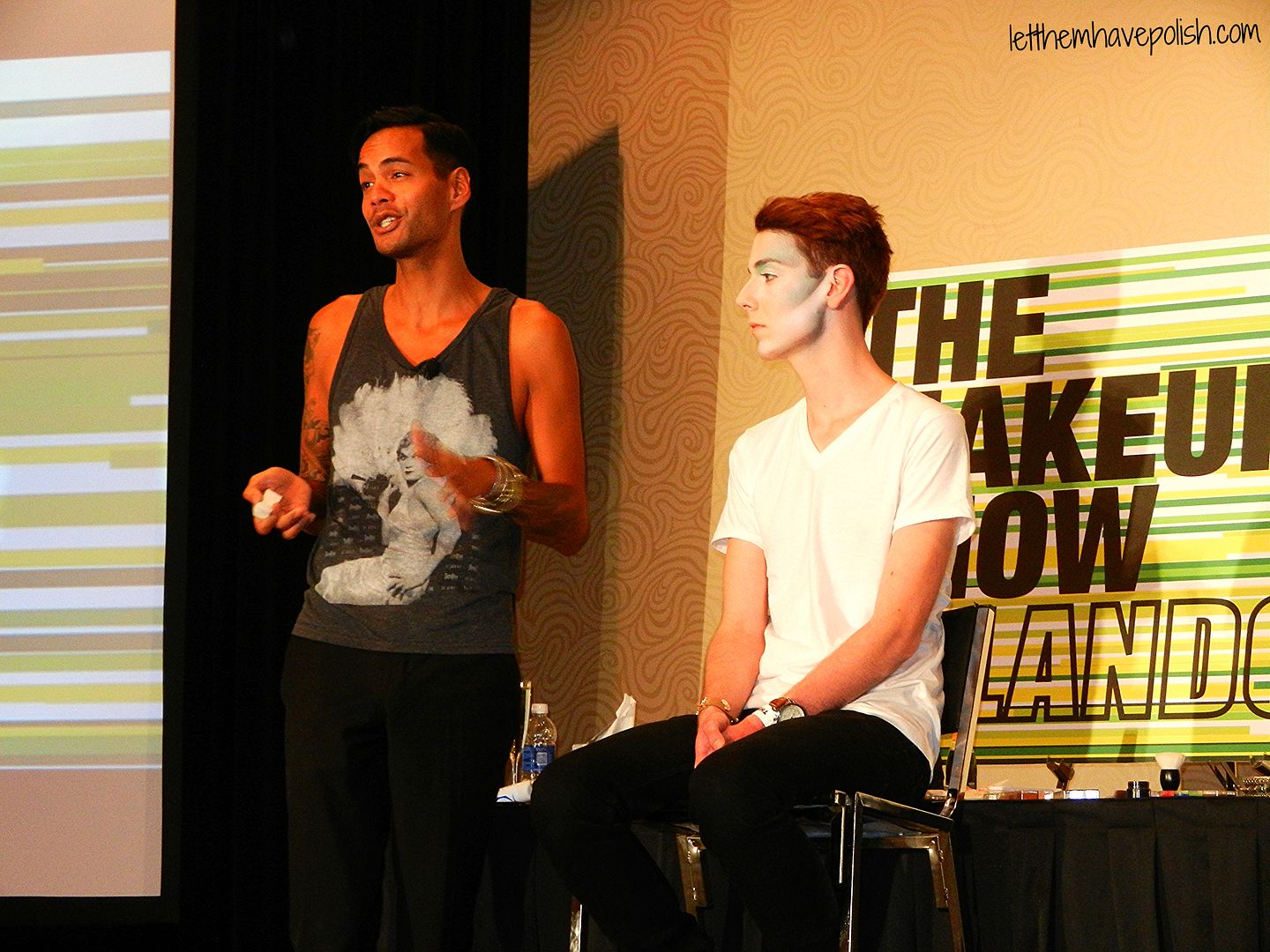 Oh yes, there were many awesome hand gestures. How amazing is that makeup though!!?!
The twigs were glued on with cosmetic glue. I forget which one now... Sutan pulled these twigs out of what he referred to as his "sh*it bag" lool.
Seriously!!!?? This really happened?
Hahah, I so don't belong in this pic, but who cares?!! Two of my idols and myself in one picture? Yes please!!! BTW, most of my wardrobe was Black Milk Clothing. I wore The Awesome Suit as a top, the flapper hoisery and the Purple Galaxy skater skirt. The kitty ears are from Locketship. It was so much fun to dress like myself and not have people gawking at me lolol.. I mean, I know I'm kind of a spectacle.. But jeez... Isn't staring rude in any kind of scenario? Like, no matter what the person looks like? Anyways, back to the topic.... I F*CK*NG LOVE THESE MEN!!!
Poor James was literally running all over the room trying to keep up with all the questions people had. It was awesome when he sat to take a break next to me. This is my second time meeting James and he has always treated me as if he knew me for years. It is a wonderful thing!!
This is a video my amazing husband took of Sutan speaking of his upcoming project. He is working on writing and illustrating a children's book based on the view point of a dress. If you have a minute I really suggest watching this video. It is an adorable story and I cant wait to see the actual book hit shelves.
This seriously meant the world to me. While I spent time sick on my couch, and being able to do nothing, I'd watch his episodes of RPDG over and over because I loved his point of view on everything. And, related to him so much. I love his aesthetic and his passion for what he does. So, while I may have not been feeling as fab, watching him and all these other amazing men be amazing at their craft was an inspiration to me to be awesome at my craft.
This may be a weird post, but OMG I seriously had the chance to meet one of my BIGGEST idols. I got to watch him work. He was do down to Earth and had so much great advice. I left from his keynote on a crazy beauty high. After his keynote, he walked the show floor like a rockstar and did not mind taking about a million pics with fans. I loved how humble and real he was with everyone.
Thanks for stopping by!