Happy Humpday/ Thanksgiving Eve!!
Hooray for finally getting swatches of this amazing collection up!!! I am so very excited to share this collection. As you guys know, I am a HUGE fan of all things KBShimmer. When Christy asked me to be a part of her Holiday 2013 Collection I was beyond flattered, honored and just plain excited.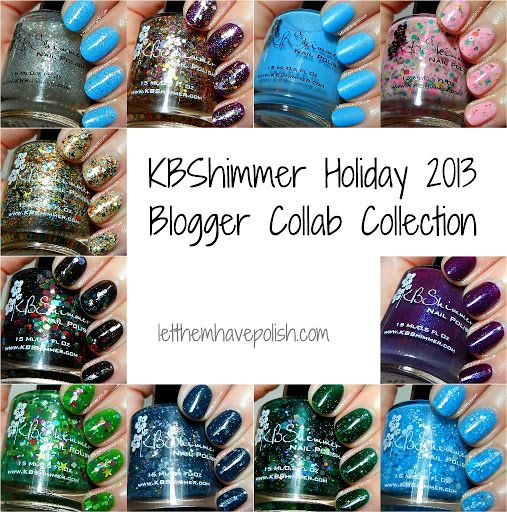 To read more about all these amazing creations, and the bloggers behind them just continue reading ♥.
KBShimmer Merry Pinkmas
This baby is fairly packed with glitter. It is best to wait a minute between coats to prevent the chunky glitter particles from sticking together. The Pink crelly base is just a bit sheer and does best in Three thin coats. The spread of glitter is great, and there were no issues with the larger chunks. Shown are Three thin coats with a top coat. And of course, I am madly in love with my little Pinkmas Baby!!
KBShimmer Christmas Now
KBShimmer Snow Much Fun
KBShimmer Green Hex & Glam
KBShimmer Will Yule Marry Me?
KBShimmer Strung Out
KBShimmer Sand in my Stocking over Zoya Natasha
This shade is packed with White and Gold glitter and really does mimic the look of sand. I seriously enjoyed this shade and how insanely packed with glitter it is. I used just one coat of glitter over my base color to achieve the look you see. Shown with top coat.
KBShimmer Toast-ess With the Mostest over KBShimmer Plum Tuckered Out
KBShimmer I Only Have Ice for You over KBShimmer I'd Rather be With Blue
KBShimmer Plum Tuckered Out
KBShimmer I'd Rather be With Blue
You can expect a giveaway soon!! Christy was kind enough to provide me with a full, second set of this collection.... So I want to share it with one lucky winner! I don't know if I can pick favorites in this group. There is such a great mix of playful, classic and versatile in this collection. It was just too much fun to be able to create a shade to share with everyone, as well as being a part of such a great lineup of bloggers and shades. Christy did such a great job on this collection.
I am really thrilled to see everyone's vision, and everyone's unique take on the Holidays. You can definitely expect that giveaway soon, as well as Pinkmas posts!! It's not Christmas in LTHP land until I make it pink ;).