Hey people hey! It's Thursday,
It's what?!! Thanksgiving is just around the corner. I for one am just a little blown away by how fast the year 2013 has felt for me. Did the Earth's speed pick up, are we spinning around the Sun faster? A lot has happened this year... Including my "discovery" of circle lenses!
Today I want to give you a quick, close up look at one of my favorite pairs. These are the
Mari Gold in Blue by Geo
.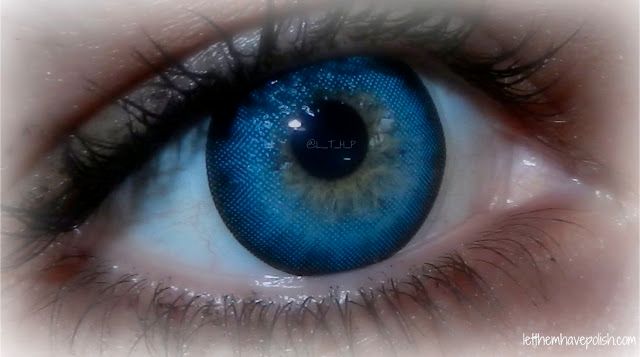 The reason why I wanted such an extreme closeup is because I really wanted to catch the reflection of the beautiful, Blue, micro sparkles that are embedded into these lenses. These have a 14.2mm diameter and a base curve of 8.6. Sadly, this particular style is only offered in "plano" (non script).
These don't have a whole lot of an enlarging effect, but they do give amazing defintion to the iris as the outer ring is fairly darkened. What I love about these is how natural they look over my light Green eyes. Yes, in these extreme close-ups you can see the "pixelation" of the lenses, but the fact is that they are beautifully smooth. The sparkles are subtle, I had no issues wearing these. They have actually become one of my favorite pairs. I love the soft gradient of Blue tones. I just love how beautiful they look over Green.
These babies are so comfy. Normally I can only wear most of my lenses for about Four hours or so. These pretties I wore for about Eight hours. I had absolutely no discomfort or blurring issues.
I'm just in love with these, and kind of would love to have the entire family of colors. I think the flecks really give them that extra- special touch. These are just so comfortable as well.
Thanks for stopping by today loves. I'm so very sorry about my absence. It has been a sucky few weeks, but things should hopefully settle down soon... Mainly I just need to get my shiz together ♥.