'Ello Lovely readers!!!
So, I wore them in an attempt to be friendly to any visitors we might have encountered... Just in case we met any aliens while at the Petrified Forest in Arizona. This was easily one of the most amazing and beautiful places I have ever been to. So husband and I decided to do a little shoot in featuring my neat-o leggings and document any alien encounters that might have happened ;). We had a ton of fun working on this little story so I hope you guys enjoy this post. Something a little different for funsies ♥.
There are a few pics so just keep on reading to find out what happened. Oh and... I just had to "meme" this pic lololol! I'm having fun with this whole "blogging thing" from now on! I want to share all of my creativeness with you guys. I always welcome a new challenge and transitions. But, oh yes... There will be nails.. and makeup... and fashion.. and kitties and nonsense. Afterall, my "tagline" does promise all those things hahaa. Let them have Polish!!! From head to toes!!!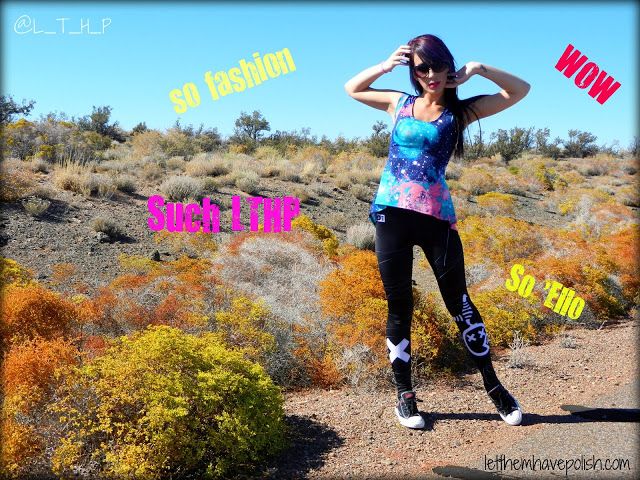 SO! Mr. LTHP and I went to the Petrified Forest in Arizona. Well, we stopped there on our way to Cali. Let's not talk about Cali, BTW. Things happened, things went wrong.... Bad timing, whatever, just was not meant to be right now. We are back in Florida safe and sound and that is all that matters. So, we went to this beautiful place and had out minds completely BLOWN by the beauty of the painted desert. There were so many colors, such a quiet beauty. I never wanted to leave... So anywho... we were hoping to meet some aliens ;).
So, I wore my friendly 'Ello legs from
BAC
. I wanted to be friendly, just in case we met any friendly aliens. After all, it did feel like we were on an alien planet! I just wanted them to know, I just came to say 'Ello!!
'Ello Scratch legs by Geode Designs
. Which, BTW are on sale!! Oh and yas, I went back to dark hair. Now I have a deep Plum thing going on and totally loving it!!
But we waited and waited... They never came... Where are you guys?
So we hung out for a bit :D.
But I guess it didn't work :(. But who knows, maybe later on they did come and we just didn't stay long enough haha.
So I had a sad, but gave em one last 'Ello before heading out...
And then we merrily skipped off, on our way.
I am really sorry about the posting hiatus. I have been going through some rough times, but things are settling down. Things will be ok. Plan to see a lot of nail art, as I am in a situation where I can't really swatch a lot, but I do/will have the time to focus more on nail art, makeup looks and such.
This makes me happy as this blog is rooted in nail art. I never set out to be a "swatcher". I never set out with any real intentions of this blog even becoming a "thing"... So every day I get t do this, and share my passions with my readers is a gift to me. If you follow me on
Facebook
, you may also know that "
The Black Swan
" project awakened a new level of nerdiness in me and I really want to take on the challenge of more character transformations, and even cosplaying. There is so much more to this gal than nails, and I need a new challenge.. I know I keep saying that... So I really hope you guys will stick around for the ride because things should get really fun and interesting in the land of LTHP. I want to share all of my creativity with you guys. I want to empower and inspire.
So, with all that rambling out of the way... I really hope you guys enjoyed this post. The husband and I had a BLAST working on the photos and I am just madly in LUUUUB with
Burning Artists Collective
. I really hope you guys will check em out, they are having all kinds of sales right now :D!! Who knows, you may just see some designs by LTHP on BAC soon ;)!!!
Thank you all for stopping by today!! I hope you enjoyed this post! And remember to keep it nice if it is not up your alley, please :-|. I hate that I have to even say that, but this blog will be going through a transition and it will not just be nails, all the time anymore. I want to share all of me with you guys and I hope you can appreciate that. Remember, I always pour my heart into each an every post that goes up ♥.