Nails!!!
So, I found these random Hard Candy glittery swatches sittin in my drafts folder... So, I figured, what good are they there? Let me just go ahead and post these.. Since it has only been about Three years since I posted about nails. K, I may be exaggerating a bit on the Three years, but it definitely feels like it. So, yeah, GLITTER!!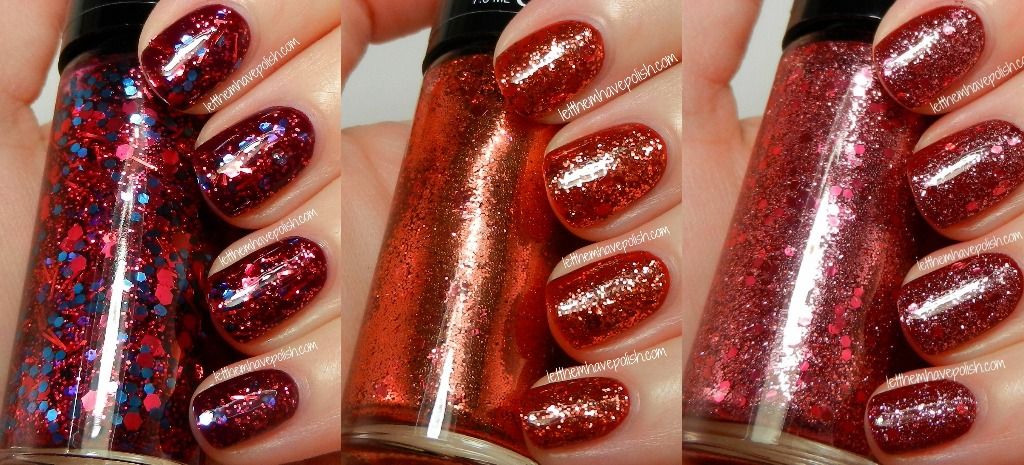 All swatches are shown with a top coat of KBShimmer Clearly on top to smooth the surface and bring out shine.
Hard Candy Fireworks over O.P.I In the Cable Carpool Lane
Hard Candy's Firework is from the Crystal Confetti Collection. This pretty glitter topper is made up of bright Red Bars and Hexes in varying sizes. As well as Blue, deep Fuchsia and Violet glitters. For my layering I chose a deep that kind of matched the glitters itself. I believe the base on this glitter is slightly tinted Pink. I used one generous coat of Firework over my base color.
Hard Candy Fire Flash over O.P.I First Date at the Golden Gate
Fire Flash is a beautiful glitter topper that I was, pretty much, convinced I would hate. This pretty comes from the Glitteratzi collection. Well, surprise surprise.. It is just amazing on, and really unique. This pretty is made up of all Copper glitter accented with Red hexes. The Red hexes are fairly sparse and for the most part you only get smaller bits of densely packed Copper glitter. Turns out this pretty is also very unique in my collection. I found the Copper glitter to have no dupes in my collection.
Hard Candy Glamour Girl over O.P.I Lost on Lombard
Glamour Girl is part of the Glitteratzi Collection as well. This cute topper is made up of micro Pink sparkles accented by vibrant pink hexes. I think this polish could also be worn on its own as the small Pink sparkle was packed really densely in the clear base. I used one generous coat of glitter over my base color.
So GLITTERRR!!!! Speaking of which... The Holidays are a-comin, which means you will be seeing A LOT of glitter and sparkle. Which means I need to keep up on my moisturizing so that my fingertips don't fall off with all the sparkly goodness I have to show you guys!!
Are any of these pretties speaking to you? They are awesome-o!! I know Hard Candy just released some new nail polish shades, and doing away with some of their current shades. I *think* these Three are still a part of their lineup though. Hard Candy polish is available at Walmart stores.
Thanks for stopping by!!