Hello everyone, and happy Tuesday!
Today I want to share some more Holiday releases from the amazing KBShimmer. Along with
an 11- piece, blogger inspired, Holiday collection
; KBShimmer also released Four Holiday themed creations of her own (as well as Seven new shifting multichromes which I will be covering sooooon). In this group Christy did One glitter topper, a jelly based beauty and Two of her signature epic creamy based glitter bombs. Shall we get on with it?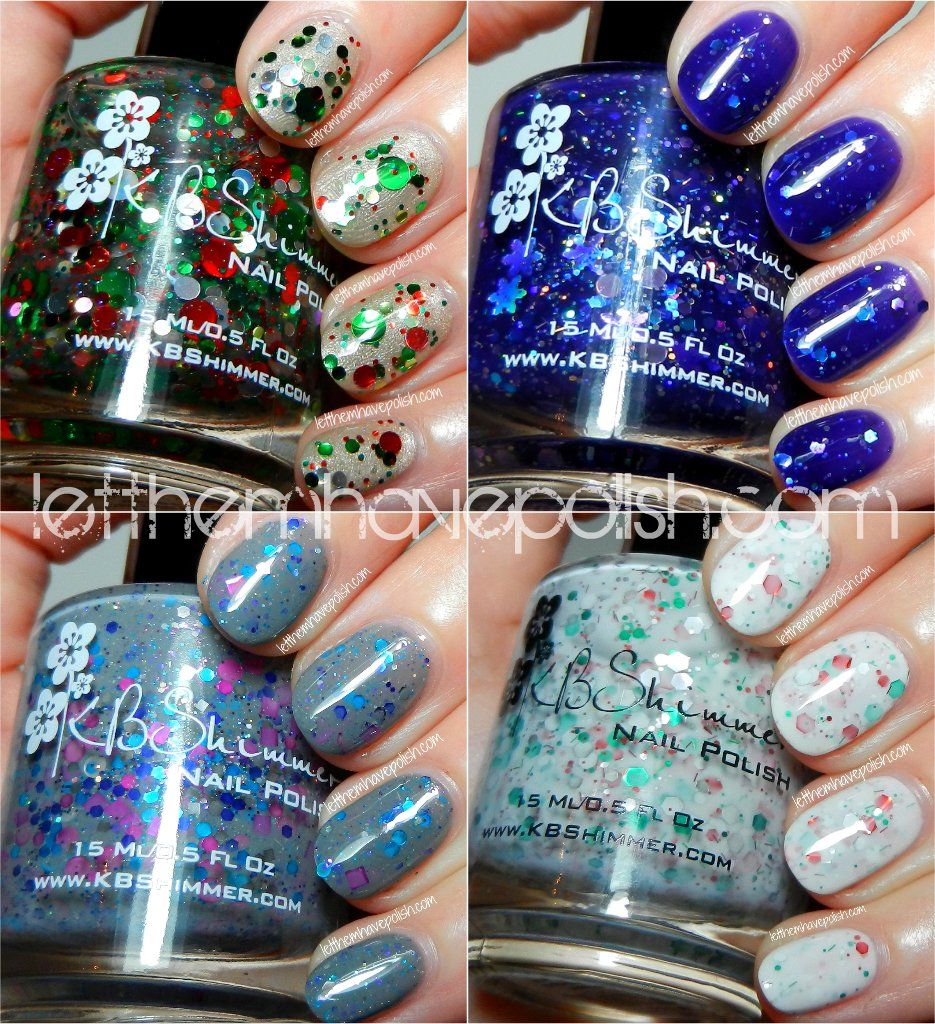 All swatches are shown with a top coat for smoothness and shine.
KBShimmer Kringle All the Way over Bettina Jingle Belle
Kringle All the Way is a magical, dotty blend of traditional Holiday colors suspended in a clear base which is packed of tiny Holographic twinkle. There are dots in Green, Red, Silver, Light Gold and Light Green. I had no issues in the application of this fun and chunky topper. The bigger bits came out with no fishing and gave no issues come application time. I used Two coats of Kringle All the Way over my base color. Doesn't it look like little scattered ornaments? I just adore this.

EDIT: Don't forget to buy your bottle of Kringle All The Way by the 13th, and $4 per bottle will be donated to Toys For Tots!
KBShimmer All Elf'd Up
Fun fact: So, initially when Christy and I were discussing my collab shade for her blogger collection (Merry Pinkmas), this is kinda what we had come up with (I still have all Four prototypes ;).. And then I had an "aha- moment" and decided to make the base Pink and to add neon bits to make it more "LTHP- esque".
I was so happy so see that Christy went ahead and refined the shade and released a White based crelly with a Holiday glitter blend. All Elf'd Up is a blend of traditional Red, Green Silver and White glitter in varying Hex sizes and micro bars. As usual the formula on this baby was magical and was good to go in Three thin coats. The spread of the glitter is perfect, and the coverage of the White base is dead on. Peppermint Bark anyone?
Edit: KBShimmer Snow Flaking Way
Snow Flaking Way= MUCH EPIC! This baby is a Royal/ Grape Purple jelly base packed of Silver, Holo and Burple glitter as well a Holo snowflake shaped glitter. I had no luck getting the snowflakes out, but I could care less. I was completely smitten with the shade of Purple of the base jelly. The glitter makes this twinkle in the most beautiful way. I used Three thin coats for full and even coverage. Purple lovers NEED this beauty.
KBShimmer When Doves Sigh
When Doves Sigh is a soft Grey crelly, packed full of micro Twinkle and accented by glitters in varying shapes and sizes in an array of Fuchsia, Aqua, Purple and Blue. This shade is SOOO KBShimmer. She always woks wonders with her Blends of Aquas, Pinks and Purples. I am madly in love with the soft Grey base and how the colors pop against it. I used Three thin coats for full coverage.
I'm hoping to catch up on a bunch of stuff today. My goodness, we are practically Half-way through December and I've not managed to do a single Holiday mani o.O... For shame.. Anywho, I plan on doing some of that today. I also really want to get the amazing KBShimmer Multichromes swatched for you guys. They are seriously mind-blowing. I'm actually doing a mini vid for all of them to show the amazing shift as no amount of photos would do them justice.
I really love all of these so much. Kringle All the Way and Snow Flaking Way definitely have stolen my heart. Any faves here?