Hi everyone!!
Today's post is a special Humpday treat. A few weeks ago I did a glitter placement manicure and I had linked back to one of my favorite bloggers, miss Laura of Polish all the Nails. She does AMAZING glitter placement manicures that always manage to leave me speechless. Her patience, precision and creativity are a force to be marveled at.
I was beyond ecstatic when Laura offered to do a guest post for me. I desperately wanted to share her amazing art, but I could not bring myself to ask her for a guest post.. silly, right? I mean, I know how time consuming these types of manicures can be... I was so honored and excited that she wanted to do a look for me. I shall consider this AMAZING manicure from miss Laura an early birthday present :D (I turn 27 tomorrow o.O).
I give you, the amazing Laura!!
------------
Hi everyone! I'm Laura and I blog over at polishallthenails.com and I'm so happy that Cristina agreed to let me do a guest post for her. She does the most fabulous work and I'm so proud I could contribute a mani. I'm best known for pretty complex glitter placements so course I had to one for LTHP.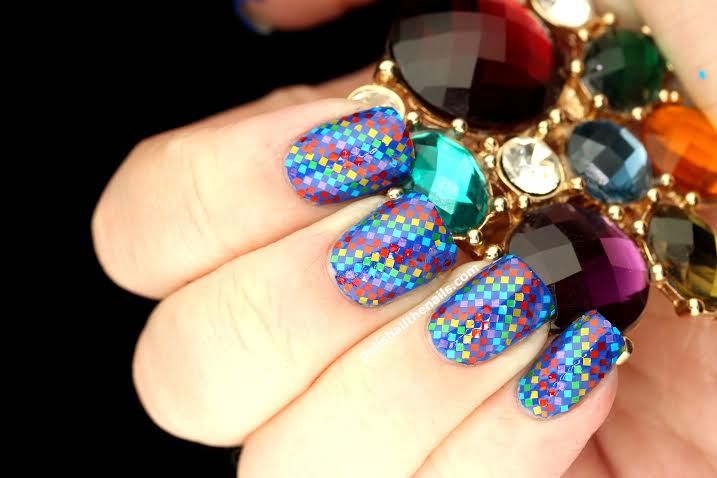 After a few days of experimenting and brainstorming, I decided that I should do a rainbow glitter placement using matte square glitter. It may look complicated but there is a system involved. First, I applied two coats of Urban Outfitters Blue Velvet. When using small glitter like this, it pays to keep your base colour thin and an even, otherwise it will be more difficult to place the glitter. Starting with my thumb, I applied a thin stripe of top coat down the centre of my nail and laid down a column of glitter using an orange stick. Pay attention to the spacing in this first column as it will set out the spacing for the rest of the nail. Working in columns and reapplying top coat as needed, I filled out each side of the nail. Once complete, add two coats of Seche Vite and you're done!
The Verdict: I'm really happy with how this mani came out. It has rainbows - my favourite - and neat, even rows of glitter - also my favourite. I'm just happy I could contribute just a little glitter to Let Them Have Polish. Thanks again Cristina!
-----
No, THANK YOUUUU miss Laura! I really hope you guys enjoyed this fantastic manicure. I hope I can continue to develop my skills in glitter placement. Laura is definitely a huge inspiration. I don't know if I will ever have this kind of patience. Until then, I shall marvel at Laura's skills and continued creative use of loose glitters.
Where to stalk.. er.. follow Laura:
[Facebook]
[
Twitter]
[Tumblr]
.
Thank you guys for stopping by!