Happy Friday everyone!!
Two words: Crinkled Chromes... What? I can't recall a collection causing so much conflict within me since.. ever. When I first read about these a few months back, I was slightly confused. I could not wrap my brain around the concept of a textured chrome. How would they go about this? It looked awfully weird in my head. This meant that I just HAAAAAD to see them in person and try them for myself. I didn't care that hating them was a possibility because the concept was so new and weird, I needed to see in action on my nails.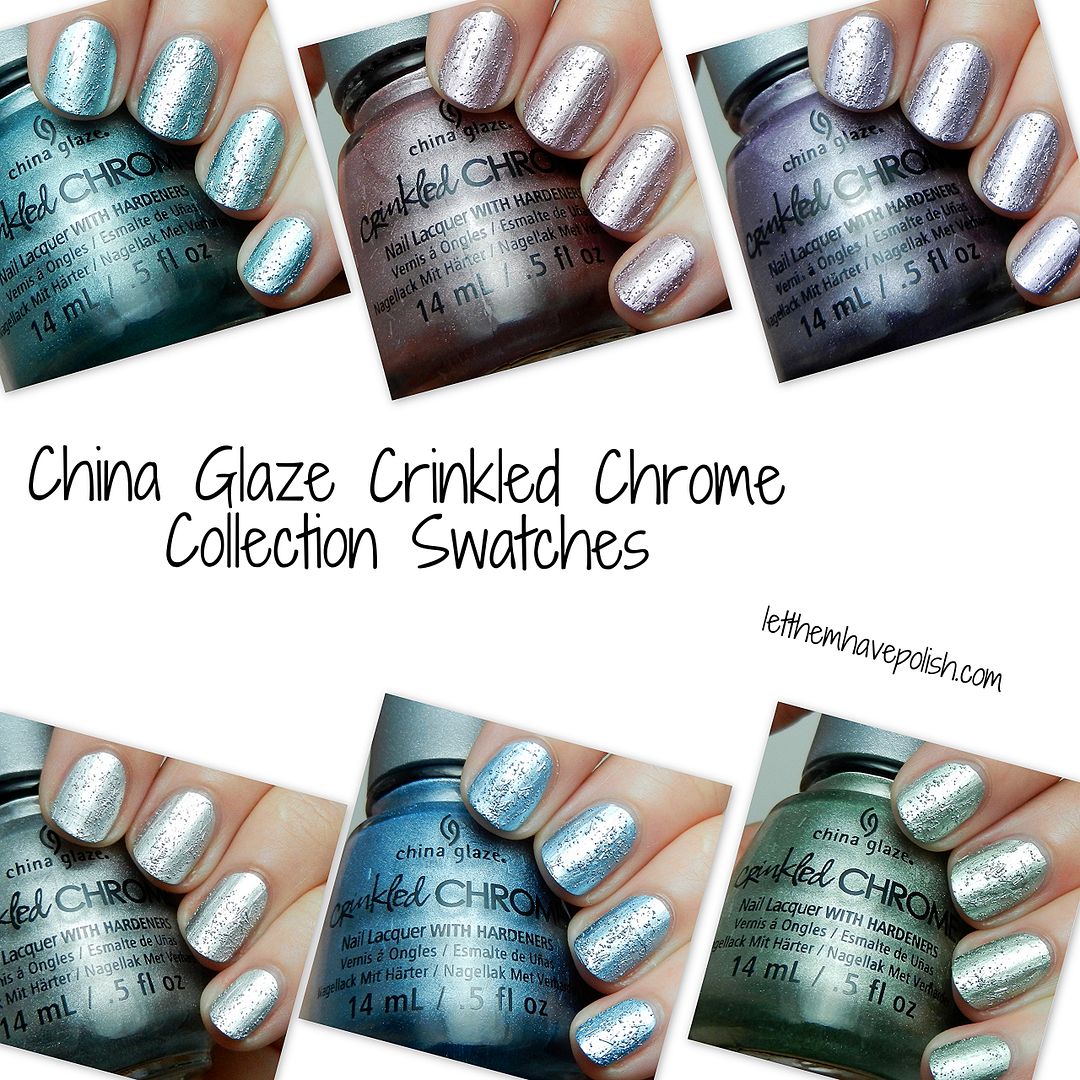 To see closeup swatches and find out more about the China Glaze Crinkled Chromes collection just keep on reading.
My first encounter with these was a few weeks ago at my local Sally Beauty Supply. I had nail polish on so my husband graciously allowed me to paint a racing stripe on his thumbnail. At first glance, I was perplexed by everything about the polish. The texture looked weird, it had bar glitter and some brushstrokes going on.... Um, no thanks... But then, a few hours later, he showed me the completely dry stripe and I was actually fairly amused by the look and decided I did want to try them out for sure.
All my swatches are just One coat of color. The formula on these is a bit thick, but actually manageable. The pigmentation is out of this world and I really did not see a need for a second coat. I also found the texture effect to be much cooler with just One coat. I tried two coats and just did not care for the look at all. Adding a second coat gave more texture. The issue I had was that it looked like chrome cottage cheese on my nails. I did not top coat any of these. Adding a top coat over these is fairly pointless as the Chrome base does not necessarily dry matte, it just dries extremely metallic. These also dry fairly fast, which is great.
China Glaze Aluminate- Bright Silver chrome/ metallic base with texture particles as well as Silver bar glitters.
China Glaze Don't be Foiled- Bright Aqua chrome/ metallic base with texture particles as well as Aqua bar glitters.
China Glaze Iron Out the Details- Bright Steel-Sky Blue chrome/ metallic base with texture particles as well as Steel- Sky Blue bar glitters.
China Glaze I'm a Chromantic- Bright Rose chrome/ metallic base with texture particles as well as Rose bar glitters.
China Glaze Crush, Crush, Baby- Bright Lilac chrome/ metallic base with texture particles as well as Lilac bar glitters.
China Glaze Wrinkling the Sheets- Bright Mint Green chrome/ metallic base with texture particles as well as Mint Green bar glitters.
I think with the exception of Iron Out the Details, all of these shades have China Glaze "ancestors". I kinda wish I had been involved heavily in nail polish when China Glaze did their original, smooth chrome collections. Those were beautiful, as well as amazing stamping polishes. So the question begs to be asked.... Will these work for stamping? I'm not holding my breath for it, but the adventurer in me wants to find out.
So does this mean I actually kinda dig these? I can honestly say that yes, I do like them (I was fully prepared to loathe them). They are still growing on me, but I do think that they are pretty neat. They are like robot skin. I know robots don't have skin, let's use out imaginations here haha. The chrome effect is superb and thanks to the texture particles there doesn't seem to be a whole lot of brushstroke action going on once the color is fully dry. As far as application tips all I can say is keep a light hand and move slowly to get a good spread of texture particles. These are not as heavily packed with textured bits as other texture polishes out there. I still need to test out the wear on these and if they will snag on clothes or hair.
The China Glaze Crinkled Chromes are available now at Sally Beauty Supply, Ulta etc. Have you or will you be giving any of these a go? They are definitely not for everyone, that is for sure ;).