Hello and good morning!
(*EDIT*)
: I feel like I have to mention this.
Cult Nails has NO association with CULT Cosmetics
. They are two different companies. Cult Nails has been around since about 2010 if memory serves me right. This Cult Cosmetics has only been around a few months but they have practically committed identity theft. Even going as far as pitching to bloggers using the Cult Nails tagline "join the cult". I don't even know what to say about it other than I think it is a rotten thing this new company is doing.
I admire originality, people who work hard and know their industry... So the fact that they appear to not have done any research before launching their brand, using someone else's "identity" in a sense.. leads me to believe that the people behind Cult Cosmetics are just looking to make a quick buck of the "nail trend" and are not actually into it because they want to be innovative.
Read Maria's thoughts on the situation [HERE].
Today I want to share this look I did using all Five shades in
Cult Nails' All Access Collection
. This collection was released back in 2013 for Fall-ish. The collection has a 90's grungy feel, and that pleases my inner 13 year old in the best way possible. In this collection Maria did Three new cremes and two shard- glitters. I really wanted to bring them together in a flashy look and this is what I ended up with. Such lush! Much sparkle!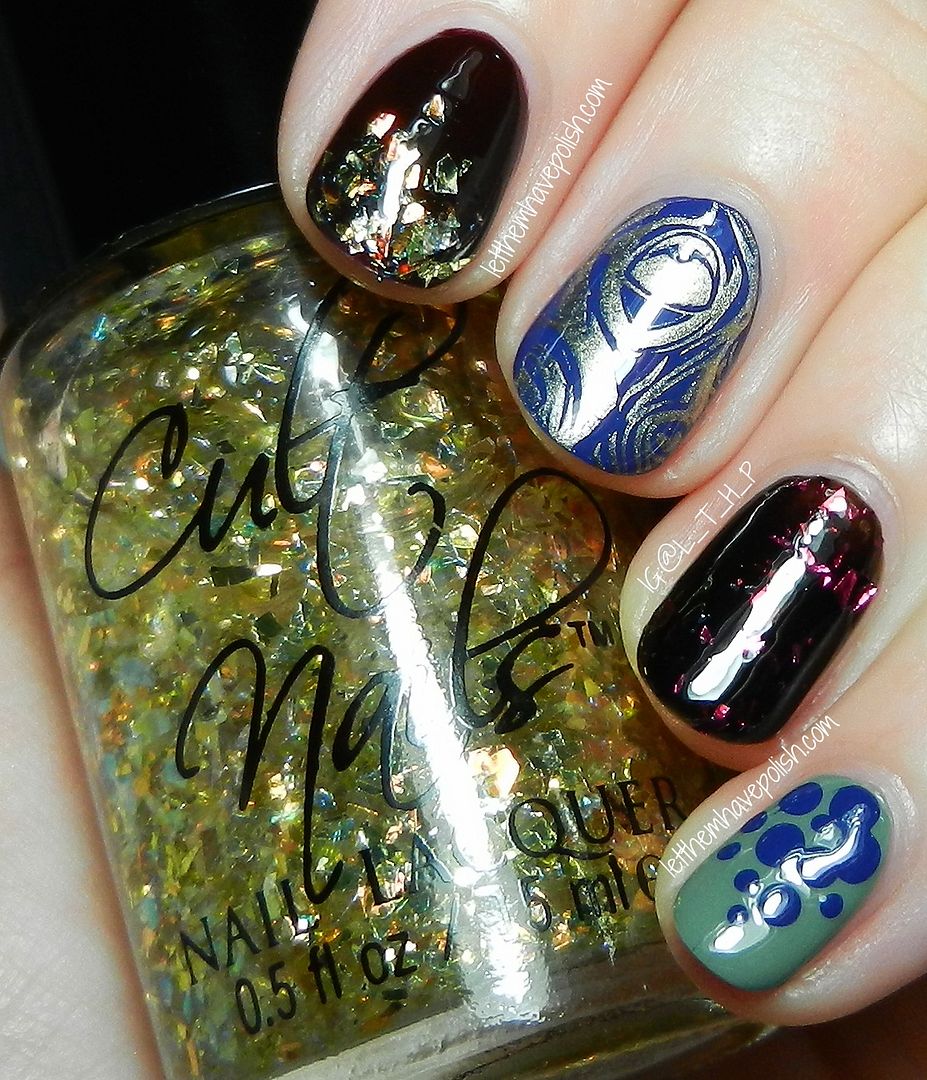 As I mentioned above, this look uses all Five shades in the All Access Collection. The only color I did not do nail art over was Cult Nails Disillusion. Disillusion (on my Ring finger and Thumb) is a Black jelly base packed with Magenta shard glitter. The formula on this shade was a bit tricky. It was a bit thick and needed slight manipulation. I built it up to opacity by using Three coats. I think this shade is best layered. On my Index finger I used Cult Nails Lamestain as my base. This shade is deep, vampy burgundy creme-jelly perfection. As an accent I used a cosmetic sponge to do a gradient using Cult Nails Feedback which is a beautiful blend of Golden/Iridescent shard glitters in a clear base.
On my Middle nail I used Cult Nails Wackslacks as my base. For the peacock feather design over my Middle nail I used Pueen stamping plate Pueen09 and China Glaze Passion. On my Pinkie nail I started with a base of Cult Nails Grunge. This shade is easily my fave in this collection. Grunge is a beautiful shade of muted moss green with the signature Cult Nails smokiness. I accented my Pinkie by doing a reverse dot gradient using Wackslacks. To finish off I did a coat of Cult Nails Wicked Fast top coat.
It goes without saying that the cremes in this collection are flawless. Wackslacks could have practically been one coat, I did two out of OCD. Lamestain glides on like butter and is perfect in Two coats. Grunge is also a dream as it is opaque like a creme but applies like the best crelly you've ever tried. The glitters are not hard to work with, they just require a bit more patience as they are SO packed with glitters.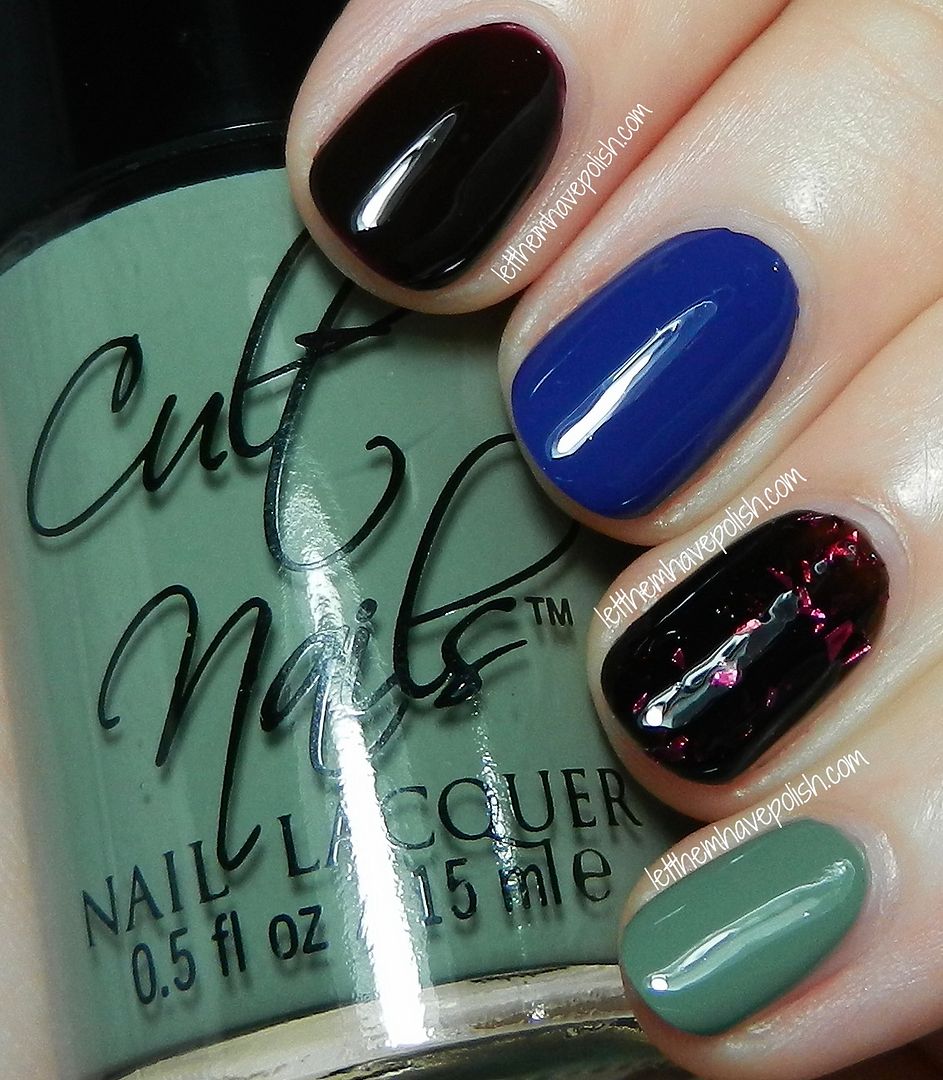 I wore this look for about Five days. When the time came to change my nail color, these were still holding on for dear life. I will never cease to be amazed by the wear of Cult Nails nail polishes. The Cult Nails All Access shades are still available from the
Cult Nails site
as well as
Beautylish
. They retail for $12.00.
Thank you for stopping by ♥!