Cult Nails All Out- For this mani I decided to layer All Out over Be Loco. All Out is a beautiful micro shimmer topper. Over my Coral base it created a Sun kissed shade of Tangerine Orange. What I love about All Out is that it will transform any color into new, beautiful unexpected shades. Over lighter colors it looks beautifully Golden-Yellow, over Medium shades it can turn into a cool shade of shifting Lime Green and over darker shades it can go to this amazing shifting shade of Emerald Green. If you were a fan of Charlatan from the Deceptive Collection, you will love All Out. I used one coat over my base color.
Cult Nails Be Loco- This shade is many of my favorite things meshed into one polish. Be Loco is a perfect shade of true Coral with the most amazingly creamy formulation. This shade could have nearly been one coat. And yet, the formula was not thick or sticky or streaky... it was buttery smooth- perfection. This color is insanely flattering. I used Two easy coats for my mani.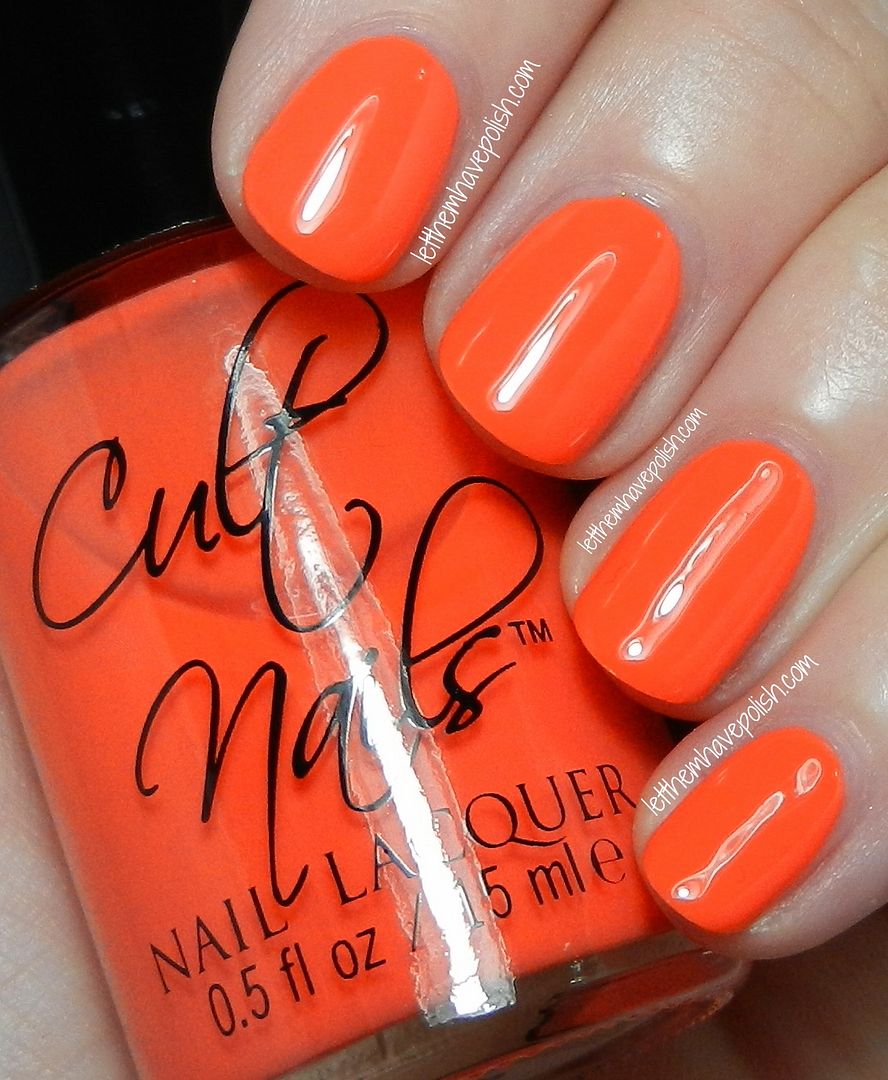 Cult Nails Mayhem- This baby is a subtle Silver linear holographic topper. What I love most about Mayhem is that it adds beautiful holographic sparkle, that is very noticeable, without making the base color look muddy or cloudy. I've tried several toppers and I don't like how much they can cloud the base color. With Mayhem you get that beautiful effect, and you still get to see the base color clearly Just with the added beauty of Holographic shimmer. For this mani I layered Mayhem over Riot. I really loved this combination. Oh, and the Three- finger pic is not a new thing or anything. I dinged my Index nail as I was taking photos and I was so ready to be done this day that I just fixed it after I took photographs haha. I used one coat of Mayhem over Riot.
Cult Nails Riot- This shade is a spectacular shade of clean Aqua- Teal. It is a bit lighter than teal, and a bit more Green than Aqua. Riot has an amaaazing formula as well. This shade could have also been one coat, I did use two though. I love this color to bits. It is summery, pool party perfection. The one downside is that this color can stain pretty badly.
I wore both of these manis for about a week or so, no chips and very minor tip wear. The wear of Cult Nails polishes is always so impressive. If you are really digging these shades, they can still be found on the
Beautylish Boutique and retail for $12.00/bottle
.
Happy Friday everyone!