Good morning and happy Thursday!
Today I have a quick and simple nail art look featuring some of the new Carrie Underwood collection shades from Nicole by O.P.I. I love the simple elegance of ruffian manicures. I knew immediately that I wanted to do a ruffian with these two shades. There is something about Gold and Purple together that looks so opulent and classic, it just felt right.
This look started with a base of Get Carrie'd Away. I used Three thin coats of this color to have a nice, sparkling base. For the Purple ruffian portion I used Fisher Queen. This shade is a beautiful deep Amethyst Purple shimmer. Ruffians are very easy and quick to achieve. I freehanded my ruffian with the nail color brush. To finish the look I top coated with Seche Vite.
Nicole by O.P.I Get Carrie'd Away
This color though! Get Carrie'd Away is a spectacular mix of bright Yellow- Gold and White Gold sparkling glitter/flecks. The particles are small, but SO reflective. The formula on this shade is nice and easy to work with. This shade could be layered or built up to opacity. I used Three thin coats for my base. This shade dries a with a slight texture, which looks pretty neat. I did use a top coat for my look though, as I wanted sparkle.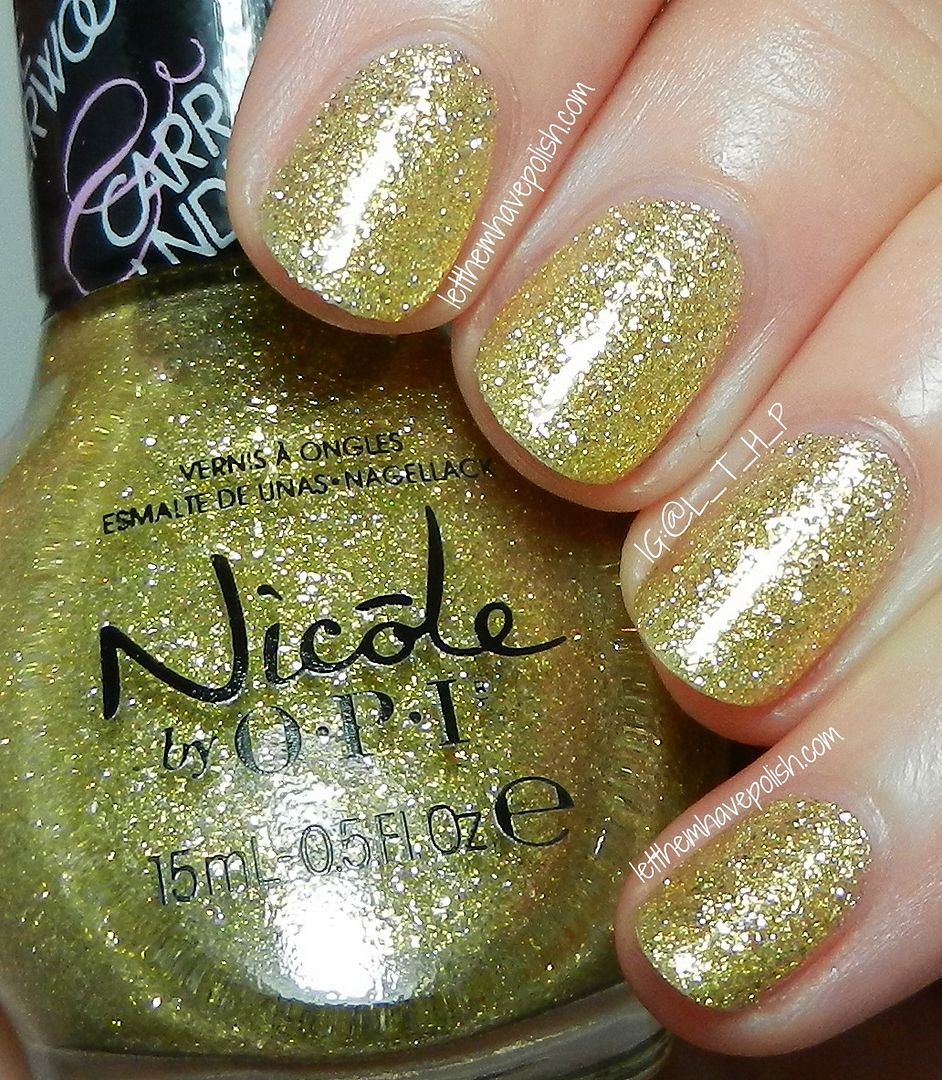 The Carrie Underwood Collection from Nicole by O.P.I should be popping up in retailers now, and retail for $7.99. I am very impressed with this collection. I was also very inspired by these colors and decided to do nail art looks with them instead of swatches. I can't say I am a Carrie fan. I only kept up with her during American Idol. But, I absolutely adore what they have done with this collection. The colors are adorable and cover a wide range of tastes. I was not expecting to love them as much as I do. This may be one of my favorite NO.P.I collabs to date.
Have you spotted any Carrie colors? Which sang to you (no pun intended)?