Hello my beauties an happy Humpday!

Today I want to share my look for day 25 of the Californails "Totally Doable- I have a life Challenge". The prompt for day 25 is to do a simple look. Since I have been so enamored with the O.P.I Brazil collection for Spring-Summer 2014, I decided to use some of those shades. O.P.I knocked it out of the park with this collection. The colors compliment each other perfectly. I brought a few of them together for this scotch tape mani.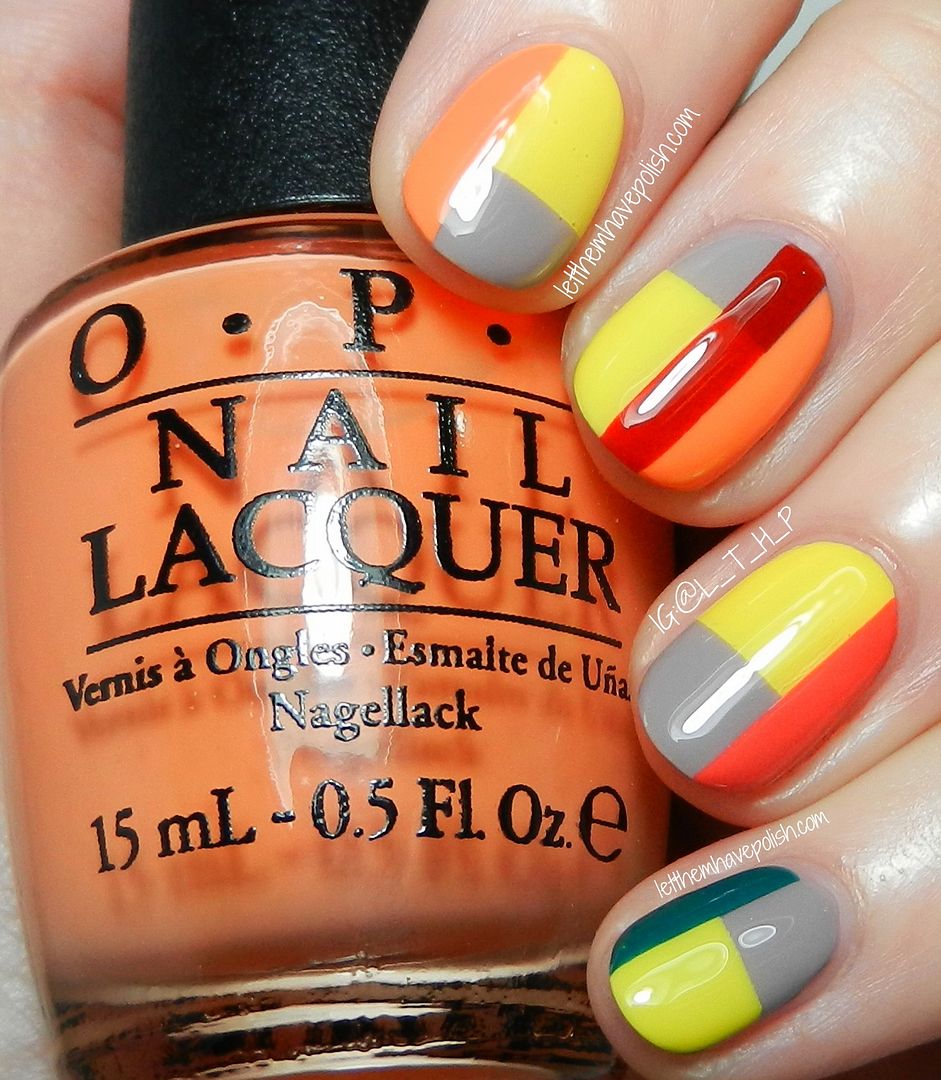 For this look I started with a base of Taupe-less Beach. Once my base was dry I used scotch tape to create uneven horizontal halves. I painted the exposed portions of my nails with I Just can't Cope-Acabana. This shade was a lovely surprise. For a Yellow creme, it has an amazing formulation.
Once my halves were dry enough I used some more tape to create some complementing "side panels". On my pinkie I used Amazon Amazoff, which is an amazing shade of rick Peacock Teal. On my Ring finger I used Live.Love.Carnival, which is a lovely shade of rich and vibrant coral. On my middle nail I did accents in Red Hot Rio, which is a classic shade of deep Ruby Red crelly. For my Index I used Where did Suzi's Man-go?, this shade is also used on my middle nail. I finished the whole look off with a generous layer of top coat.
I really adore this look. Sometimes simplicity can be so striking and fun. I had forgotten how effective scotch tape is for creating cool manis in a pinch. I feel like I have to say it again.... The O.P.I Brazil collection has my heart. I am so madly in love with the variety of this collection. There really is a shade for many different tastes.
The next, and final, prompt is to do Galaxies. I am PUMPED on that prompt. As much as I love galaxy manicures... I've only done Three on myself. So, this challenge giving an excuse to do one makes me very happy.