Happy Caturday!!
Today I want to do a special Saturday post to share an epic indie collaboration between to wonderful brands. The masterminds behind
Dollish Polish
and
Jindie Nail
s decided to come together to create beautiful complimentary duos inspired by famous couples through out history. Their inaugural duo is non other than the star-crossed lovers,
Romeo and Juliet
.
I am loving the concept behind this collaboration. It also reminds me of the movie "Never Been Kissed" for some reason. Don't act like you don't know what I'm talking about hahaha. You know? The prom theme is Famous Couples in history, per Josie's rec. Anyhow, these two beauties go up for grabs today on both Dollish Polish's site and Jindie Nails, and I wanted to be my usual enabler self ;).
Dollish Polish Romeo over Jindie Nails Juliet- Romeo is described by Dollish Polish as a j

am-packed glitter, with shades of turquoise, sapphire, magenta, purple, and violet hexagons, shred, and dots, accented with matte black hearts, stars, and skull/crossbones. It is a beautifully complex glitter blend that really does represent the inspiration, while still being playful.
This topper is fairly easy to work with. It is definitely packed with all kinds of sparkling goodies. The only reason I had a bit of trouble with the larger skully and heart shapes was due to my nails being a bit shorter when I did these swatches. Yet, I still managed to get some on my nails with minor fishing or manipulation. I absolutely adore the smaller Black stars.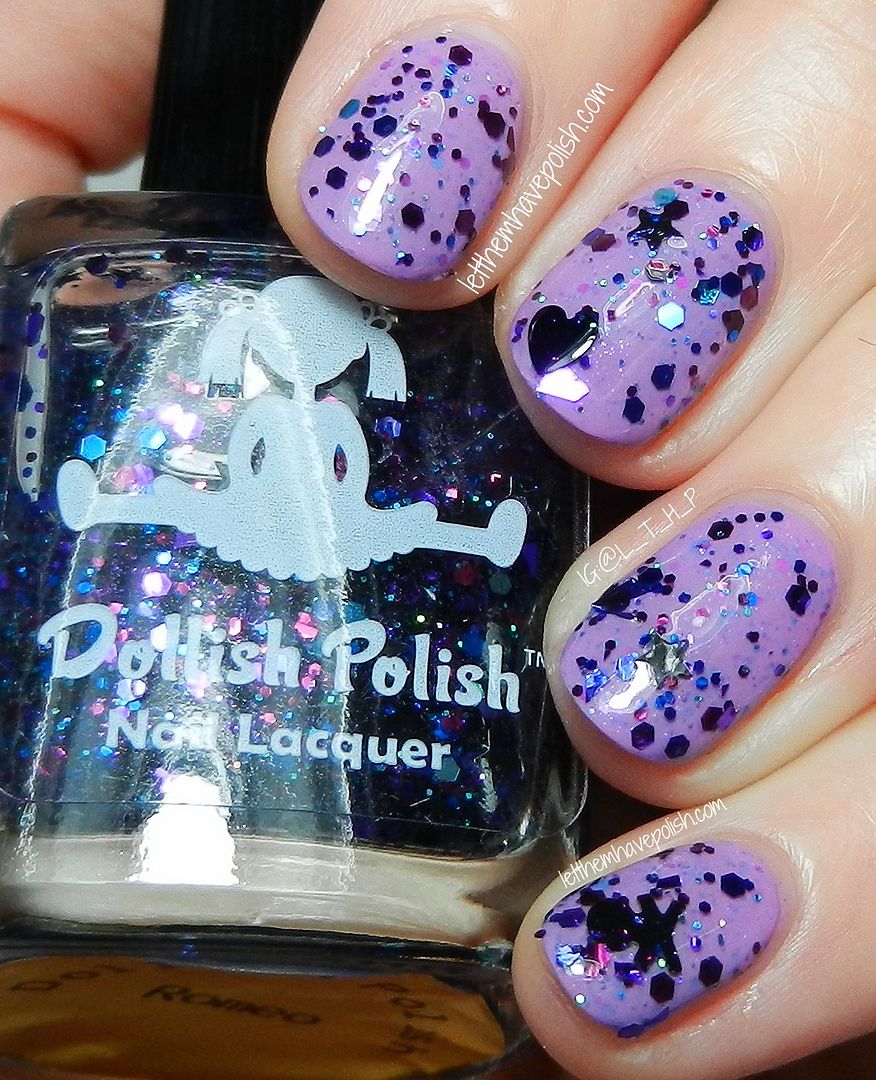 Jindie Nails Juliet- Juliet is described by Jindie Nails as a radiant orchid cream/jelly that is opaque in about 2 coats and has a sprinkling of periwinkle, magenta, lilac and lavender metallic small glitters plus navy blue and violet shimmery flakes. This shade though!!! The formula is an absolute dream. I am madly in love with the delicate look the blend of smaller glitters in the crelly base. I only needed two flawless coats for my swatch. There is such a sweet and innocent quality to this color that is perfectly suited to the character it represents. Side note: been wearing this as a pedi for about a week now and it still holds strong.
This is my first Jindie polish, and I am so impressed with everything about this shade. I know this will definitely not be my last, or only, Jindie shade.
The
Romeo & Juliet
duo is available now from both
Jindie Nails
and
Dollish Polish.
The duo retails for $20.00. Remember to check out both sites. If it is sold out on one, it might still be available on the other. These ladies knocked it out of the park with this collaboration. I can't wait to see what else they have in store for us. I also love seeing two wonderful creators working together. What is better than one awesome indie? Two awesome indies working together!
Thanks for stopping by and happy Caturday!