Happy Tuesday!
First thing's first.. I am so sick you guys. I had not gotten a cold in years, literally years.. Yesterday I started feeling off. By yesterday night I was running a fever and all that fun stuff... On that note.... I could not have "picked" a worse time to get sick. This Saturday is moving day for the husband and I. We are relocating to Boca Raton. It is very exciting, but I am wishing this cold would have held off until after this weekend haha.
Since I am a bit off today I wanted to share one of my quickies. Say hello to the newest expansion to the
Milani Color Statement
lipstick line. You guys may remember how much I raved about these lippies when the line was released last year.
I was super excited to see that Milani would be adding more shades to this fantastic lip color range. These lipsticks are perfection to me. They have great pigmentation, and feel amazing on the lips. They also have a scent that I just love! It is a yummy watermelon-y scent that does not overpower nor linger. This release is made up of Six new shades. Most of the new shades are on the Brown/Neutral sides. They also released a new shade of Pink, and Burgundy.
All swatches are Two swipes of color. As expected these were all very buttery in application. These glide with ease and don't drag at all. I just love them!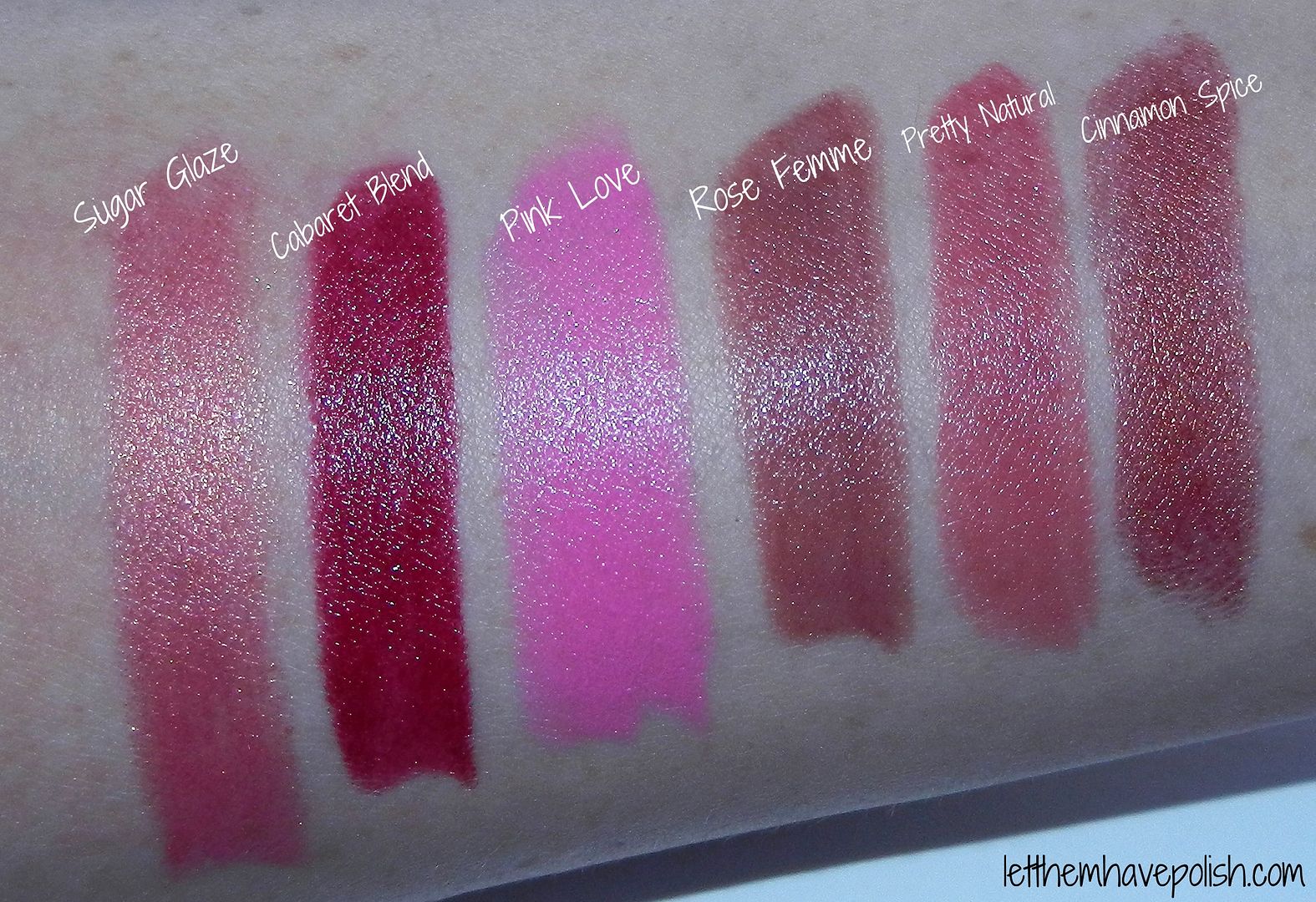 Sugar Glaze- Light Rose-Blush shade with complimenting Golden shimmer.
Cabaret Blend- Rich shade of Cranberry creme. This shade is very pigmented and glossy.
Pink Love- Playful, Blue-toned, Bubblegum pink creme.
Rose Femme- Creamy taupe with slight Mauve undertones.
Pretty Natural- Neutral Peachy creme.
Cinnamon Spice- Light Brown with complimenting Golden shimmer.
Below I am wearing Pink Love. I had actually been wearing it for a few hours here, which is why it looks a bit "settled" into my lips. That said, I just adore this shade. I mean, I love most Pink lippies... But this one is really sweet and playful, since it is a bit cooler toned that most of the Pinks I already have.
Do you have any favorites in this bunch? Mine have to be Pink Love, Cabaret Blend and Pretty Natural. These should be available now and retail for $5.49 each.
Thanks for stopping by!