Hiiiii and happy Thursday!
I swear I am not making a habit of these long pauses between posts. As you guys know, we just recently moved. And we all know how much FUN that nonsense can be *insert sarcasm here*. I never imagined that unpacking, sorting and organizing 1,500+ bottles of polish would be such an ordeal. It was... I am now on day four of setting up my little polish corner. I must say it is coming along really nicely. It will be an excellent creative space once it is done. I
f you follow me on Instagram you can see the progress :D (@L_T_H_P)
.
Today I want to share this look I wore a couple of weeks ago using the Liquid Sands that O.P.I released with the Brazil Spring/Summer 2014 Collection. These four beauties were released as a Four-Pack Mini set. I, for one, am BUMMED that these are minis because they are so damn BEAUTIFUL! I chose to rock them as a skittle look accented by an accent textured gradient nail.
On m index nail I wore O.P.I Samba-dy Loves Purple. This shade is a beautiful medium Red- toned Purple texture. I'd venture to say it is a fantastic shade of shimmering textured Radiant Orchid, right on trend. This shade was the most sheer and did best in Three thin coats. That said, I ended up doing Three thin coats of each shade, even though the rest could have done with two coats. On my Ring nail I am wearing O.P.I What's a Little Rainforest?. This shade is a stunning shade of vivid Sky Blue, practically metallic in finish. This one was my favorite. On my Pinkie I am wearing O.P.I I'm Brazil Nuts Over You This shade is a fun Red with Pink undertones and beautiful contrasting Purple shimmer. The hints of Purple are visible even when the color is fully dry. On my Thumb and Middle nail I used O.P.I You're so Flippy Floppy. This shade is my other top pick here. This shade of Yellow is really warm and perfectly shimmery.
For the gradient nail I used I'm Brazil Nuts Over You and You're so Flippy Floppy. I used the same technique I would use for any other gradient. I "painted" the color onto a bit of cosmetic sponge and then "bounced" the sponge lightly over my nail until the color was built up to my liking. The biggest pain was the clean up. I also noticed that sponging the color on compromised the wear of that particular nail. It was chipping quicker than the others.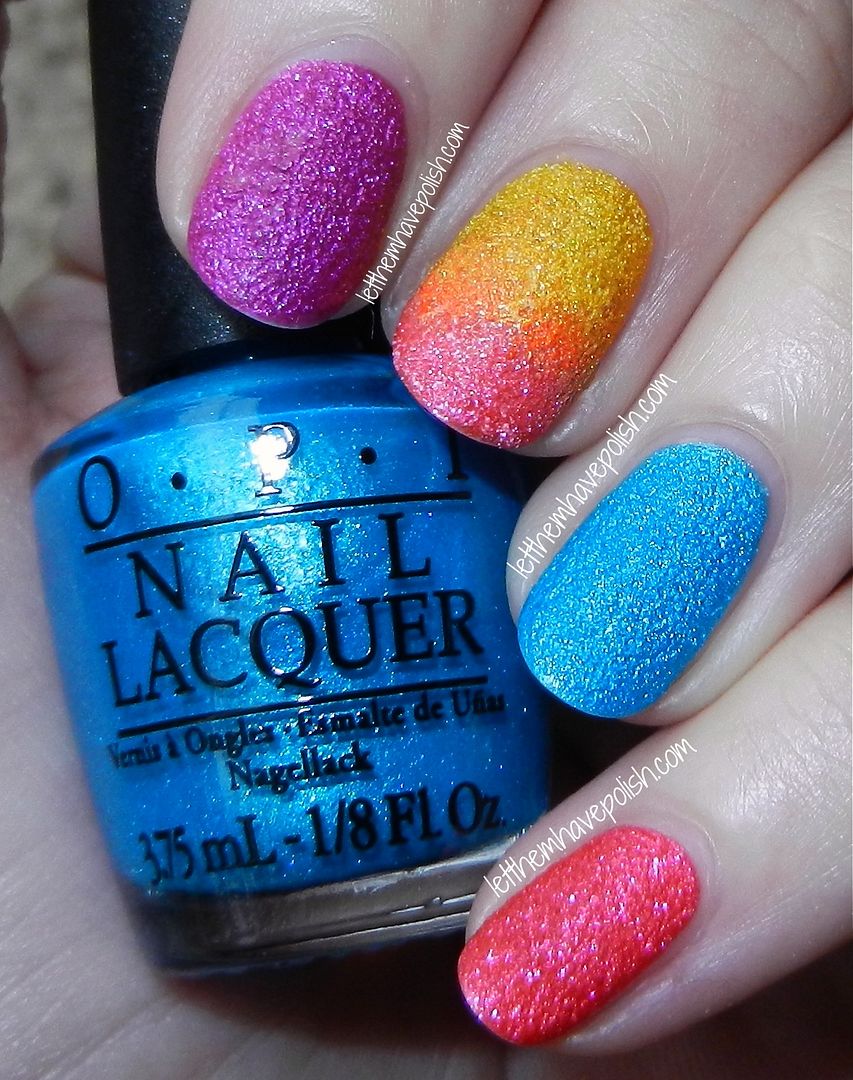 IDK what is going on with my skin in this pic lololol... Anyhow, I wore these for about a week or so. I loooove the shades. I really do wish that they would release these in full- sized versions. I didn't run into any issues with application. Personally, I don't mind the mini brush, it did just fine. I really do love these shades. I hope they release more textures like these.
Thanks for stopping by today! I'm hoping to be done with my corner today. I'm SOO ready to be done haaha.