Good morning!

Yes, it is a "Roughles" Skittle mani :D. These make me a happy girl; and here is why... A few weeks before these were announced I was bitching to my husband about how I wanted some cute pastel textures. Yes, these are things we talk about.. I've ruined him lol.. Anyhow, I was talking about all the awesome bright, and sparkly textures and how much I love them and my disappointment in the lack of cute pastel textures.
Enter the Nicole by O.P.I "Roughles". I was DELIGHTED when I saw the press release for these and even more excited when I started seeing swatches. This collection is made up of Four entirely adorable pastel- toned textures that have no sparkle, but a neat "speckled egg" effect. Get ready for another raving post about these, because I just love them so much! They really filled a gap in my collection.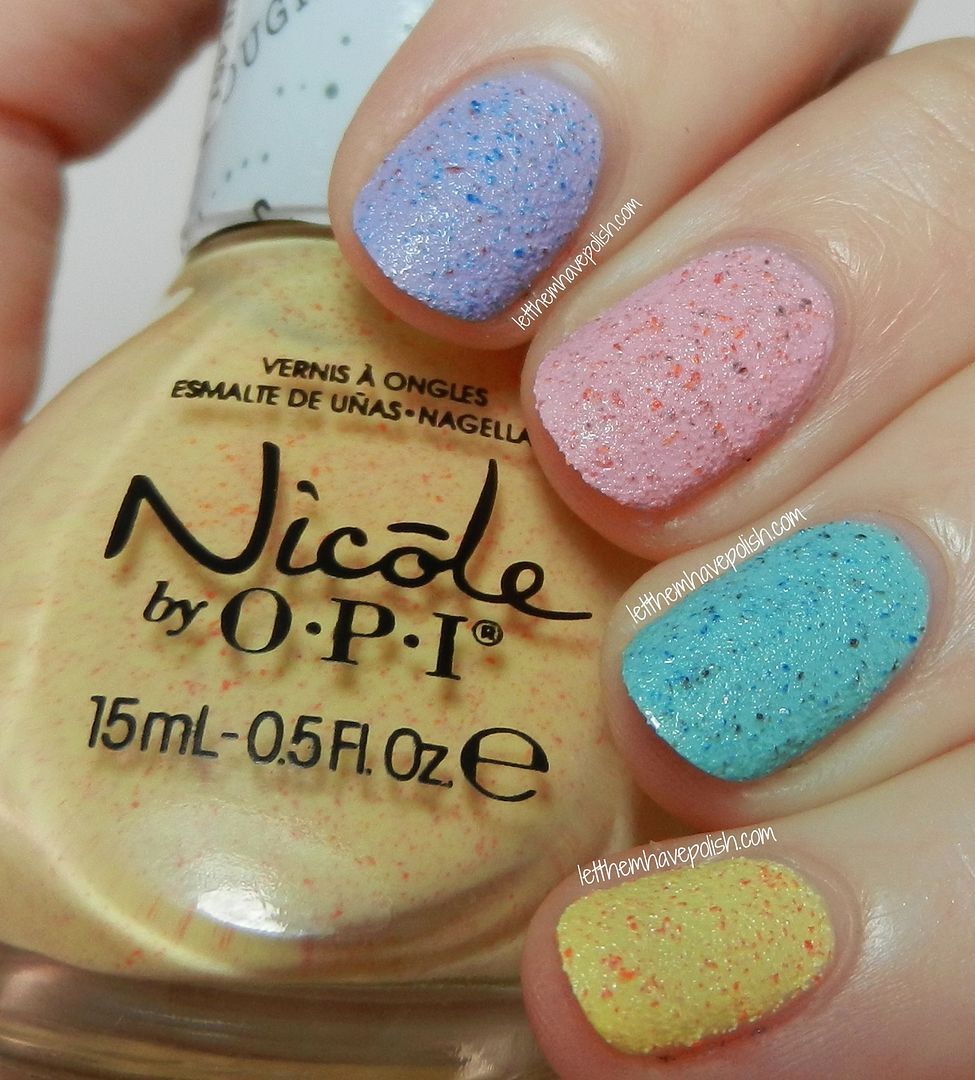 Index nail- Nicole by O.P.I I'm Stucco on You; a beautiful lilac pastel texture with blue, magenta and Violet "speckles".
Middle nail- Nicole by O.P.I Rock the Look; a perfect pastel bubblegum pink texture with vivid pink and dark pink speckles.
Ring nail- Nicole by O.P.I
On What Grounds?
; an AMAAAZING aqua pastel texture with blue, dark blue and black speckles. This shade stained my nails a little.
Pinkie nail- Nicole by O.P.I
Sand in my Shoe
; a greeeat shade of "Easter chick" pastel yellow texture with orange and red speckles.
All of these shades have amazing formulas. They are very dense and pigmented. Even though they are dense they have a really good, even spread. If applied carefully, I could have gotten away with one coat. I used two coats of each color. I love the finish on these. They have that awesome "stucco" look to them when fully dry. Of course it goes without saying that these wore like iron. I wore the O.P.I "Glitter-off" peel off base coat, and they still wore until I decided to peel them off Four days later. I could have worn them longer, but I was ready to a change.
I am madly in love with these and can't wait to wear them again and again and again. They are just precious and have filled a void in my collection. They came at the perfect time.. SO.. I will take this opportunity to mention that I would REEEEEEEEALLY love some neon textures... Sparkly neon, "stucco" neon... Neon texture all the things please ;).
Have you been lusting after these Roughles? I can't pick faves, they are all just perfect!