Changes,
They are sudden. They happen often, they happen when you least expect them.... I like to think we are all in control of our own destiny and that we can make changes for the better, and for the worse sometimes too. What this little ramble brings me to is that husband and I are in the middle of a VERY big transition. We will be leaving Florida tomorrow and driving to California to start our new lives. Yes, it is daunting and hectic, but we are excited and hopeful.
So, in keeping with the theme of changes and transitions I want to share my very first "Halloween Look" (if you want to call it that). I really just wanted to take on the character of Nina Sayers (The Black Swan), since the film came out back in 2010. All of a sudden I was finding myself relating to this character very much. There are so many changes in my life that are requiring me to change my complete outlook on many things. I'm growing, I guess? But much like Nina, I feel like things are changing within me (and sometimes I feel straight up crazy). So without further rambles, here is my take on the iconic Black Swan poster look.
I created my own custom "Black Swan" tiara. I really wish I had the time to have done the full costume. Anyhow, this was very challenging for me. This whole thing was a HUGE step out of my comfort zone, but I am SO happy I took it on. Why? Because I LOVE a challenge, and I love trying new things. I know the film has been out for over Three years, but as you can see it made a big impression on me... Actually all of Darren Aronofsky's films seem to do that to me. So I took on his Black Swan...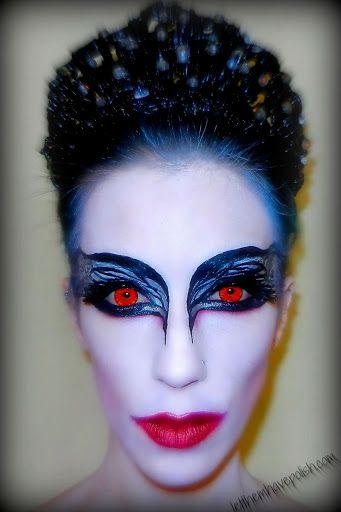 I wont go into much detail about how to achieve the look because there are about a MILLION tutorials on You Tube on how to do this look, and a million different ways. I never meant for it to be an exact replica. I wanted to do my interpretation of such an iconic look. The hardest part was getting an even White "foundation" as I had to use cheap costume makeup and get creative with my Sugarpill Tako white eyeshadow lol. For the eyes I used mostly liquid liners to achieve the feathery look. For the metallic and shimmering details I used Sugarpill Tiara and Lumi mixed with a mixing medium to create a metallic "paint". Of course some editing was done to the photo to achieve that evil and dark look the poster has to it. I'm just obsessed with Black Swan.
I finished the look with some
Red Vassen Lollipop circle lenses from Pinky Paradise
and added feather lashes by Ardell. My lips were done in OCC's
Black Metal Dahlia
. To me the big finishing touch was my custom made tiara.
Below you can see a closeup of the eye makeup detail. This was SO much fun to work on. I get two things from this look. There is the Black Swan vibe, but I am also getting an evil butterfly queen from this too.
Here are some vids explaining the process of the making of the tiara.
I really hope you guys enjoyed this post. I really poured my heart and soul into this mini project and it felt good to do so. Plus, since I will be moving during Halloween, might as well "dress up" now ;)!! But, in all seriousness, this was a challenge I've been meaning to take on for many years and I am so happy and excited to finally see it come to life.
I really hope you guys enjoyed this look. This whole post is very meaningful to me, for many different reasons. I really enjoyed working on this entire thing so much :D. Tomorrow we will be on the road to our new lives and I am excited to see what these changes will bring... Hopefully they don't end with me stabbing myself in the belly with a broken piece of glass though...... Oh and if you have not seen Black Swan, please DO SO!!!
Thank you so much for stopping by today my loves!! And please send all the good vibes our way ♥.!