Monday, December 15, 2014
Posted by

Cristina Foster
at 7:51 PM
10 comments:


Links to this post
Friday, October 10, 2014
Happy Friday lovely people!! Today is all about simplicity, down to this very post :D.
KBShimmer
Mint-al Vacation-
beautiful mint holographic.
KBShimmer
You're so Shellfish-
amazing neon Coral creme with slight pink undertones.
The glitter details were freehanded on using Inglot ProPerfection glitter stipers in
#52
(silver holo glitter) and
#66
(gold holo glitter). It was all sealed off with a coat of Seche Vite.
I hope everyone has a wonderful weekend!! I will be hula hooping it up at Florida Flow Fest :D!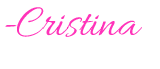 Thursday, July 17, 2014
... is my apartment a TARDIS?
Today I am sharing some hot little clouds because I need something bright, shiny and cheery to combat this dark and gloomy day in "Sunny" 'ol Fl. For this mani I got to play with a brand I had never tried before, New York Color. IDK why I'd never tried them.... But these were AWESOME!
I had been wanting to rock a
cloud mani
for some time now. I just love how cute these always turn out. Anyhow, I saw these three shades together and I just knew they would be my trio for my hot little clouds. These three shades come from the NYC In a NY Minute
City Samba collection
for Summer 2014.
I started with a base of NYC
Copacabana
, which is an amazing shade of bright, true primary yellow creamy shimmer. This shade reminds me, a lot, of Catrice's
Birdie Reloaded;
which is supposed to be a dupe of Chanel
Mimosa
(but, with a significantly better formula).
By simple powers of deduction, one could then say that NYC
Copacabana
is a possible dupe for Chanel
Mimosa
. As for the formula on
Copacabana
, it is PERFECT. I only needed two effortless coats (insanely fast dry time).
For the middle cloud I used NYC Sweet Melon. This shade is an adorable shimmering true melon shade. There is no better way to describe this color that "melon". For the top cloud I used NYC Tropicoral. This pretty is a super vibrant and saturated shade of vivid, orange leaning, coral creme. I finished my clouds off with a good coat of Seche Vite to make them really shiny and smooth.
I feel like I have to comment on the amazing formula on all three of these colors. They were so easy to work with. These suckers retail for $1.99, but apply like a much more expensive polish. Tropicoral is especially amazing. The formula is really shiny and self-leveling. I really enjoyed this shade. These three shades also do live up to the "In a minute" claim. They dried really quickly which made for even easier clouds.
If you guys have any suggestions for other NYC In a NY Minute shades I should check out, definitely let me know! Thanks for coming by!
PS- I am taking requests for nail art tutorials!! What do you guys wanna see? Let me know in the comments!
Tuesday, July 8, 2014
Hi hello and happy Tuesday! 
  I hope everyone had a fun weekend! Mine was a bit rainy, but nice non the less. Summer is coming on reeeeal strong in South Florida right now, so I definitely welcome a bit of cool rain :D. Speaking of rain, it is pouring as I type this right now.... Ahhh Summer.
 And speaking of Summer, Delush recently released a new collection for the season that is completely perfect. Allow me to introduce the
Essence of Summer Collection by Delush Polish
. This release consists of Eight shimmery beauties, each as beautiful as the last. 
swatches after the jump
 Some other exciting things happening with
Delush Polish
is that the brand has announced a new Rewards Program where you can earn points from your purchases. 
To see close up shots of these shimmering Summer beauties and read my thoughts on them, just continue reading after the jump ♥. 
Wednesday, June 18, 2014
Happy Humpday!
I'm pretty sure that as a beauty blogger in South East Florida... that it is a requirement for me to rock some watermelon nail art at some point in my life. I mean, IDK... melons, Florida heat... they just seem to go hand in hand. So, I did just that this past weekend. Some of the shades from Zoya's Tickled and Bubbly collections were the perfect choices for my fruity nails.
I started with a base of Zoya's Tilda. She is a bright, grass green creme. I wanted to add some pops of sparkle to my melons so I layered a two thin coats of Zoya Stassi over my middle and pinkie nails. To create the melons I basically just did some ruffians over all my nails, except my pinkie. I used Zoya Wendy for the coral-y parts of the melons. Wendy is a perfectly opaque shade of pink- leaning coral.
To add some sparkle to some of my melons I layered a coat of Zoya Harper over the pink portions on my ring and thumb nails. For the "seeds" I just used a plain black creme and a small dotting tool. I cleaned up the seams of my melons with a green Stripe Rite glitter. To finish everything off I used a coat of Seche Vite followed by a light coat of INM Northern Lights.
Here are Zoya Tilda and Stassi over Tilda. I really love how the shades of the Bubbly collection look layered over the shades from the tickled collection. Putting the sparkling, jelly based, shades over an opaque color really seems to bring out all the tones in the sparkly shades. I feel like on their own they all lean a bit too gold. They are all beautiful regardless though.
And now I must go shop for some watermelon because I really want some :). I'm thinking I also want to try my hand at more fruit themed nails. What should I do next? I think pineapples...
Thanks for stopping by!!
Tuesday, June 3, 2014
Are you sure it's Tuesday?!
Because I am lagging like it is a Monday, and I do not appreciate that :-S. As a friend of mine told me on Facebook; "w
hen Tuesday feels like Monday it's a Netflix in bed kind of day". Trust me, I fully plan to heed her advice before I spontaneously combust. But first! Lemme show you some nails!
This Summery look features some of the beautiful new shades from the KBShimmer Early Summer 2014 collection. I started with a base of KBShimmer Let's not Coral. This shade is a perfect pink-toned Coral. I absolutely adore that it is pink-tones as most of my corals tend to lean to orange. I used two easy and perfect coats of this shade.
Once my base color was dry I used the half-moon nail vinyls to tape off my moons. To make my nails pop I went with KBShimmer Goldie Rocks. This pretty is a magical shade of bright Gold, and extremely linear holo. Photos could never do this shade justice as it is just so amazing and multi- dimensional in person.
I topped my nails of with a coat of KBShimmer clearly on top to smooth out the "seam" of my moons. I adore this color combination. There is something classic, yet playful and trendy about these and I love it!
I'm gonna go on the prowl for chocolate and wine now... That should make today better, right? XOXO
Wednesday, May 21, 2014
Happy Humpday!!
So, I was going through my draft folder and found this little hidden gem. Back at the beginning of the year Milani did a HUUUUGE release of new lip products. Among those products release was a brand new line of beautiful glosses. This range is made up 14, yes 14, new gloss shades.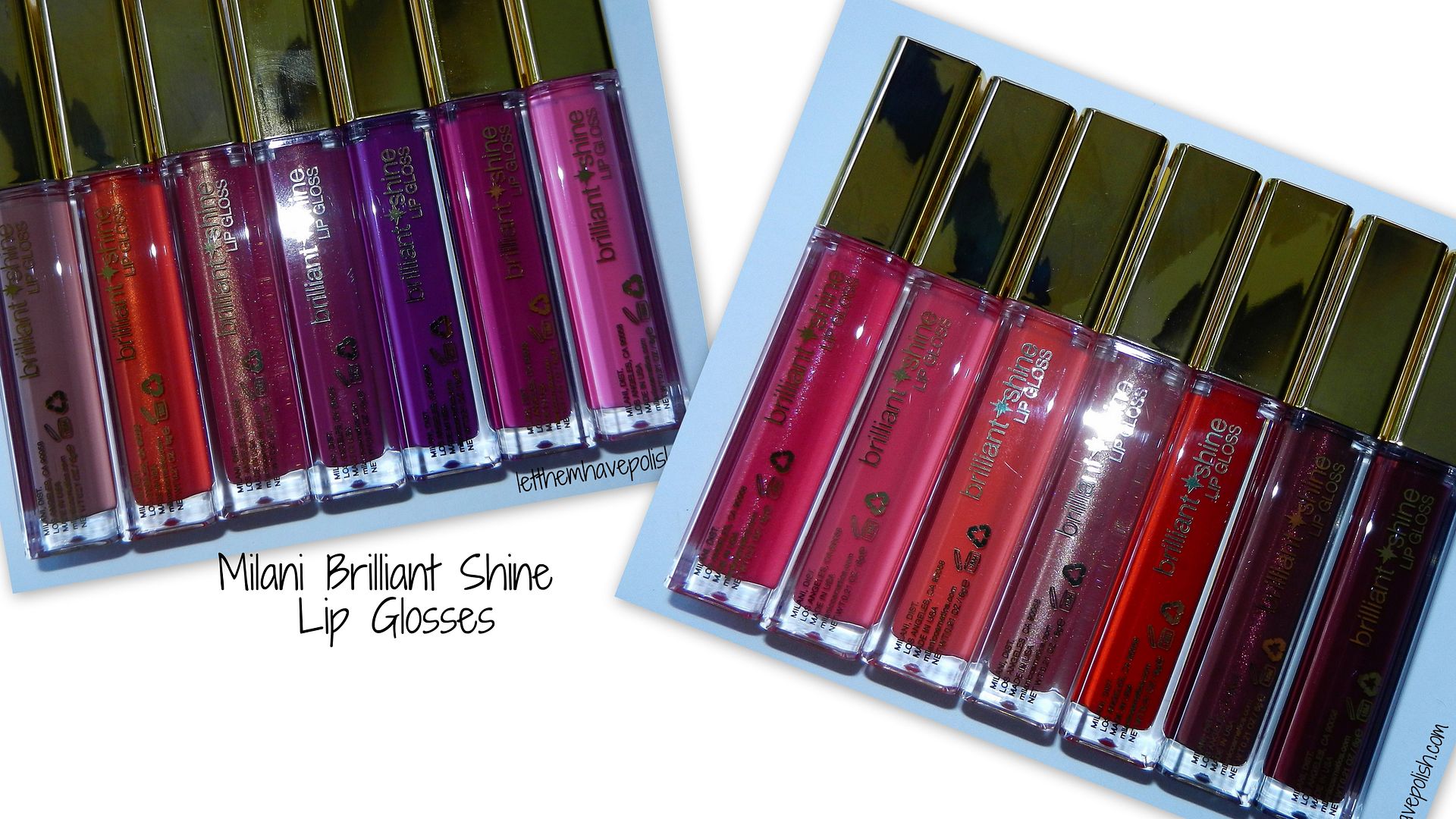 The range of shades they released is just amazing, beautiful and perfect. There are shades for everyone here. The glosses range from nudes, to shimmery, to bright pinks, classic reds and trendy berries. These glosses feature a slightly sticky and thick, yet smooth and pigmented formula. If you are not a fan of sticky glosses, these might not be for you. That said, I found that them being slightly sticky might have made them wear incredibly well. One of the reasons I'm not a huge fan of glosses is because of how often I have to re-apply them. While I had to re-apply these, it was not so often that I was getting annoyed at it. They also feel very moisturizing on the lips, which I really like. Overall, I actually like the thicker texture of these glosses.
The packaging is really nice. I love how sturdy and high end they feel. These feature a long wand doe foot applicator.
Ravish Raspberry: A beautiful shade of vivid magenta pink gloss.
Pink Lady: A classic shade of blue-toned bubble gum pink gloss.
Berry Tempting: Right on trend with the pantone shade of the year, this shade is a gagagorg shade of radiant orchid gloss.
Mauve Fetish: This shade is a classic shade of beautiful mauve with delicate golden shimmer.
Luminous: This beauty is a sheer, shimmering gloss packed full of delicate golden and pink shimmer.
Mai Tai: This pretty is a magical shade of vivid coral with golden shimmer.
Bare Secret: A classic shade of soft neutral nude gloss.
Black Cherry: A classic shade of deep Burgundy gloss.
Brown Berry: A rich shade of maroon gloss with soft golden shimmer.
Red my Lips: A retro shade of true Red gloss.
Nude Touch: A sheer champagne toned gloss with iridescent shimmer.
Coral Crush: A sweet shade of muted orange leaning coral gloss.
Sweet Grapefruit: A beautiful shade of muted pink toned coral gloss.
Rose Blush: A perfect shade of rosey gloss accented by pink and golden shimmer.
I really love this range of colors. Milani did a shade for every taste with this release. Of course I am LOOOVING the pinks and those sheer shimmery shades. I'm curious to see some of the more sheer shimmering shades layered over different lipstick shades.
Below are some quick lippy swatches of the shades Ive gotten around to wearing. Currently I am definitely obsessing with Rose Blush.
Milani Brilliant Shine Gloss in Rose Blush
Milani Brilliant Shine Gloss in Sweet Grapefruit
Milani Brilliant Shine Gloss in Ravish Raspberry
Milani Brilliant Shine Gloss in Red my Lips
Milani Brilliant Shine Gloss in Coral Crush
The Brilliant Shine gloss line by Milani is being sold wherever
Milani is sold, as well as online.
The puppies retail for $5.49 each, but feel like they should be WAAAY more expensive. I love Milani's ability to release an amazing product at reasonable price points.
Which are your faves? I'm leaning toward Rose Blush, Sweet Grapefruit, Pink Lady and Mai Tai.
Monday, May 5, 2014
Hey guys!
So, I figured... since I have the Zoya Tickled and Bubbly Summer collections in hand.... that maybe, just maybe... Now is a good time to post my Awaken & Monet Spring collection swatches. Can you say "slacker"?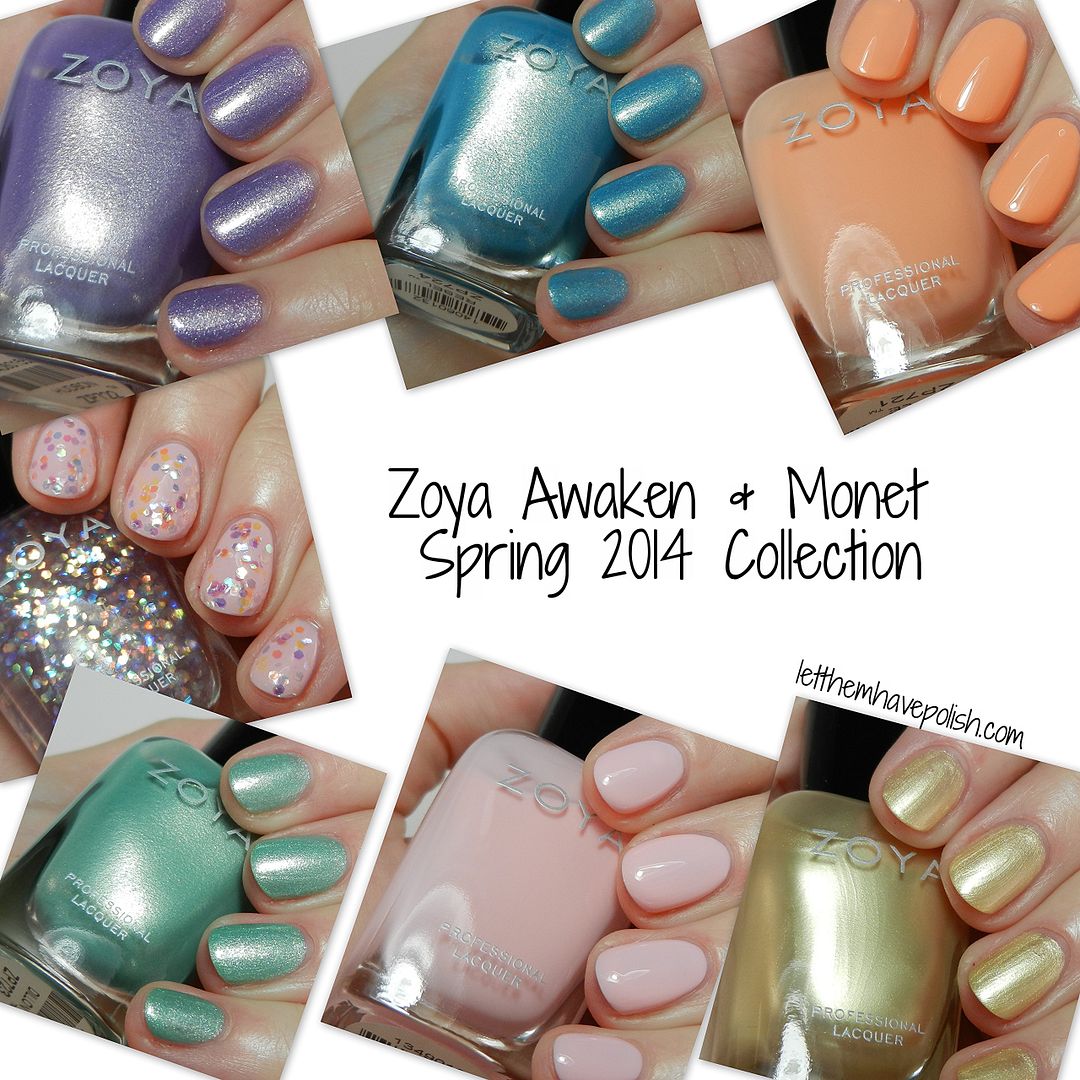 Zoya Dot- Dot is a classic ballerina pink creme-jelly. Even though it is really sqishy in finish, the formula was fairly opaque and easy to work with. I used Three thin coats for my swatch.
Zoya Cole- Cole is my favorite shade in this entire collection. She is a beautiful shade of perfect peachy creme-jelly. The formula on this color is amazing as well. I used Two thin and easy coats to for my swatch. Shades like this can be so universally flattering. I love how tan they make me look.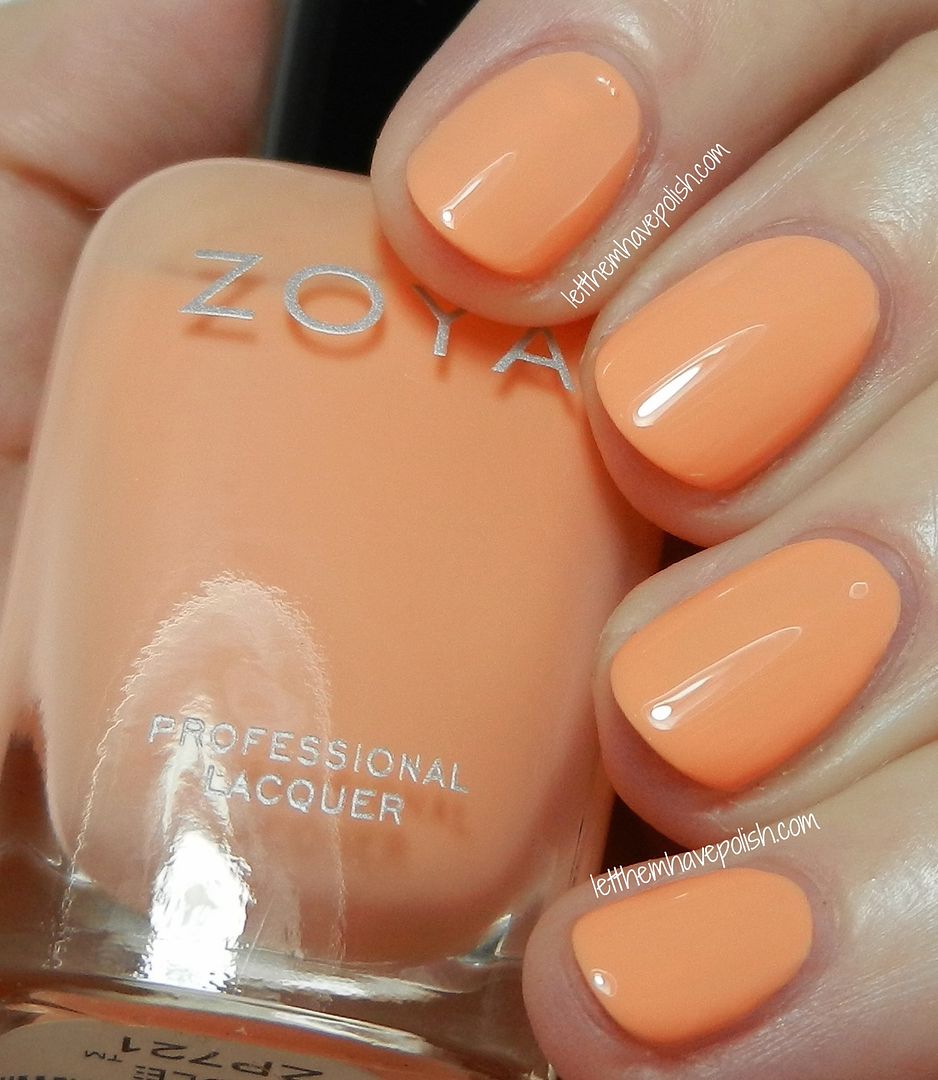 Zoya Rebel- Rebel is a soft sky blue with a subtle micro shimmer running through it. The shimmer gives a really pretty silvery/ golden, almost duochrome, effect. The formula on this color seems a bit sheer at first but is perfect in Two coats.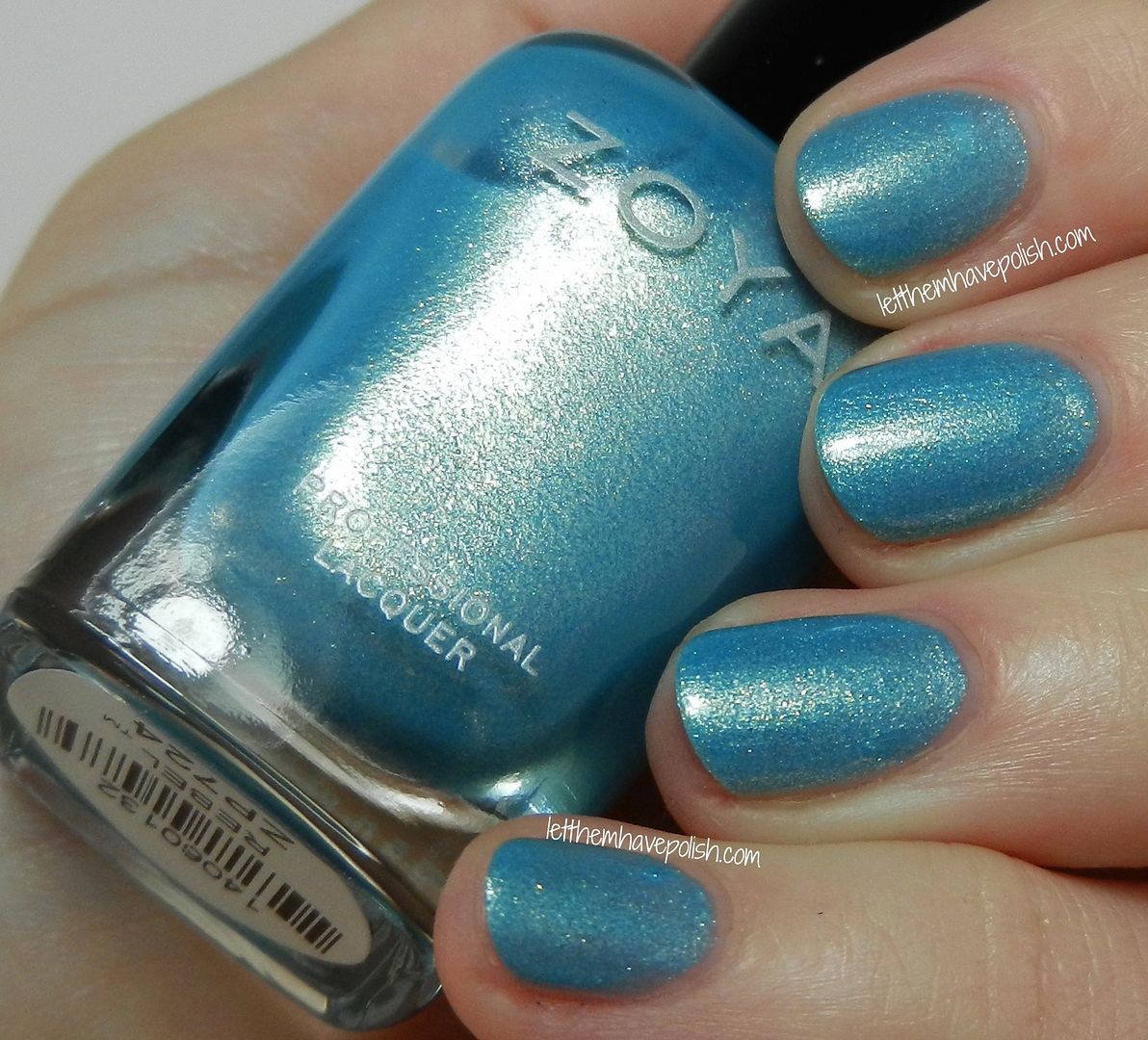 Zoya Dillon- Dillon is the seafoam sister of Rebel. The shimmer in Dillon appears more Silvery than Golden. I used Two thin coats.
Zoya Hudson- Husdon is the Orchid sister to Rebel and Dillon. The shimmer in this pretty appears more Golden. I used Two thin coats.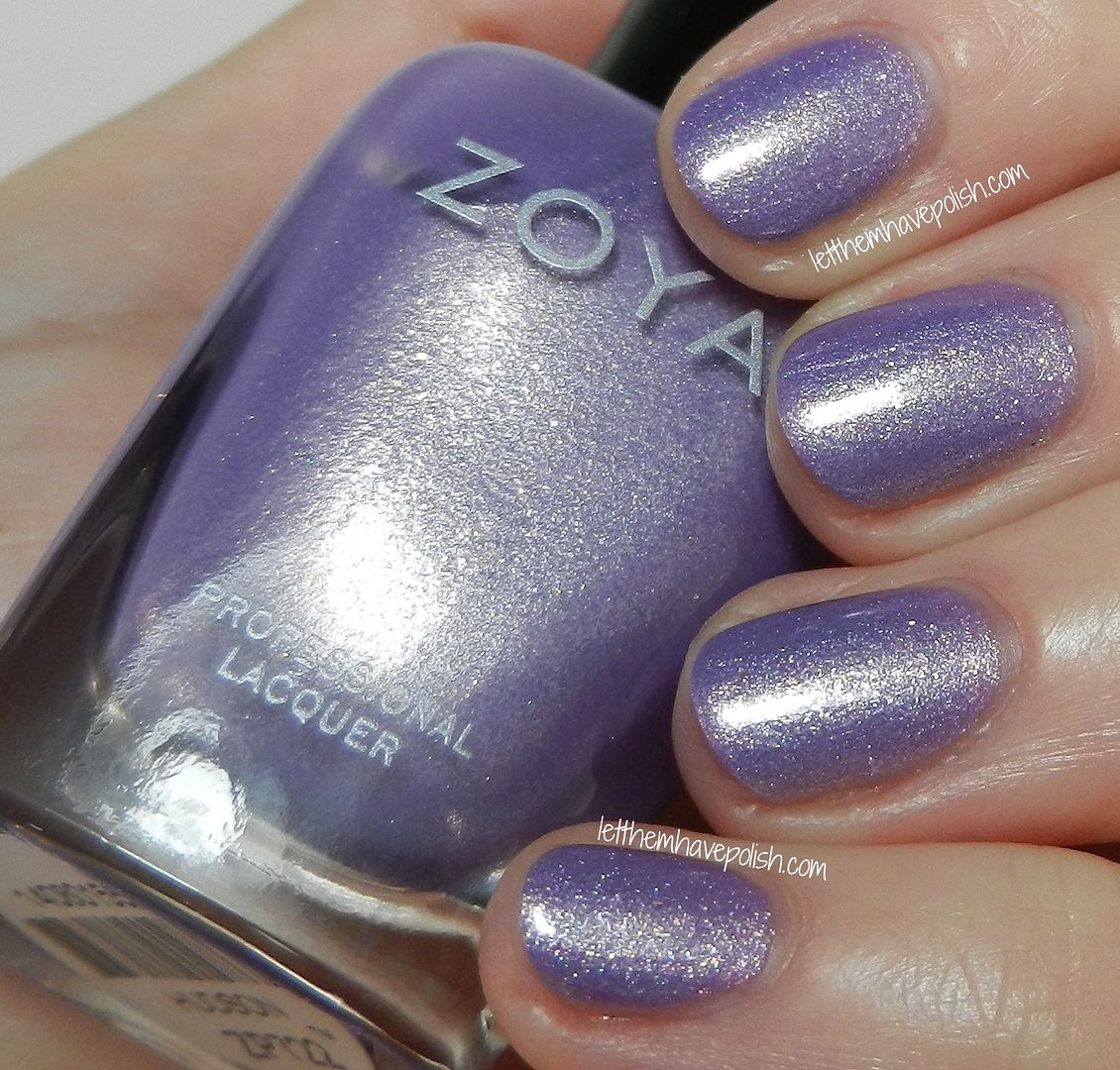 Zoya Brooklyn- Brooklyn is a frosty "White Gold" shade. Brooklyn is a little brush strokey. I used Two coats for my swatch.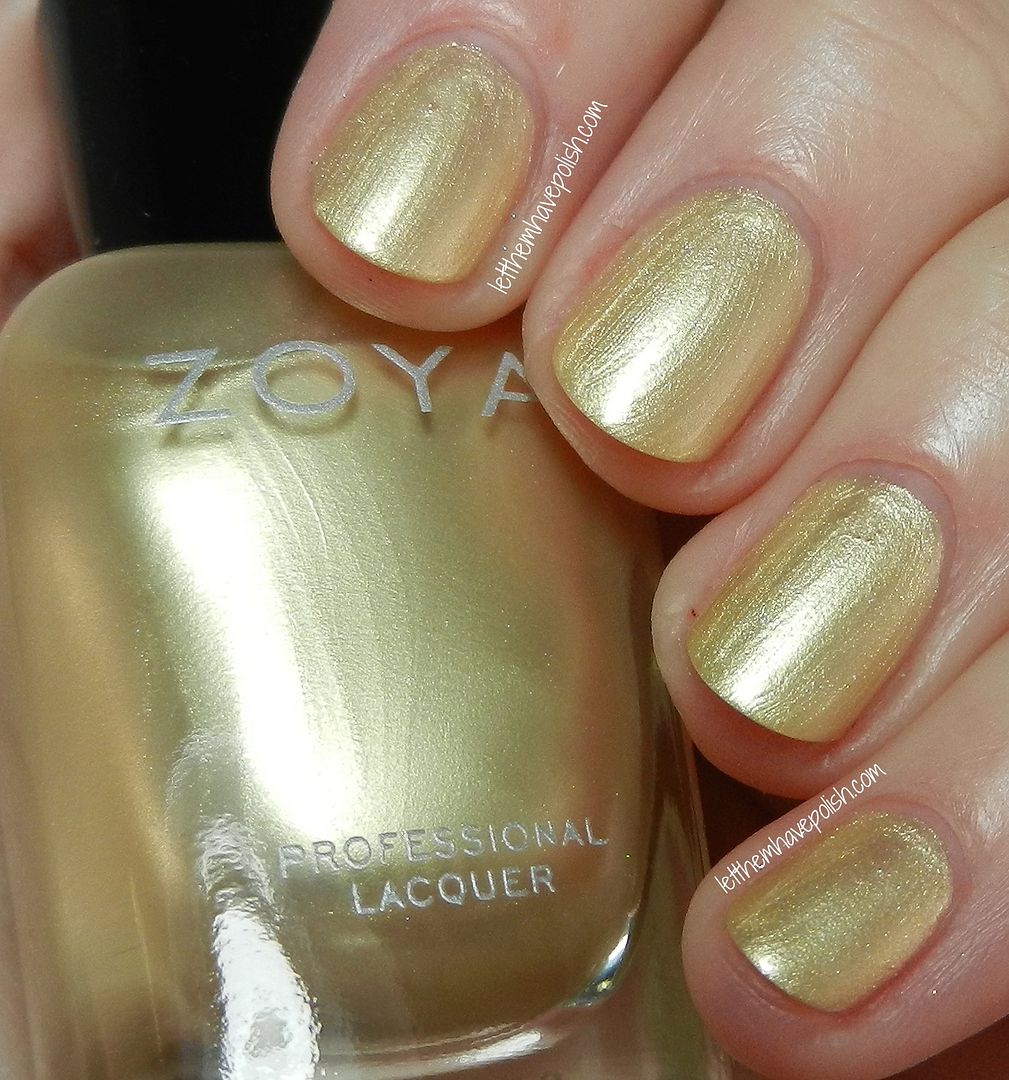 Zoya Monet over Dot- Monet is a glitter topper. This polish is made up of iridescent hex glitters suspended in a, barely-there, pink jelly base. I had to add a boisterous amount of thinner to get this polish to work. As I received it, it was unusable. The formula was insanely thick and the glitter spread non existent. Once I added the thinner I was able to work with it, but it still gave me some troubles. IDK, I want to love it. t is really ethereal and looks so pretty in the bottle.... the formula leaves much to be desired.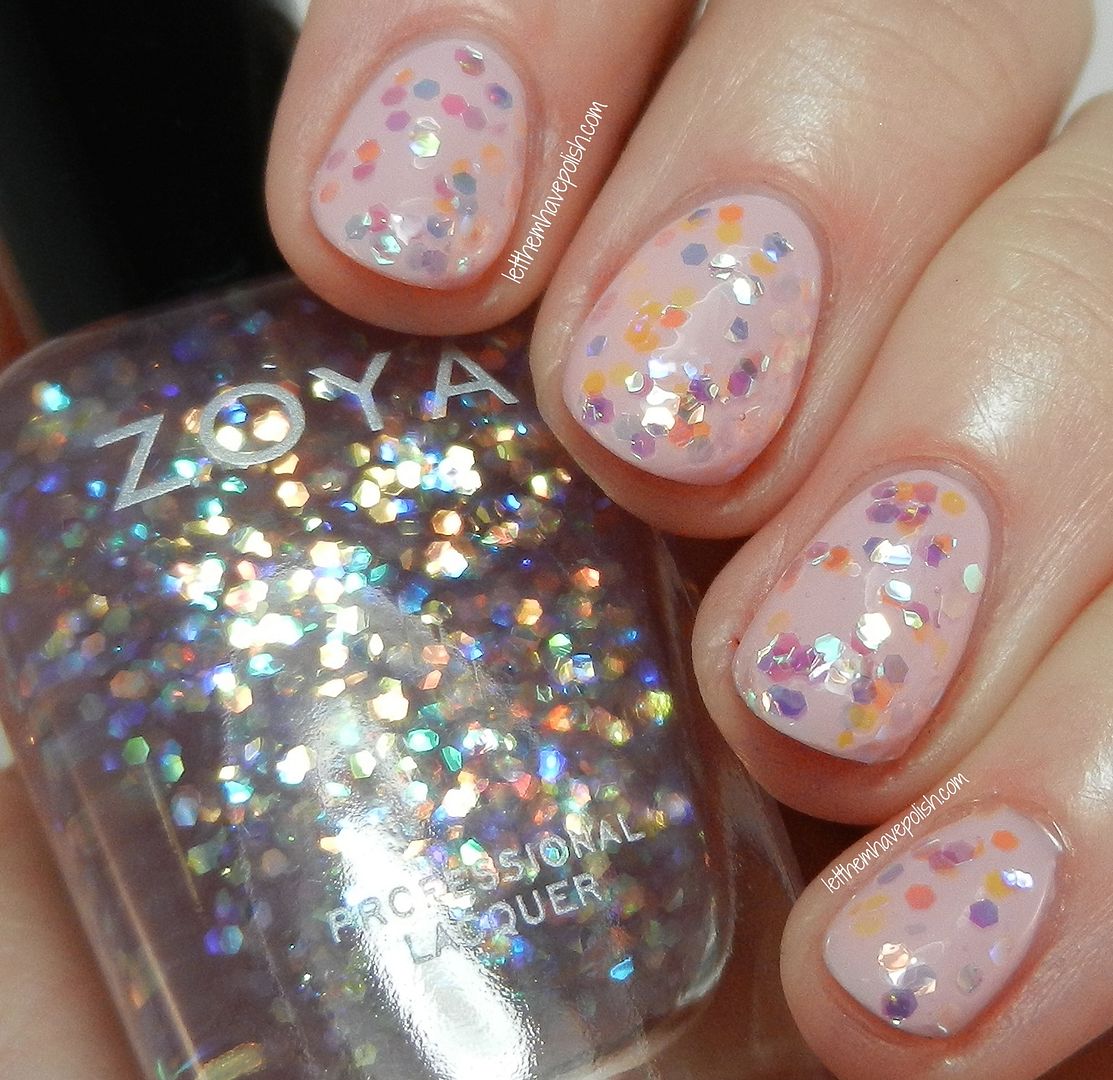 Overall, I am a bit disappointed in this collection. I'm not sure what, but something is missing for me. While the colors are really pretty, they don't feel special to me. I am SUPER disappointed in Brooklyn. A golden frost? Really?... And while I appreciate Zoya's effort with Monet, the execution of the topper fell flat for me. That formula is like glitter glue.
Strangely enough the shades I like best are the Two cremes, Dot and Cole. Especially Cole... They are effortless and flattering. I almost wish they had released all the other shades as creme-jellies a'la Cole and Dot, I think that would have been a more interesting collection.
Thankfully, I am stoked on the new Summer shades. I really think they redeemed themselves with the Summer colors. I hope I love them on the nail as much as I do in the bottles. How did you guys like the Awaken collection? Any faves here?
Wednesday, April 30, 2014
Happy Pink Humpday!!
Seriously though.. where did 10 years go? I highly dislike reminders of how fast time is flying by haha. It certainly does not feel like 10 years since I first saw "Mean Girls" in theaters with my mom. I remember, we had made a mom-daughter date out of it. We left the theater with sore sides from laughing so much. Today I am celebrating 10 years of "Mean Girls" by rocking some cute pink nails, pink clothes... you get the picture ;D.... You better be wearing some Pink too.. or you can't sit with us.
For this look I used shades from the Nicole by O.P.I 2014 core expansion. I started with a base of NOPI I'll have the Salmon. I waited for my base to dry off and the applied striping tape in a random fashion to create fat and thin stripes. The hot magenta shimmering shade is NOPI Always a Flirt.
I accented my pink nails with some tiny gold beads. I topped these off with a coat of Seche Vite. Of the three "mean girls", I can picture Gretchen wearing nails like these :D.
Hilarious timing note: I was watching Mean Girls while working on this post. It is ending as I am typing this very last sentence ;). Happy pink humpday beauties!!
Monday, March 24, 2014
Hello and happy Monday!!
Well, as happy as a Monday can be anyway lol. Today I want to share this quickie post going over the new Milani Power Lip Moisturizing Gloss Stains. Milani kicked off 2014 with a huge expansion of lip products. The Power Lip release is made up of Eight, brand new, glossy shades.
The packaging on these resembles the, ever-popular, pencil lip stains. The color of the Tube represents the color of the gloss very accurately. These pretties are equipped with a stiff (ish) brush applicator. I was a bit worried when I noticed that these are the kind of glosses where you twist up to get the product to come out of the brush.
The good news is that each click dispenses a controlled amount. It was good to see that the product does not come gushing out, hence ending up with wasted product. Anyhow, I really like the applicator on these, it really works well with this type of uber pigmented gloss.
I love the consistency of these. They are very glossy and moisturizing. To say they are pigmented is an understatement. It takes very little product to achieve an opaque look. For some reason I was expecting these to be a bit more sheer, they are not. These have incredible staying power, they really do live up to their "gloss stain" title.
Red Control: This shade is an amazing classic, glossy, Ruby Red.
Raspberry Tart: A classic shade of deep Raspberry creamy gloss.
Cabaret Blend- This shade is a classic deep Burgundy- Wine with a slight shimmer.
Pink Lemonade- IDK why this shade is called Pink anything lolol.. It is definitely more of a Watermelon shade. Somewhere between Pink, Orange and Red. That said, it is a GORGEOUS shade!
Macaron: This shade is a perfect shade of warm Pink- Mauve creamy gloss.
Strawberry Sugar: Ok, first thing's first... The formula on this color SUCKS.... It is a shame, the color is really pretty. It is an interesting shade of light, creamy Pink. It is almost White based. It was so streaky, sticky, and hard to get even. It is also a strange color at first, after a while I did grow to like it.
Mango Tango: This shade is the most perfect shade of light, Spring Coral. This color is perfect in every way.
Creamy Cafe: This shade is a wonderful light creamy Brown with a bit of shimmer. It looks really flattering and effortless.
And now.. RANDOM swatches!! Hahaha, these are the pretties I've gotten around to wearing. I did prep my lips with the Milani Anti-feathering clear pencil for these. It made the application very easy. Prepping my lips also created a smooth surface for the color and extended the wear.
Milani Mango Tango
Milani Macaron
Milani Pink Lemonade
Now... this is a weird swatch.... It looked weird from this up close. But, yeah, this was the best I could get it to look. Milani
Strawberry Sugar
.
So as you can see, even though they are glosses, they are ridiculously pigmented. I really dig these a lot. The colors are so perfect for Spring and Summer. These are available now wherever Milani is sold and retail for $6.49.
Unrelated news: I finally have completed setting up my little corner of polished goodness. I'm so happy to be finally done with that project. It was much more of an ordeal that I thought it would be hahah. But I'm super excited to get to working on some nails.
My faves are Mango Tango, Macaron, Red Control and Creamy Cafe. Are any of these speaking to you?
Friday, March 14, 2014
Heeeeeeeeeeeeeeeeeeeeeeey! 
 Happy Friday! This is my first official blog post from my new home. I am so excited about our new place. Many of you have been asking about California. What happened? Did I ever make it? etc... Long story short; we made it to Cali and were there for about Three days. We had an emergency and had to head back to Sarasota, Florida (i.e "home").
  Finally, back in January, my husband got an amazing job offer in Boca Raton, Florida so that is where we ended up. LTHP is now an East Coast Florida gal :D. I am VERY excited to sample the beaches in the area. Back in Sarasota, we were really close to Siesta Key. Which is amazing beyond words.. But I miss the Atlantic, being from Puerto Rico and all ;). 
 So, since I've yet to actually unpack and set up my polishing area... I've got some swatch spam for you today. My nails have been nekkid for about a week and a half now. Thankfully, there were no breaks during the move. 
 To find out more about these shades just keep on reading after the jump. 
Wednesday, February 26, 2014
Hello my beauties an happy Humpday!

Today I want to share my look for day 25 of the Californails "Totally Doable- I have a life Challenge". The prompt for day 25 is to do a simple look. Since I have been so enamored with the O.P.I Brazil collection for Spring-Summer 2014, I decided to use some of those shades. O.P.I knocked it out of the park with this collection. The colors compliment each other perfectly. I brought a few of them together for this scotch tape mani.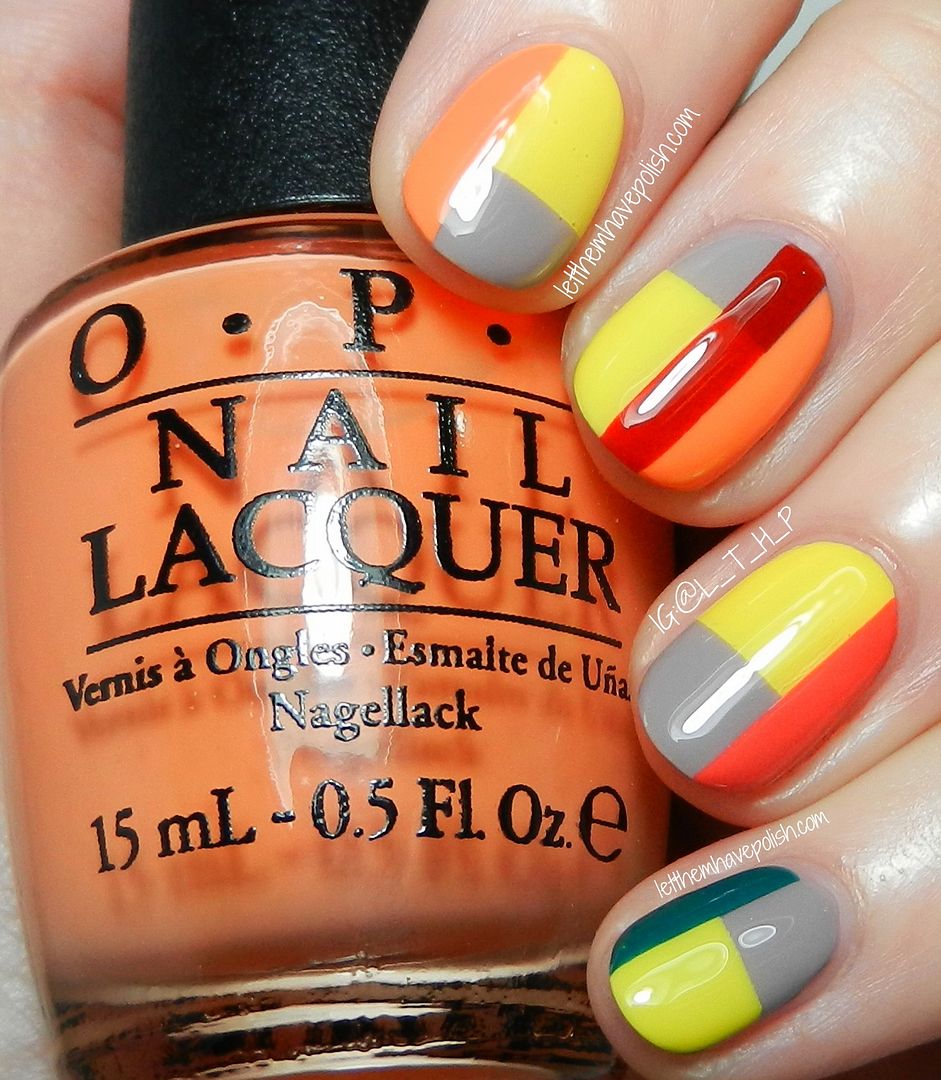 For this look I started with a base of Taupe-less Beach. Once my base was dry I used scotch tape to create uneven horizontal halves. I painted the exposed portions of my nails with I Just can't Cope-Acabana. This shade was a lovely surprise. For a Yellow creme, it has an amazing formulation.
Once my halves were dry enough I used some more tape to create some complementing "side panels". On my pinkie I used Amazon Amazoff, which is an amazing shade of rick Peacock Teal. On my Ring finger I used Live.Love.Carnival, which is a lovely shade of rich and vibrant coral. On my middle nail I did accents in Red Hot Rio, which is a classic shade of deep Ruby Red crelly. For my Index I used Where did Suzi's Man-go?, this shade is also used on my middle nail. I finished the whole look off with a generous layer of top coat.
I really adore this look. Sometimes simplicity can be so striking and fun. I had forgotten how effective scotch tape is for creating cool manis in a pinch. I feel like I have to say it again.... The O.P.I Brazil collection has my heart. I am so madly in love with the variety of this collection. There really is a shade for many different tastes.
The next, and final, prompt is to do Galaxies. I am PUMPED on that prompt. As much as I love galaxy manicures... I've only done Three on myself. So, this challenge giving an excuse to do one makes me very happy.
Friday, January 31, 2014
Cult Nails All Out- For this mani I decided to layer All Out over Be Loco. All Out is a beautiful micro shimmer topper. Over my Coral base it created a Sun kissed shade of Tangerine Orange. What I love about All Out is that it will transform any color into new, beautiful unexpected shades. Over lighter colors it looks beautifully Golden-Yellow, over Medium shades it can turn into a cool shade of shifting Lime Green and over darker shades it can go to this amazing shifting shade of Emerald Green. If you were a fan of Charlatan from the Deceptive Collection, you will love All Out. I used one coat over my base color.
Cult Nails Be Loco- This shade is many of my favorite things meshed into one polish. Be Loco is a perfect shade of true Coral with the most amazingly creamy formulation. This shade could have nearly been one coat. And yet, the formula was not thick or sticky or streaky... it was buttery smooth- perfection. This color is insanely flattering. I used Two easy coats for my mani.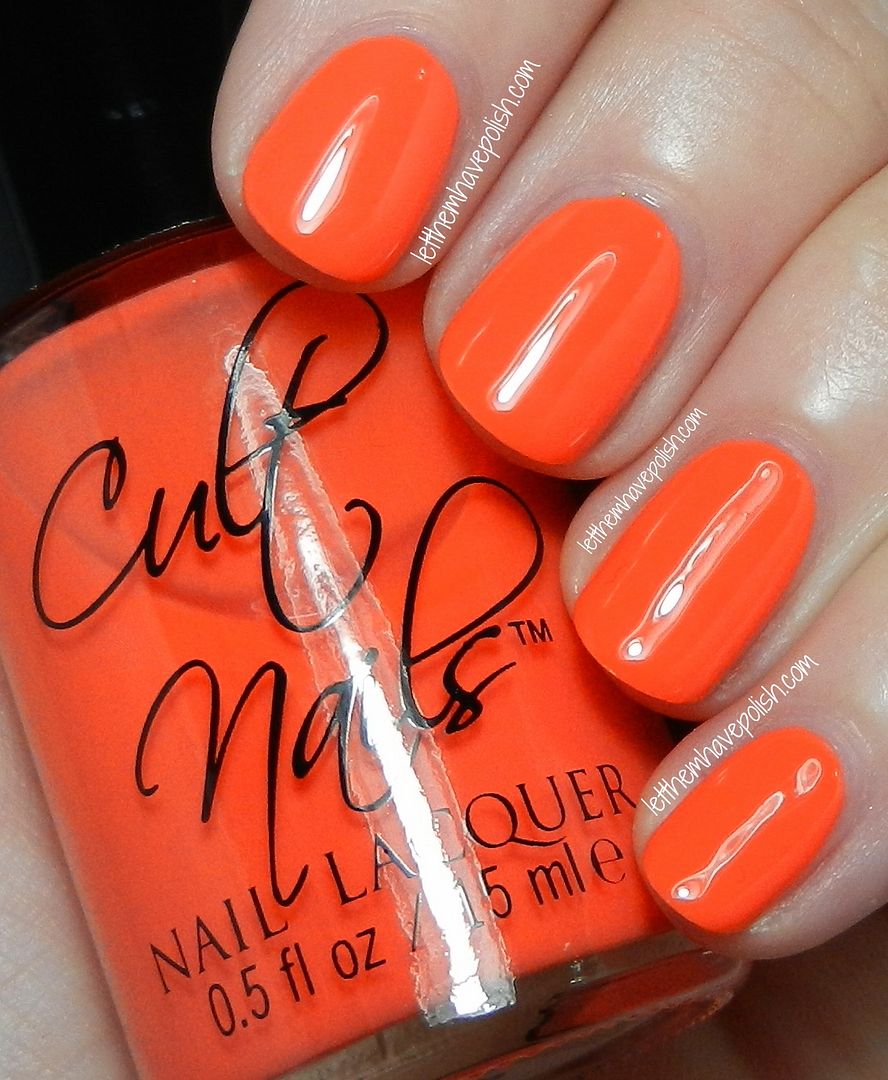 Cult Nails Mayhem- This baby is a subtle Silver linear holographic topper. What I love most about Mayhem is that it adds beautiful holographic sparkle, that is very noticeable, without making the base color look muddy or cloudy. I've tried several toppers and I don't like how much they can cloud the base color. With Mayhem you get that beautiful effect, and you still get to see the base color clearly Just with the added beauty of Holographic shimmer. For this mani I layered Mayhem over Riot. I really loved this combination. Oh, and the Three- finger pic is not a new thing or anything. I dinged my Index nail as I was taking photos and I was so ready to be done this day that I just fixed it after I took photographs haha. I used one coat of Mayhem over Riot.
Cult Nails Riot- This shade is a spectacular shade of clean Aqua- Teal. It is a bit lighter than teal, and a bit more Green than Aqua. Riot has an amaaazing formula as well. This shade could have also been one coat, I did use two though. I love this color to bits. It is summery, pool party perfection. The one downside is that this color can stain pretty badly.
I wore both of these manis for about a week or so, no chips and very minor tip wear. The wear of Cult Nails polishes is always so impressive. If you are really digging these shades, they can still be found on the
Beautylish Boutique and retail for $12.00/bottle
.
Happy Friday everyone!