Sunday, August 24, 2014
 Happy Sunday!!! I was just thinking, not long ago, that it had been a while since I last did a swatch spam post. Then, yesterday, as I was going through some drafts I found all of these. The timing was kind of perfect! More after the jump. 
Posted by

Cristina Foster
at 7:30 AM
7 comments:


Links to this post
Labels: Barrielle, Blues, China Glaze, Colors by Llarowe, Glitter, INM, Layering, Llarowe, LVX Nail Color, Oranges, sally hansen, Salon Perfect, Seche Vite, Spam, Spring, Summer
Thursday, August 7, 2014
It is Thursday already?! Right on! For this Tutorial Thursday I went with leopard spots. I adooore doing leopard spot manis. They are super easy and fun to do. For this leopard printed look I used all shades from the LVX Summer 2014 collection. The finished look kind of reminds me of old porcelain tea cups, but leopard printed :D. More details and tutorial after the jump.
Wednesday, June 4, 2014
Humpday humpday!
So, my little brother had his high school graduation this past Saturday :D. As the proud older sister that I am I showed up with some nails in his school colors. I'm sorry this photo is a bit "off". I took this pic with my iPhone because all the batteries for my camera were dead lolol. That said, I am so impressed with the photos my new baby takes :D. I think I might invest in an Olloclip.
My bro graduated from Southeast High School. Their colors are Blue and Orange. I used two shades from China Glaze's latest release, the Off Shore collection. The orange shade is Stoked to be Soaked. This shade is a perfect tangerine orange that has a subtle shimmer. I used two easy coats of this color. Once my base was dry I used some bolt-shaped nail vinyls to tape off the sections I'd be painting in blue. For the blue I used China Glaze I Sea the Point. This color is a magnificent shade of true Monaco blue creme. The formula is perfectly saturated with color and so very creamy.
To seal em off I used LVX's new gel top coat. OMG!!! I am SUUUPER impressed with this new gel top coat from LVX. It was ridiculously glossy and did not smear my nail art (no fumes!!!). It should go without saying that it dried insanely fast as well. I experienced some shrinkage, but I think it may have been because I did not properly wrap my tips with the Blue shade. Regardless, I'm super impressed with it and definitely recommend it.
A huge congrats to all the Seniors who had their graduations over these past few weekends!!
Tuesday, July 23, 2013
Happy Truffle Tuesday!!
For this week's pick Truffle went with another shade of Blue!! What is it with my kitties and Blue? Miss Muffin was very fond of picking me Blue shades as well. I find it adorable that Truffle has kind of carried on that trend with her last Two picks. For this week she went with a soft, dreamy shade of baby Blue by LVX called Celeste.
This color inspired me to go for something that looked sweet, like candies or something. I don't know why that was... But this is what I ended up with, and I LOVED em!!
For this look I started with Two easy coats of LVX Celeste. Once my base was dry, I taped off my stripes and painted over with LVX Viridian. I really loved the look of my nails at that point but they did not feel done, so I added a black "drip" with Cult Nail Nevermore. To give the final look a really "sweet" finish I added some of Sally Hansen's Wool Knot from their fuzzy coat collection to the drips. I wanted it to look like sprinkles over hot fudge. I finished the whole look with some KBShimmer Clearly on top to add shine and smooth out the nail art.
LVX Celeste is a wonderful, white based baby Blue creme. The formula on this shade was so unbelievable! I only needed Two easy, effortless coats of color for my base. I expect color like this to have difficult formulas, but this one was the complete opposite. Here are two coats + top coat.
Tuesday, June 25, 2013
Hello my loves!
Today I have some swatch-y spam for you guys. I've had these pics sitting in my folders for some time now.... So I figured, why not do a spam post?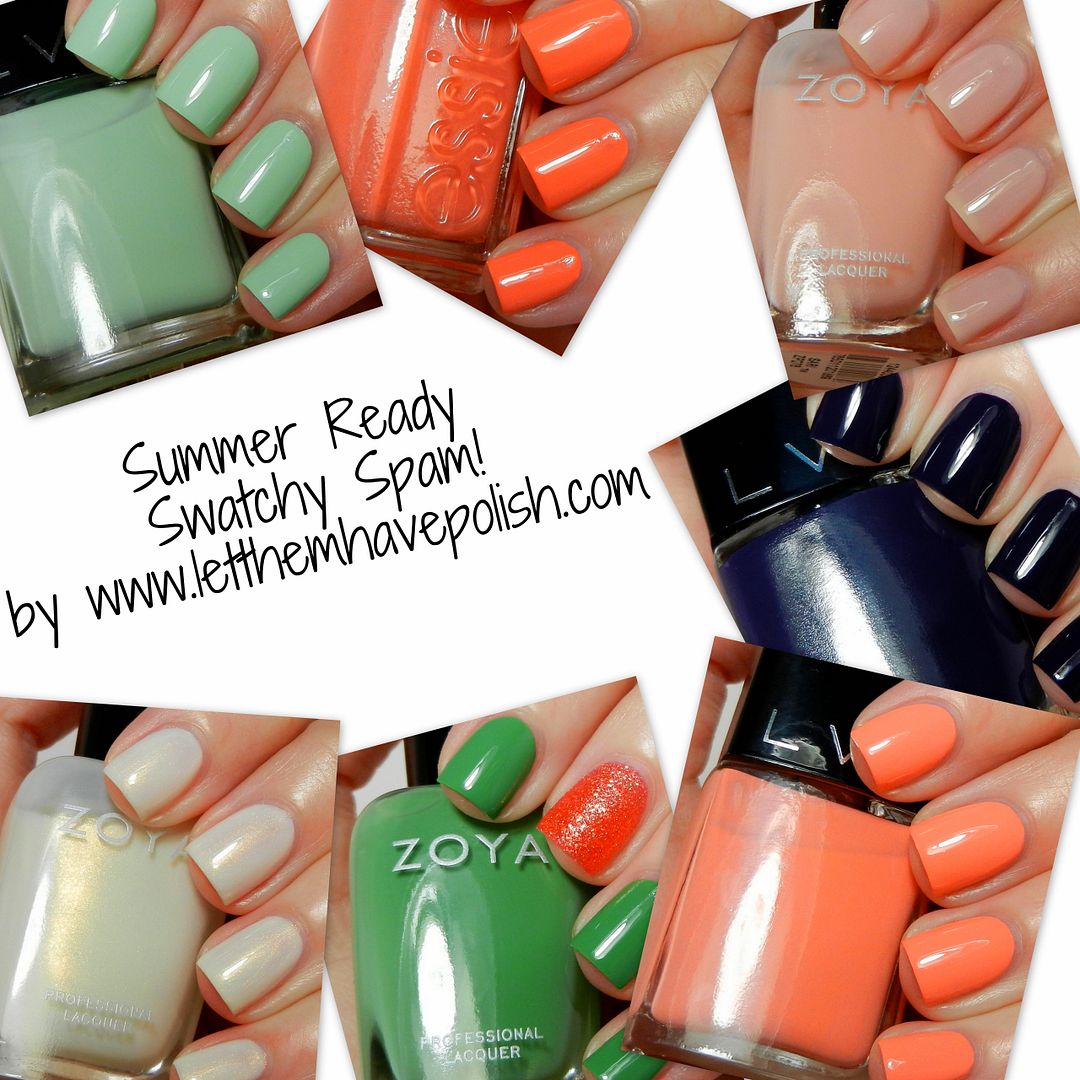 These shades are all kinda screaming Summer to me. What are some of your favorite Summer shades? Or do you not really follow seasonal colors? Me, I kinda wear what I want, when I want. But I do tend to gravitate to Spring and Summer shades because they are always so bright and happy.
All of these swatches are shown with a top coat.
LVX Nail Color in Mynt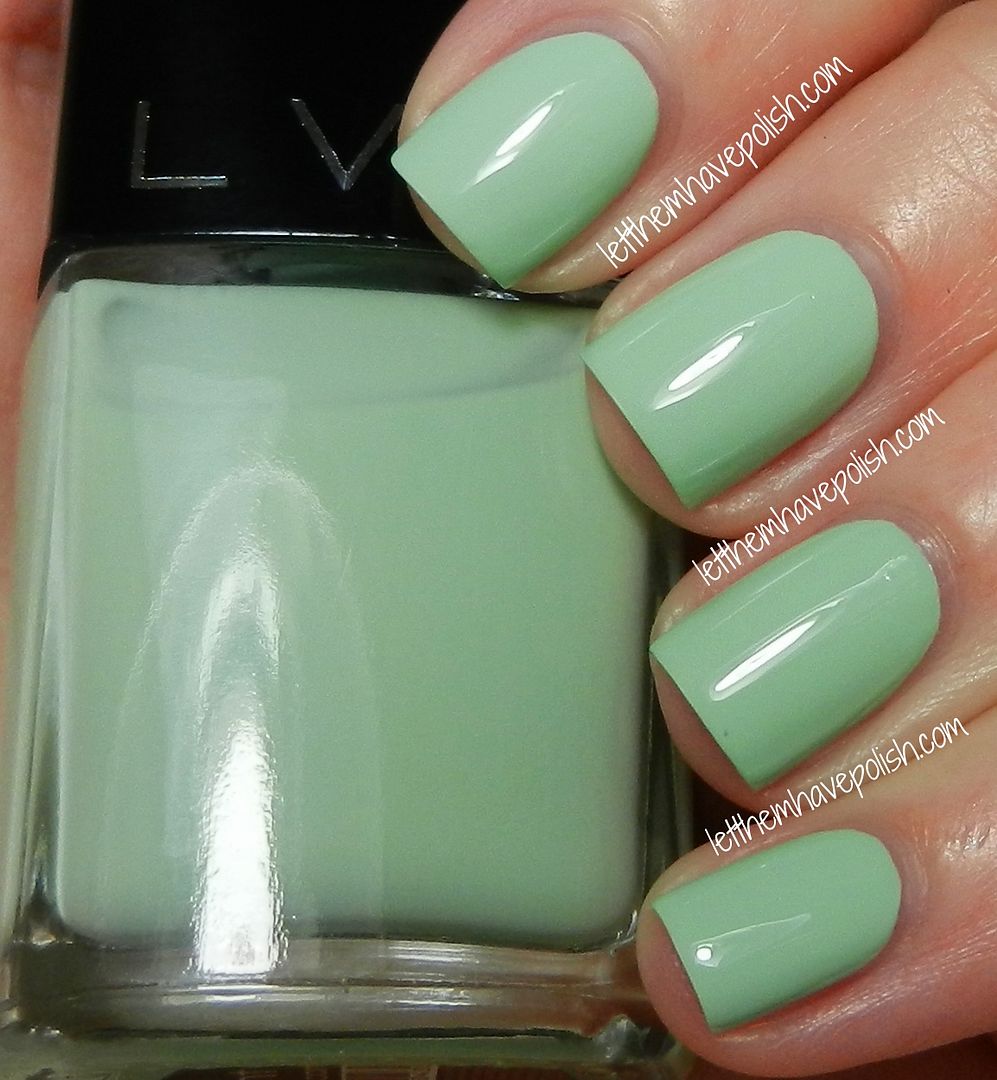 Mynt by LVX is a lovely, clean Mint creme. I found the formula on this shade to be AMAZING. Normally, these types of Pastel-ish, minty greens can be a pain in the butt to apply. That was not the case with this beauty. I did Three easy coats of Mynt for my swatch.
LVX Nail Color in
Deco
Deco is an amazing shade of Melon-y Coral creme. I knew I would love this shade the second I unpacked it! I am a sucker for these types of colors. This shade is insanely flattering and easy to wear. I used Three thin and easy coats of Deco for my swatch.
Zoya
Gaia
Gaia, Gaia, Gaia... This color.. Ok.. So this color is BEAUTIFUL, stunning really... A Pearly, shimmering White with the most perfect Golden shimmer running though it. Bridal perfection... That said, this color has a horrid formula! I found it to be patchy and uneven.. I needed Four thin coats to get it to look even and opaque. Maybe layering it could remedy that problem, but it could also ruin that squishy effect... I suppose the color payoff is definitely worth the work I put into the application though.
Essie
Tart Deco
Tart Deco is a vivid, hot Melon-Coral shade. This shade is a more vibrant cousin to LVX Deco. The formula on this color is a little patchy, but not problematic. I used Three thin coats for my swatch.
Zoya
Sari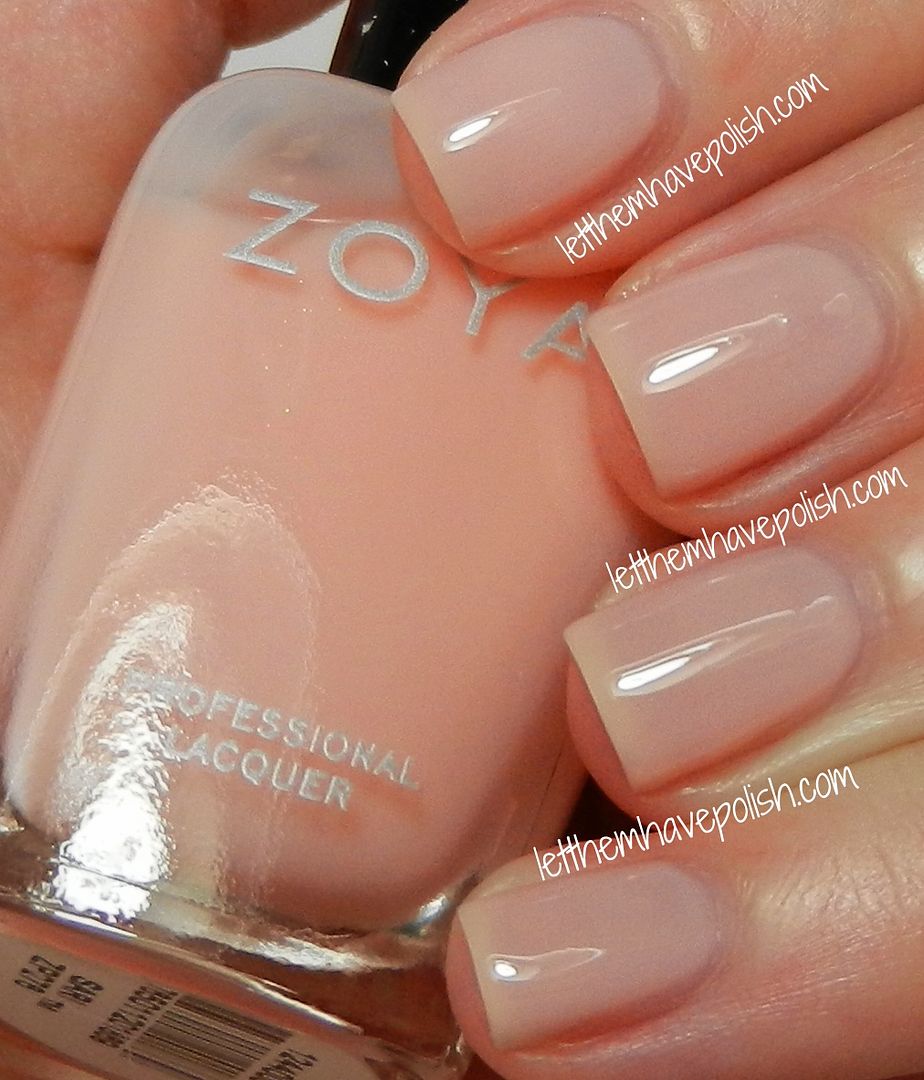 Sari is a lovely, nude Pink jelly. Colors like these are great for French manis, or just to add a healthy glow to a nakey-look. I used Three thin coats for my swatch.
LVX Nail Color in
Indigo Bleu
Indigo Bleu is a deep Violet-Blue creme. This shade is intenesely pigmented and very easy to apply. I could have almost done with one coat. I used Two thin coats for my swatch.
Zoya
Josie
and Zoya
Destiny
Zoya Josie is a beautiful Grass Green creme that applies like a dream. I used Two easy coats of Josie. For this look I did an accent in Zoya PixieDust in Destiny. Destiny is a hot Coral texture laced with strong Golden shimmer. I used Three thin coats of Destiny.
Any faves in this bunch? I am really in love with Gaia. I hate the formula on that color, but my gosh it is just beautiful! I also really loved Mynt and Deco by LVX. Though I must admit, this Summer has turned into the "Summer of the Textures" for me. I've been wearing Textures non-stop since they all started coming out!
What have you been wearing lately?
Wednesday, April 3, 2013
(**Press Sample**)
Good am and happy humpday!
For today's look I decided to do a watermarble that used the colors for Autism Awareness. I was thinking along the lines of the puzzle piece ribbons. These ribbons usually feature the primary colors, Red, Blue and Yellow. This was my first time marbling with LVX nail polish, and they were amazing! Sorry about the greasy fingers. My tips were SO dry after the marbling and cleanup. They were starved for some moisture.
For this marble I started with a base of LVX
Fantom.
For the watermarble portion I used LVX
Cerulean
(Blue),
Citrine
(Yellow) and
Fantom
. Once my marble was nice and dry I accented the swirls with some small Red dots using Bettina
Be Jolly.
The final touch was a light coating of INM Northern Lights top coat.
Here is a swatch of my base shade
Fantom
. This is a stark White creme. The formula on this White creme was a little streaky. I had to keep a very light and steady hand to avoid bald patches. I used Three coats for full, even opacity.
I normally only marble with Bettina polishes because they really take the guessing out of marbling for me. But these LVX cremes were just about PERFECT for this technique as well. They have a really good spread in the water and the pigmentation is just right. I also had no issues come cleanup time. These come off clean and don't stain the skin.
Thanks for stopping by my loves!
(**Press Sample**)
Sunday, January 6, 2013
Spam! 
  It's what's for breakfast!
To see some spamalama just continue reading ♥.
 Also here is a quick You Tube update!!