Happy Thursday!!
Pinkmas is here!!! Slowly but surely, I've started getting into the Holiday spirit. It is kinda hard to get with the program when it is December, but I can still lay out and get a tan. C'mon.. I know it's Florida and all, but catch up already Mother Nature haha! Anywho, I sat down to play with some polishes yesterday and I ended up with this simple, but cute Pinkmas look.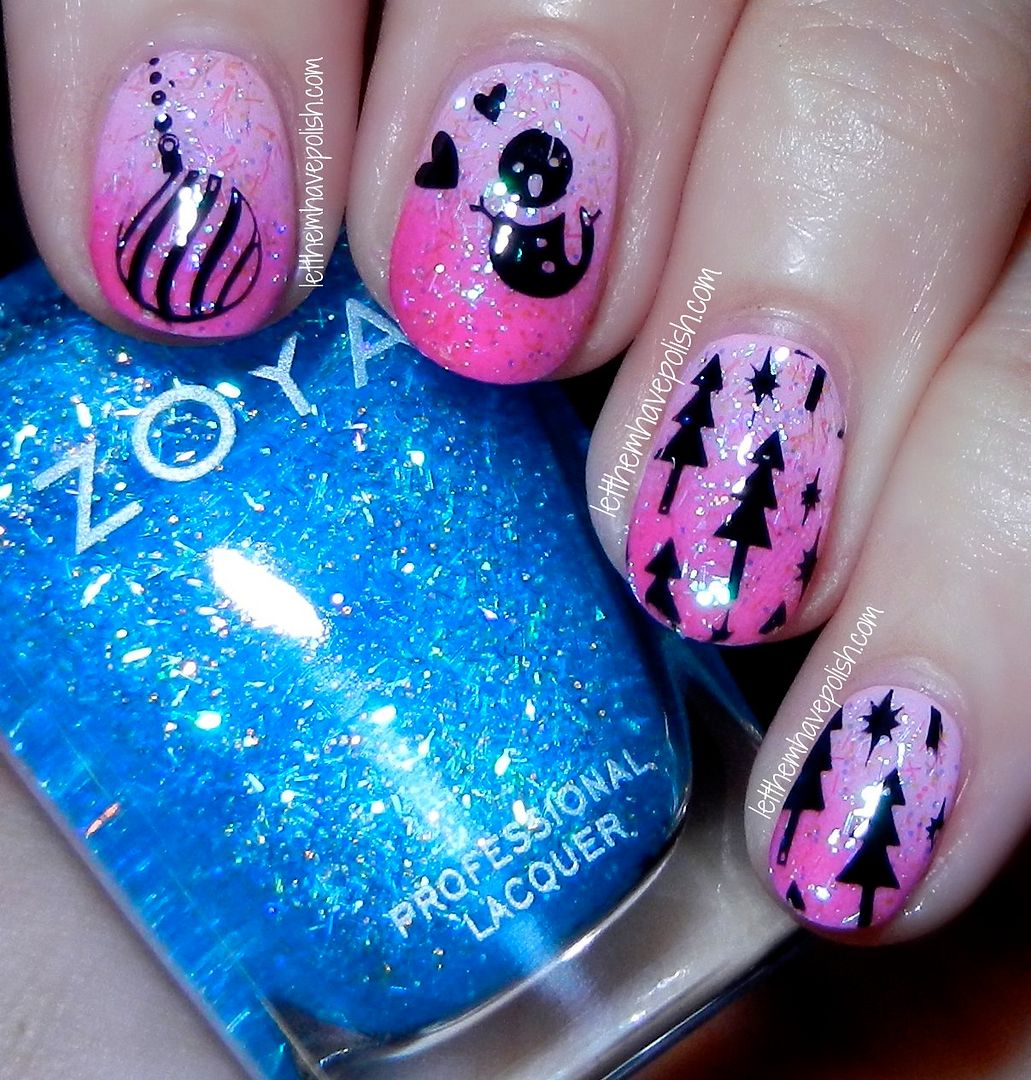 For this look I started with a base of Barielle Pink Flip Flop. I then did a PInky gradient using Barielle Pink Flip Flop and Cosmic Kiss. Then came the sparkly part. I added a coat of Zoya Mosheen from their Zenith Holiday collection. Adding this magical glitter glaze gave my gradient an icy, wintery look. Mosheen is just BEAUTIFUL! It is an icy blend of micro bars and sparkles in a very , very light Blue jelly base. The sparkles themselves are very iridescent, twinkly and just beautiful. I only needed one coat of Mosheen to get good coverage as the glaze is fairly thick and packed with sparkle.
Once my sparkling gradient was dry I went back and added some stamped details. I used Konad Black special polish for my stamps. The designs came from Cheeky plate CH6 and Pueen plate Pueen42. To finish the whole look off I did a top coat of Seche Vite.
And because I just ADORED this sparkling gradient, here is a pic pre stamps. I think Holiday Barbie would rock these. Mosheen gave my Pink shades just the right touch of Blue tint without altering the Pinks too much. I had contemplated stopping here because I loved this gradient and Mosheen so much.
And here is a shot of my base color
Pink Flip Flop
. This is an adorable shade of Strawberry milk shake Pink creme. The formula on this baby is just perfect and does great in Two easy coats. This color has a very smooth and creamy formula.
Pinkmas is here!!! I hope you guys enjoyed this look. Oh and if you were on the fence about Mosheen.. Don't be! It is absolutely magical and beautiful. I have a feeling she will be making a few more appearances during this season and when it (hopefully) cools down.
Thanks for stopping by today!!