Wednesday, May 21, 2014
Happy Humpday!!
So, I was going through my draft folder and found this little hidden gem. Back at the beginning of the year Milani did a HUUUUGE release of new lip products. Among those products release was a brand new line of beautiful glosses. This range is made up 14, yes 14, new gloss shades.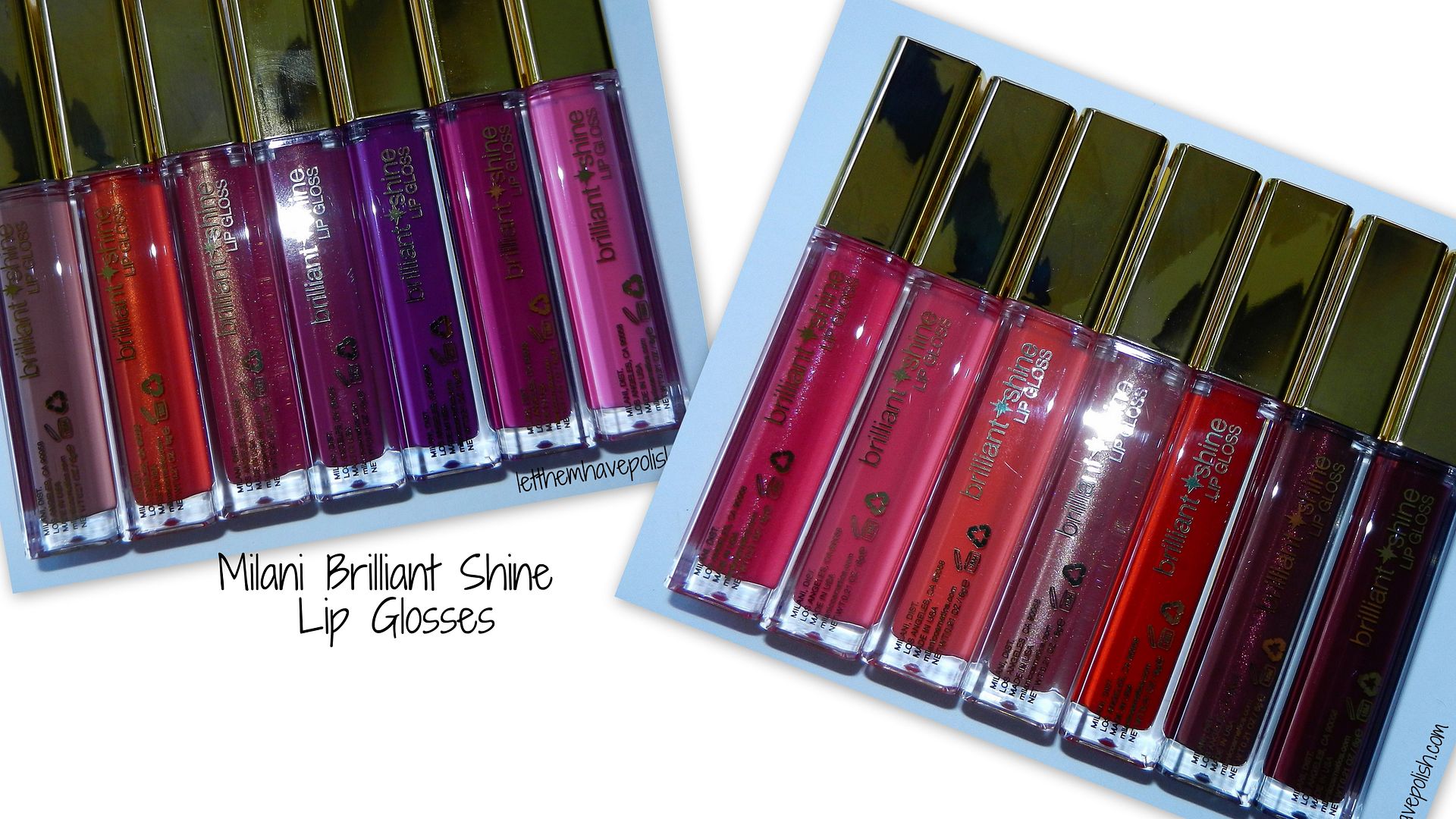 The range of shades they released is just amazing, beautiful and perfect. There are shades for everyone here. The glosses range from nudes, to shimmery, to bright pinks, classic reds and trendy berries. These glosses feature a slightly sticky and thick, yet smooth and pigmented formula. If you are not a fan of sticky glosses, these might not be for you. That said, I found that them being slightly sticky might have made them wear incredibly well. One of the reasons I'm not a huge fan of glosses is because of how often I have to re-apply them. While I had to re-apply these, it was not so often that I was getting annoyed at it. They also feel very moisturizing on the lips, which I really like. Overall, I actually like the thicker texture of these glosses.
The packaging is really nice. I love how sturdy and high end they feel. These feature a long wand doe foot applicator.
Ravish Raspberry: A beautiful shade of vivid magenta pink gloss.
Pink Lady: A classic shade of blue-toned bubble gum pink gloss.
Berry Tempting: Right on trend with the pantone shade of the year, this shade is a gagagorg shade of radiant orchid gloss.
Mauve Fetish: This shade is a classic shade of beautiful mauve with delicate golden shimmer.
Luminous: This beauty is a sheer, shimmering gloss packed full of delicate golden and pink shimmer.
Mai Tai: This pretty is a magical shade of vivid coral with golden shimmer.
Bare Secret: A classic shade of soft neutral nude gloss.
Black Cherry: A classic shade of deep Burgundy gloss.
Brown Berry: A rich shade of maroon gloss with soft golden shimmer.
Red my Lips: A retro shade of true Red gloss.
Nude Touch: A sheer champagne toned gloss with iridescent shimmer.
Coral Crush: A sweet shade of muted orange leaning coral gloss.
Sweet Grapefruit: A beautiful shade of muted pink toned coral gloss.
Rose Blush: A perfect shade of rosey gloss accented by pink and golden shimmer.
I really love this range of colors. Milani did a shade for every taste with this release. Of course I am LOOOVING the pinks and those sheer shimmery shades. I'm curious to see some of the more sheer shimmering shades layered over different lipstick shades.
Below are some quick lippy swatches of the shades Ive gotten around to wearing. Currently I am definitely obsessing with Rose Blush.
Milani Brilliant Shine Gloss in Rose Blush
Milani Brilliant Shine Gloss in Sweet Grapefruit
Milani Brilliant Shine Gloss in Ravish Raspberry
Milani Brilliant Shine Gloss in Red my Lips
Milani Brilliant Shine Gloss in Coral Crush
The Brilliant Shine gloss line by Milani is being sold wherever
Milani is sold, as well as online.
The puppies retail for $5.49 each, but feel like they should be WAAAY more expensive. I love Milani's ability to release an amazing product at reasonable price points.
Which are your faves? I'm leaning toward Rose Blush, Sweet Grapefruit, Pink Lady and Mai Tai.
Monday, March 31, 2014
Good evening!!
This quickie post is all about circle lenses. I know circle lenses are not for everyone. Personally though, I LOVE them. I am a fan of that whole "alien-esque, other- worldly" look thing. I think it's fun to be able to play up the size and shape of my eyes now and then :D. The lenses featured in this post were sent to me by the lovely people at
www.lensvillage.com
. Featured are the
Geo Xtra Forest lenses in Brown
. Now, let me tell you why I love these....
eye liner: Lime Crime Lunar Sea. Mascara: Benefit Bad Gal Lashes
These lenses have a diameter of 15mm, which puts them on the larger side. For many people these can take some adjusting to. For me, the larger lenses seem to be more comfortable. I only feel them for the first few seconds they are in. After a few minutes everything is back to normal. This can vary from person to person. Most circle lenses are designed for dark eyes. Since my eyes are a light Green, these don't create as dramatic an effect as they would over dark eyes. They create enough interest to "freak" people out for a second ;).
The Geo Xtra Forest brown lenses have a good enlarging effect as they have a pretty dark outer ring. They are not a dark Brown, more of a light Hazel tone. As you can see on my eyes they kinda blend into my natural color, but still gave an interesting look thanks to the Black accents in the color pattern. From further away my eyes look Hazel-y, and huge! You can see a full face shot on my
instagram.
On Lid: Milani Brow and Eye highlighter in Matte Beige/ High Glow.
These lenses only come in "plano", meaning they have no "power"(prescription). The Geo Xtra Forest lenses come in variety of shades and
retail for $20.00/pair on lensvillage.com
. I really adore these. They are comfortable and look natural enough to wear them regularly. But unnatural enough to make them interesting and fun. Lens Village also has fairly low shipping, which is awesome!
Thanks for coming by!
Wednesday, February 26, 2014
Hey hey hey!!!! Humpday treat!
In this quickie I want to go over some of Milani's new product releases for Spring 2014. If you are a fan of all things lips, you want to keep an eye out for these Milani releases. They did a very extensive lip product release for the season that practically has me dancing on one leg. You guys know how much I ADORE Milani products, right? They are, hands-down, my favorite drugstore brand... actually, just one of my fave brands in general.
So, back to lippy stuff.. Milani released a new line of liquid lip colors, the
Lip Intense liquid color
line. This release consists of Four, full-coverage, liquid lip colors. These babies are intensely pigmented, and very vibrant. Don't be fooled by the "gloss like" packaging, these babies are packed with color!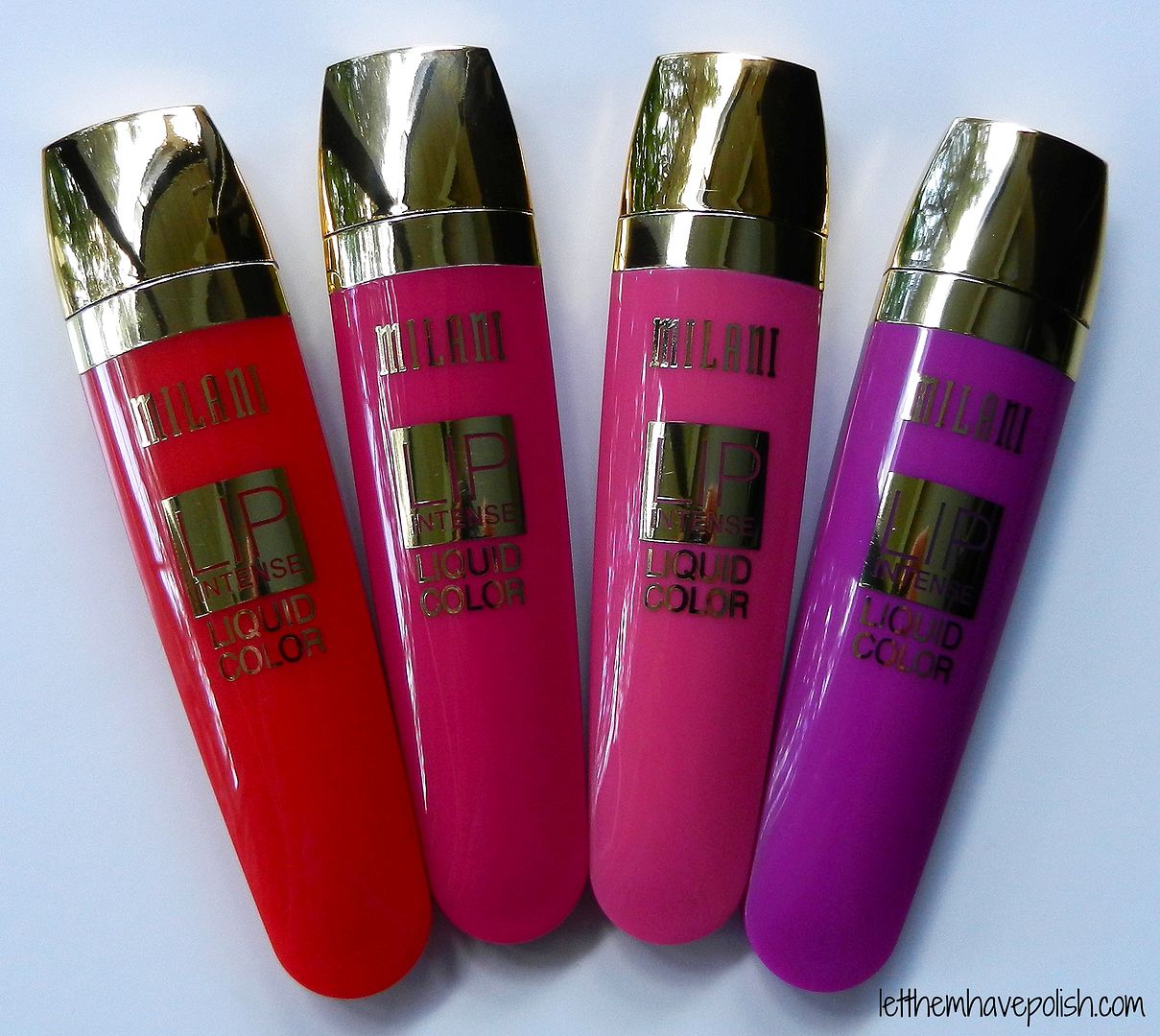 The packaging is really nice and sleek. Each tube represents the lip color very accurately. These have a flat sponge applicator wand. I've only had a chance to wear one of the shades but I found the application to be very easy. These also have very impressive wear.
Formula- wise, these are fantastic. They are very even and smooth. The color glides with ease over the lips and feels creamy and moisturizing. They have a really pretty finish as they are not full on glossy, nor matte. These have a beautiful satin finish. As far as a scent, I honestly did not notice much of one. They have a soft cupcake scent that is not very strong, does not linger.
Red Extreme: beautiful, Blue toned Red.
Pink Rave: amazingly vivid Magenta Pink.
Fiery Coral: fun, vibrant bubblegum Pink with slight Coral undertones.
Violet Addict: this one was the most sheer of the bunch. This shade is dead on for the Pantone color for 2014; Radiant Orchid.
Below you can see
Pink Rave
in action. I did prep my lip with the new
Milani Anti-Feathering
lip pencil all over my lips. This created a perfectly smooth and "grippy" surface for my liquid color. 'm pretty sure it may have also extended the wear.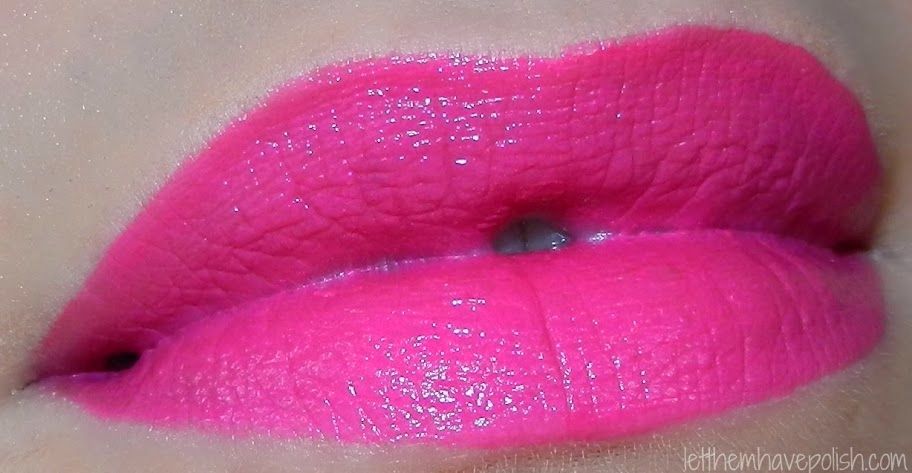 The Lip Intense line is available now at most Milani retailers as well as
online.
They retail for $6.49. I'm very impressed with these four shades and highly recommend these to anyone who enjoys a nice, vibrant lip color.
Friday, November 29, 2013
Happy Friday!!
Six new limited edition Shadow Eyez= happy Cris. Milani has added Six new shades to their Shadow Eyez range. These babies will be available at CVS, Meijer, and
Miani online
. This group is made up of Five shimmering shades and one creamy matte shade.
If you are a fan of Purple, this release was made with you in mind. The wear on these is absolutely ridiculous. When they say 12- hour wear, they really do mean it. I was walking around with my arm swatches for about a whole day. I am happy to report that there was absolutely no glitter fallout with the more shimmery shades. There was also no smudging, fading or
Side note: I get asked quite frequently how I sharpen these pencils. I use my Urban Decay Grind House sharpener. I don't do anything special. I have also read that putting the pencils in a fridge before sharpening helps the process.
These should be becoming available soon in stores as well as
online
. These are limited edition and will retail for $6.99.
Snowy White: creamy matte white creme. Makes for a fantastic sticky base for bright eye shadows as well.
Lovely Frost: metallic Silver.
Romantic Violet: dusty, light lavender with slight Silver undertones.
Plum Amour: beautiful, light Plum shimmer with hints of Pink and Golden undertones.
Midnight Romance: deep, Blue-toned Amethyst Purple with Silver sparkle.
Charming Black: black creme with Shimmering Silver sparkle.
I didn't run into any problem shades while doing my swatches. As usual these were creamy, smooth and extremely pigmented. I have not had a chance to actually play with them yet, but I am really excited to do so. There isn't a great range of colors in this release, but the shades that they did release are beautiful. I really enjoyed the deeper Purples and I can't get enough of creamy, matte Whites. The shimmering Black is just beautiful as well. The Silver was an awesome surprise as it was almost foil- like in finish and not frosty at all. There is an absolute Holiday vibe to these and I love all the sparkling goodness.
Will you be picking any of these Shadow Eyez shades for the Holidays?
Thursday, November 21, 2013
Hey people hey! It's Thursday,
It's what?!! Thanksgiving is just around the corner. I for one am just a little blown away by how fast the year 2013 has felt for me. Did the Earth's speed pick up, are we spinning around the Sun faster? A lot has happened this year... Including my "discovery" of circle lenses!
Today I want to give you a quick, close up look at one of my favorite pairs. These are the
Mari Gold in Blue by Geo
.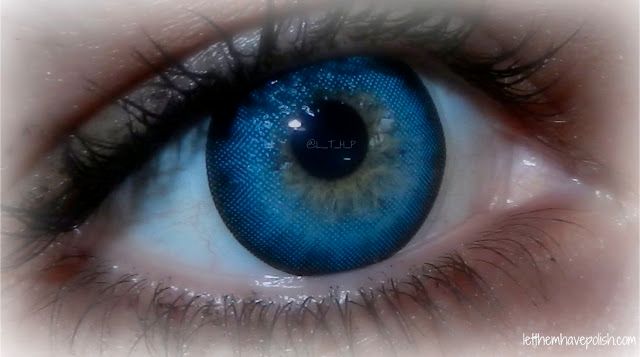 The reason why I wanted such an extreme closeup is because I really wanted to catch the reflection of the beautiful, Blue, micro sparkles that are embedded into these lenses. These have a 14.2mm diameter and a base curve of 8.6. Sadly, this particular style is only offered in "plano" (non script).
These don't have a whole lot of an enlarging effect, but they do give amazing defintion to the iris as the outer ring is fairly darkened. What I love about these is how natural they look over my light Green eyes. Yes, in these extreme close-ups you can see the "pixelation" of the lenses, but the fact is that they are beautifully smooth. The sparkles are subtle, I had no issues wearing these. They have actually become one of my favorite pairs. I love the soft gradient of Blue tones. I just love how beautiful they look over Green.
These babies are so comfy. Normally I can only wear most of my lenses for about Four hours or so. These pretties I wore for about Eight hours. I had absolutely no discomfort or blurring issues.
I'm just in love with these, and kind of would love to have the entire family of colors. I think the flecks really give them that extra- special touch. These are just so comfortable as well.
Thanks for stopping by today loves. I'm so very sorry about my absence. It has been a sucky few weeks, but things should hopefully settle down soon... Mainly I just need to get my shiz together ♥.
Tuesday, September 10, 2013
Happy Tuesday!
This past weekend was pretty quiet for the husband and I. I was not doing too great and had to take it easy. Yesterday was not good either... Then, there was a not- so- nice comment in my inbox this morning... It not- so- kindly requested that I post something... "Post something already, I know you are depressed but c'mon".... Something along those lines.... How sweet, right?
I don't even know how to follow up to this comment. Let's just say it's not OK to talk to anyone this way. That is all. I am fairly transparent with you guys about my health struggles because this blog originated as a result of these very struggles. Every now and then these issues will rise up and get in the way of my ability to produce content. This is out of my control, and I know a lot of you are very understanding of this matter. Sometimes, no matter how badly I want to post, swatch or do nail art.. I just don't feel well enough to do so. This has nothing to do with my depression or mental state. This is a physical thing, my body is not running at 100%. I do as much as I can, when I can. I don't think I should even have to explain this... Oh wait, I don't. But, I won't lie... It was hurtful to see such a comment. Behind all these pretty pictures of nails, and behind every single word; there is a person. A real human being with real human feelings... and they can get hurt too.
Right... the #31DC2013... I still have not decided if I will continue on with it. There is A LOT going on in my "real life" right now. The husband and I are doing a BIG MOVE in a few short weeks so there are a lot of preparations that have to take place. In hindsight, it was not a good idea for me to join in the challenge, but I might still take on the prompts in my own time.
I have SO MUCH product I want to/need to go through. I really don't want the blog to go dead during the time it will take us to move and settle in, so I have to swatch a lot and draft like a crazy lady. There is just an insane amount of work I have to get done in a tight time frame. We are very, very excited about this move though. It is something we have been wanting to do for a very long time.
So, now that we are kinda caught up... You guys, seriously, Jordana is KILLIN' IT right now with all their new releases. This post will focus on their new 12 Hour Made to Last Liquid Pencil eyeliners and their new
Bold Liquid felt tip eyeliner
. These new Jordana products will be available at Walgreens stores as well as
online
. This new range of Six new eyeliners will retail for $2.49 each. I am so madly in love with these pencils.
They have done a classic, creamy matte Brown and Black, along with Four shimmery, metallic shades. These all have such creamy and highly pigmented formulations. They glide with easy and don't feel like they pull at any time. The Black and Brown pencils are fantastic for the waterline and tightline. My eyes can be fairly sensitive and I have ran into no irritations with any of these pencils. They don't make my eyes tear up when I am applying them either.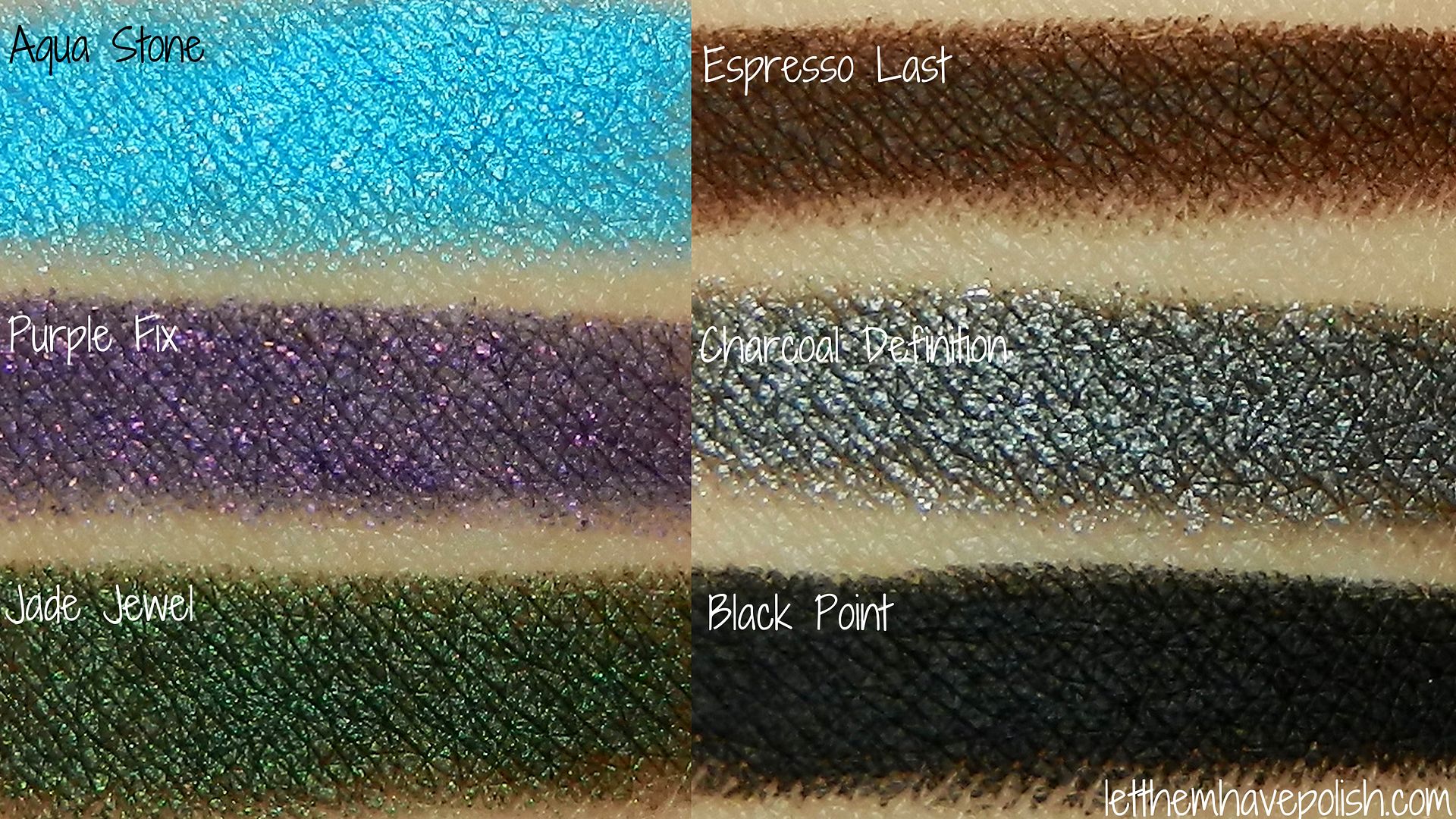 Aqua Last: gagagagorge metallic Sky Blue pencil.
Purple Fix: smokey shade of Amethyst Purple with hints of Silver sparkle pencil.
Jade Jewel: deep shimmering Olive drab pencil.
Espresso Last: creamy coffee brown pencil.
Charcoal Definition: super shimmery shade of charcoal grey pencil.
Black Point: opaque black matte creme pencil.
I don't have favorites here. I adore them all. Of course I am really enjoying all the shimmering shades. But, a girl can't have too much Black or Brown eyeliner. Jordana also did a bold eyeliner pencil. These retail for $2.99. The only issue I have with this liner is that it is not waterproof. Other than that it has great pigmentation and good wear (long as it does not get wet). This pencil creates really awesome bold lines with ease.
I am so impressed with all these new Jordana releases. The quality has been incredible, they have released beautiful colors, and the price has been oh-so-right. I also have some new mascaras by Jordana and I think that should do it on all the new Jordana products. These are available at Walgreens stores.
I hope you guys have a great day today! I am off to do a ton of work around the house. My motto for today is "swatch, drink (water lol), breathe". Mama has a LOT of work to get done.
Friday, March 8, 2013
Friday- Fryday!!
Do any of you guys any exciting plans for the weekend? I don't just yet, but I'm still excited for the weekend! I've been feeling better this past week and I really wanna take advantage and go have some FUN!!
Onto the reason you're here ;)!! OMG MASCARA!!! SO Milani released a brand new mascara this year. This is the very first Milani mascara I've ever tried, and let me tell you, I am BLOWN away! I'm HUGE into mascara. I just love when you add mascara to an eye look and it brings it to life. I love when I'm having a lazy day and wearing a good mascara makes me feel that much more confident. Milani hit it out of the park with their
new Grandissimo Lashes extreme volume mascara
.
You know how they say a picture is worth 1,000 words? Even my husband could not believe the difference! Mascara is a wonderful thing, isn't it?
I think it's pretty clear which is before and which is after right? On the left are my totally nakey lashes and the right is Two coats of mascara. I use the "wiggle" method to apply my mascara. They practically looked fake! On a random note, for these mascara swatches(?? lol) I prepped my lid with the new Milani Eyeshadow primer (which I will be covering soon) and Milani pressed powder shadows in
French Vanilla, Pearl
and
Gold Dust
.
The brush on this mascara is really big. I honestly had never seen, or used a mascara with such a big applicator. The second I started applying the mascara it was like a revelation! OH MY WOW, it made application effortless, and look.. I didn't get ANY mascara on my lids!!! It also left no clumps at all! No matter how much I kept going over the lashes they always stayed fluffy and separated, not clumpy at all! I am so impressed with the volume and length this mascara added to my lashes.
The final test for this mascara for me will be an actual wear test. My eyes can be so sensitive to mascaras, it's a little frustrating. Especially when I find a product I really LOVE, like this mascara. So I'm hoping it agrees with me when extended wear happens.
Milani is making a beauty blogger out of me yet ;D! I've been SO impressed with every single product they ave released this year and the
Grandissimo Mascara
($5.49 online) is no exception. I have a few more new releases from Milani to share with you guys that I am SOO excited about!!
Are you a "lash gal"? What is your Holy Grail mascara? I think this might just be mine (I really hope it agrees with my eyeballs)!!
(**Miani product provided for review**)
Wednesday, February 13, 2013
Hello darlings!!!
I am in PINK today!! Well, Pink lips anyway. This edition of Pink Wednesday is brought to you by the EPIC WIN that are the new Pink and Coral shades from
Milani's new Color Statement Lipstick collection
. Last week I showed you guys some quick swatches of the
Red and Orange family
. Those were some beautiful and classic shades. I really loved the Reds and Oranges... But these Pinks and Corals have my whole heart, body and soul. Not to mention, they are PERFECT for the coming Spring months.
There is only ONE shade here that I do not care for. And that is
Pink Frost
. The rest are made of total and pure WIN. These lippies have the same soft, watermelon scent as the Reds and Oranges. I really don't mind the scent at all as it does not linger.
Now for some quick arm swatches. And of course I will be posting lip pictures as well! All of these swatches are just ONE firm swipe of the lipstick. Color me impressed (no pun intended). The pigmentation on all of these is seriously impressive.
Pink Frost: A soft, blushing Pink with a STRONG metallic-frost finish. This is the only shade I'm not loving. Mainly because I'm pretty sure I cannot pull it off. This is a hard color and finish to pull off for me.
Fruit Punch: A creme finish, bubblegummy Pink with some slight Coral undertones. I LOVE this one. I've already worn it twice! It has a fantastic creamy finish and applies like BUTTAH. This shade was very moisturizing. Fruit Punch is SO flattering!
Rose Amour: This shade is a light, Blue toned Pink with a great creamy finish. This shade is vivid and lovely. I cannot wait to wear it!
Rose Hip: Is more on the Magenta side, and once again slightly Blue toned. This shade is also in a cream finish.
Hot Pink Rage: OMG LOVE THIS! Ok, so this shade is a HOT, bright Barbie Pink in a beautiful Matte finish. I LOVE the finish on this shade. Even though it is matte, it has a lot of dimension and feels great on the lips. The staying power on this baby is incredible.
Flamingo Pose: This shade is an amazing shade of vivid Coral. This shade is in a creamy finish. I cannot wait to try this color out as I am a sucker for anything Coral!! I bet this will look good on so many skintones!
Flirty Fuchsia: This one is a deeper, vivid shade of Fuchsia with the slightest Purple shimmer. This shade is described by Milani as a vinyl finish. I am SO excited for this shade, it is so vivid and the shine is beautiful!
Along with the lipsticks Milani also released Two lip liner shades for the Pink and Coral shades.
These are amazing! I have only had a chance to use
Haute Pink
. I used it the day I wore
Hot Pink Rage
and it was perfection!
And just for fun I wanted to show you guys a comparison between last year's
Red Label
and this year's
Red Label
. They are both fantastic. What is even more incredible is how Milani managed to improve on their, already amazing, formula. I was blown away by last years shades. I didn't think they could get any better. Guess what? They SO do!! Brava Milani!! The new
Red Label
is much more pigmented, shiny and multi dimensional. The old
Red Label
is slightly lighter and it does not have that "juicy" quality that the new
Red Label
has.
I cannot wait to show you guys lip swatches of these pretties, along with the Reds and Oranges. I also have som new Milani Ultra Fine Liquid eye liners coming your way soon!!
What do you think? Any colors jump out at you? I seriously cannot pick a favorite just yet. I love them ALLL (except Pink Frost lol). If you are a Pink lover, you will love these!!! I also can't wait to play around with mixing colors and creating cool looks with these beauties!
(**Milani products provided for my consideration**)
Sunday, February 3, 2013
Good evening and happy Sunday!!
Today I have another instalment of my quickies series. Today I want to show you guys some quick swatches of Milani's New Red and Oranges lippies of the new Color Statement line. Last year I fell in love with Milani lip products after trying the shades in the
Color Perfect Line
. I was pretty much floored when I found out that
Milani was releasing 30 new lipsticks in revamped packaging
. For this quickie post I am sharing the new Red and Oranges family.
The new packaging is a sleek, shiny Gold tube. At the very bottom it has a clear cap filled with the actual color of lipstick in the tube. The lipsticks are a standard round shape, and have a great angled tip for perfect and easy application. The shot above is with flash and the one below is without. My camera has a hard time with Red and Orange shades.
These lipsticks have a really nice (to me) scent. I am one of those girls who is very sensitive to smells and these did not bother me. They smell like Watermelon candies. The scent does not linger.
Now for some quick arm swatches. And yes, I do plan to have lip swatches of these soon :D! I have finally overcome my fear of Lip color!
Sweet Nectar: A beautifully bright, tangerine Orange Creme lipstick. This shade is very bright, pigmented and smooth.
Orange-Gina: A warm metallic Orange shade. The base is a wearble, light Orange laced with Golden metallic shimmer.
Cherry Crave: A warm, light metallic Red laced with metallic Gold shimmer. This shade is really flattering.
High Voltage: A "vinyl" finish Orange-toned Red. This shade is very bright and daring. I really enjoyed the shine on this.
Red Label: This shade is making a return from last years lip color line. This shade is a nice balanced Red creme.
Best Red: This is a classic shade of Matte Red. Just a pinch darker than Red Label and not as shiny.
Ruby Valentine: This is another "'vinyl" finish. This shade is a nice, dark, Blue-based Red with very intense Shine.
Milani has my heart when it comes to drugstore brands, and makeup in general. I cannot get enough of their fantastic lipstick formulas. I've never used a "high- end" lipstick, but I really don't see a need to do so... Why? When brands like Milani consistently put out amazing products at great prices. Milani's lip colors always have fantastic application and wear. I have to say this group has to be a Red lip lovers dream! And that I have become :D. These should already be popping up at CVS, Walgreens and Wal-Mart. Along with the
rest of the color families
.
Along with new lip colors Milani also released new lip liners! I've yet to master using lip liners, these have made learning a breeze though!
These liners have a really creamy, smooth and pigmented formula. There was absolutely no dragging and there is no effort required to create perfect, clean lines.
Quickie swatches, these are both creme in finish.
I am so excited to see the rest of the color families! ANDDD did you see the
new eye liners Milani is coming out with
?! They look SO amazing!! Are you a red-lip-lover? Do any of these shades jump out at you?
(**MIlani products provided for my consideration**)
Wednesday, September 5, 2012
Morning loves and happy humpday! 
  Today I have another installment of my quickie posts. This time I will be featuring Milani's new Pressed Powder Shadows. I received 11 shades for review and I am a HUGE fan of each and every one. I've shown you guys some
looks I did with the Neutral tones
from these shadows. I love working with these, they have a great texture and color payoff.
To see some close up shots and quick swatches just continue reading!
Thursday, August 30, 2012
Hi loves!!
This post will be a fairly quick. I am running around like a mad woman today trying to take advantage of the Sunlight, which has been pretty absent for the last few days. Milani released some new lippies to expand their Color Perfect line. I received them around time for Spring and working up the courage to work with them. I am one of those girls who is EXTREMELY intimidated by lipstick. Not lip color, just lipstick lol. Weird right? I can't be the only one right?!
So, no lip swatches just yet (kinda self-conscious about my mouf). I'm still easing into this whole make-up blogging thing. Which is FUN, but a total learning experience.
From left to right:
Nude Creme, Red Velvet, Brown Suede, Barely There, Plum Deluxe, Pink Love, Red Label
and
Pink Passion.
These colors are nice classics, nothing crazy or unusual here. This photo is with flash to show sheen, shimmer and such. Very color accurate (I was a having a hard time capturing them properly).
I have tried a few of these and they glide on very smoothly and feel nice on the lips. There isn't a drying feeling with these which is my usual problem with lipstick. They do have a very soft scent to them, nothing insulting on the nostrils. The lipstick itself is not a smooth round shape. It is angular and this forms a tip on the stick that provides with great control come application time.
Some of the shades are creamy in finish and some were a bit frosty. The most frosty and "dated" feeling to me were
Plum Deluxe, Pink Love, Pink Passion and Brown Suede.
They are not bad shades, just not my thing. I really enjoyed the Nude tones,
Nude Creme
and
Barely There
even though neither of them flattered me. They make nice bases for glosses in my case. The Two Red shades
Red Velvet and Red Label
are absolute WINS. They are rich, sophisticated and sultry. I really love the bright Cherry tone of
Red Label
.
Here are some quick arm swatches of all the shades.
Here is a shot sans- flash. I wish they would do away with the Gold packaging :-S.
That will do it for this installment of LTHP Quickies :D. Doing these types of posts is really helping me become more confident in my make-up blogging and terminology. I hope you guys like these type os posts too ♥. Doing these little quickies are really helping me build up my confidence when it comes to talking about make-up. I hope with practice I will continue to get better and start doing lip swatches as well!
Thanks for stopping by loves!
(**Milani lippies provided for review**)