Monday, December 15, 2014
Posted by

Cristina Foster
at 7:51 PM
10 comments:


Links to this post
Tuesday, October 28, 2014
 Cirque Colors is known for making exquisitely beautiful hand blended nail colors. They have  created some of the most beautiful holographic shades I've ever seen. Their new range of cremes is no exception.  Cirque's Metropolis collection is an on going monthly release of creme shades- which kicked off on September of 2014 with the spectacular cobalt
NYFW
. More after the jump.
Thursday, September 18, 2014
Happy Thursday beauties!! Today's look is all warm and delicious. For this look I brought together Four of the shades from the Fall 2014 Entice collection by Zoya. The Four creamy beauties definitely represent Fall very well. I love how rich this palette is and how great these shades look when brought together. These really do make me wish the weather was cooler already so I could sit out back with a nice hot chocolate... Alas, I live in South Florida.... it will never happen lolol. But I can at least enjoy the warm fuzzy feelings on my nails :D.
Zoya
Nyssa
- Zoya describes
Nyssa
as
a milk chocolate brown in the flawless, full-coverage cream formula. Nyssa is the base color on my index and pinkie nails. She is also the accent over my thumb, middle and ring nails. The formula is absolutely amazing and does well in Two easy coats.
Zoya Claire- Zoya describes Claire as a warm, rich burgundy with a flawless, full-coverage cream finish. Claire pulled a tad bit more to the rich Brown side, rather than Burgundy on myself. Claire is the base color on my thumb. I used Two easy coats for this color as well.
Zoya Veronica- Zoya describes Veronica as a full-coverage brilliant red wine. Veronica is the base on my middle nail, and the accents over my pinkie nail. I used Two easy coats of this color.
Zoya
Margo
- Zoya describes
Margo
as
a modern red plum in a flawless, full-coverage. I really enjoyed this shade as it was not so dark of a plum shade that it went black in dim light. Margo is the base on my ring nail, and the accent over my index nail. I used Two easy coats of this color.
All of these shades have amazing formulas and apply like butter. They are also very glossy on their own, adding a top coat makes them glassy and wonderful.
Did you pick up any shades from the Entice collection?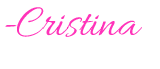 Wednesday, February 12, 2014
Happy Humpday!! 
 Today I want to share my swatches of the O.P.I Gwen Stefani collection. I won't even lie. I was SOOOO excited to find out that O.P.I would be doing a collaboration with Gwen Stefani. She is such a music and fashion icon. But what I love best is that Gwen is one of the original "nail girls". I remember watching No Doubt music videos and always admiring her long vampy nails, Pink hair and fantastic Red lips. This collection is such a beautiful representation of Gwen's style. 
 For close up swatches and more details just keep on reading. 
Posted by

Cristina Foster
at 6:55 AM
8 comments:


Links to this post
Tuesday, February 11, 2014
Good afternoon beautiful people!
Today I have an edgy half-moon nail art look featuring some of the new shades from O.P.I's Gwen Stefani collection. Half- moon nails are some of my favorite looks to combine finishes and edgy shades together. For this look I went with a Satin matte on gloss theme, mixing vampy and flashy, for an eye catching manicure.
I started with Two easy coats of O.P.I I Sing in Color. Once my base color and top coat were dry I proceeded to tape off my moons using hole reinforcers. The beautiful satin matte shade of Gold is Love.Angel.Music.Baby. Since the color is so opaque it was perfect for this technique. I cleaned up the seam of my moons using a bit of Gold glitter striping polish. I did not top coat over the moons to avoid altering the matte against shiny look.
The little Black stones and Gold stud bar are from the O.P.I Over and Over A-Gwen set. I used a toothpick to dab a bit of nail glue where I wanted the stud and also placed a teeny drop on the back of the studs and stones. The toothpick method made it easy to get the glue on precise spots and avoid making a mess. I wore this look for about Four days and didn't lose any stones or experience any chips.
I will be posting my swatches of the O.P.I Gwen Stefani collection very soon :D. I was definitely a "child of No Doubt". I grew up with Gwen's music so I immediately knew I'd have some kind of connection to these colors. I always remember loving Gwen's iconic Pink hair, long vampy nails and kick ass Red lippie. I'm was beyond excited to see Gwen collabing with such a fashion and music icon.
Who doesn't love a little No Doubt!?
Thursday, November 14, 2013
Today I have half of Sations newest collection, Miss-Terranean. This lovely fall collection is made up of Six creamy beauties, all inspired by the Mediterranean vibe. I feel shitty that I only have half to show you. I do have the full collection in my hands, but I only got half swatched, before the moving madness began (back in and still in Florida, everything will be ok). I will eventually find, and unpack the rest of the collection and get it up on here for you guys.
What I did do, was swatch my Three faves first, and here they are!!
Sation Don Wannabee
MMMMMMmmmmmMMMMM!!!!!!! So, Sation got me right in the feels with this gorg shade of, practically electric, Cobalt Blue creme. Don Wannabe was a hard shade to photograph as it was just so vibrant and beautiful. There are a bit of vibrant Violet undertones that just refused to photograph. It is just perfect. The formula is amazing on this shade. At first it seems a bit thin, but manageable. Then it is perfectly smooth, even, opaque and glassy in Two easy coats. Shown are two coats of color and NO top coat. DAT SHINE!!
Sation Hottie Biscotti
This shade is a beautiful take on the nudey, greige trend. The formula on this beauty is between a creme and a jelly (crelly). I loved the formula on Hottie Biscotti, because it gave this shade a beautiful squishy finish. I used Two easy coats for this shade as well. Oh, and one is also shown without a top coat.
Sation Happy Wine-y People
I swatches this one because I was so on the fence about it, I just had to see it on. I only used Two coats, but I realized after looking at pics, I really should have done Three coats. Happy Wine-y People is a deep Ox-blood crelly with Plummy undertones. Shown are Two coats and no top coat. This shade is so vampy and just classic!
Missing from my swatches are I Need a Spumani (beautiful pistachio creme), Napoleon Dyna-Matte (vibrant red creme, wondering if it is a matte) and Tira-Miss U (lovely grey-lavender creme). As I said above, I really hope I can find and unpack these soon. I only have one of my Helmers with me right now. The other Three are in storage, don't worry though!! It is definitely climate controlled. I did pick a good Helmer to bring with me though. It is the one with all my Bettina, Cult Nails and A England goodies along with a lot more great nail art polishes.
At some point I WILLLLLL swatch the KBShimmer Blogger collection and I even have a set to give away! Very excited about that as I've not done a giveaway in a while. I'm also excited to show you guys my shade Merry Pinkmas. I know many bloggers have shown this collection, but I am so ashamed that I've not had a chance to sit and swatch those yet. I really need to make that my priority.
So back to Sation. I'm just in awe of Don Wannabe and I love the look of Hottie Biscotti. I think both of these shades would look amazing on so many skin tones. I need to see Happy Wine-y People done properly. That was the only shade I've had minor issues with from this group so far. I'm sure the rest will be fine though. Sation rarely disappoints, and to be honest.. I kinda suck at applying crelly- vampy shades. I seriously do, they make me nervous haha.
Any of these Three speaking to you??
Wednesday, September 18, 2013
Happy Humpday! 
  This morning I want to share the first half of O.P.I's San Francisco Fall collection. This portion is the creamy pretties from this release. This Fall has been all about deep Blues and Vampy shades. I was really hoping for more Emerald polishes this season. That said, these shades will appeal to many gals because they really do seem to fall into the realm of timeless colors. 
To see close up swatches of these classic beauties, just keep on reading ♥.
Thursday, August 29, 2013
Happy Thursday!! 
  If you have been a long time reader of LTHP, you know that for a long time Seche Vite was my go-to top coat. I have since found other top coats I really enjoy, but Seche Vite is definitely "old faithful" for me. So!! Today I have swatches of the Seche Clever & Confident Fall 2013 collection. Ever since Seche announced that they were going to be doing nail color, I just knew I had to try them. I am so happy that the first Seche shades I got to try were their Fall collection, because as many you guys know I just love Fall colors. 
To see close up swatches of these pretties just continue reading ♥. 
Tuesday, May 7, 2013
Hello and happy Tuesday!
Today I have Two of O.P.I's new Bond Girls- Liquid Sand shades. When O.P.I released their first set of Liquid Sand polishes (
The Mariah Carey Collection
), I was fairly underwhelmed with the colors and the finish. Then they came out with
What Wizardy is This?
For the Oz Collection, that one did not sing to me much either... Now enter the Bond Girls!!! THIS!! This is what I am talking about! For my first manicure I went with a pairing of
Vesper
and
Honey Ryder
that I could not stop staring at, or gushing about.
These color are rich and beautiful. I was not expecting to love
Vesper
as much as I do.
Vesper
is a deep Plummy base packed full of Black glitter, and of course that wonderful texture.
Vesper
does best in Three thin coats. It is also ideal to wait a bit between coats. When
Vesper
is fully dry (picture above is Two days after initial application) it reminds me of uncut, raw Amethyst stones.
Honey Ryder
is a dream come true for me. Since all of these textures started coming out I had been hoping for a Golden foil one and
Honey Ryder
really hit the spot! This baby is a Warm, true Gold matte foil texture and there are also tons of Gold glitter encrusted into the color. When fully dry
Honey Ryder
reminds me of those "Fool's Gold" stones. It is just AMAZING.
The picture below is about 45 minutes after application. As you can see there is still a bit of shine to the surface, however, my nails were fairly dry and I could function at this point. As they continued to dry, more and more texture showed up. The texture on these is not severe at all. I had no snags, no chips and no tip wear.
After trying these Two beauties, I cannot wait to try out the rest of the Bond Girls. I LOVELOVELOVE what they did with this collection! I also love the names of the colors and how each shade really does embody a Bond Girl. There is no way I won't feel sexy wearing these ;)!
Have you tried any Bond Girls yet? Which was your favorite?
Wednesday, October 24, 2012
Happy Humpday!
Today I am finally posting the Second half of O.P.I's Germany Collection for Fall 2012. In this half we have some epic shimmers. Mark my words! These will be the polishes that become VVHT in the future... So get em now while they are in stores. Three colors in particular really stand out to me in this portion:
Germanicure, Every Month is Oktoberfest
and
Deustch you Want me Baby?
They are seriously beautiful and perfect for Fall. [
HERE
] is the first half of the collection.
O.P.I Every Month is Oktoberfest!
Gahhhhh!! Are you seriously serious?! Ok So, if Clarins
230
, MaxFactor
Fantasy Fire
O.P.I
BlackCherry Chutney
all got together and had a love-baby you would get
Every Month is Oktoberfest!
This polish embodies all that is perfect and beautiful for Fall. A deep inky shimmery base laced with micro copper/golden shimmer. I love the darkened edges when on the nail and how it glows in the sun. The formula on this color is really nice, maybe even sheer enough to be layered (have yet to try it). For my swatch I used Three easy coats.
O.P.I German-icure
German-icure
is the Copper toned sister of
Every Month is Oktoberfest
. This shade is the first Copper shade I have ever truly enjoyed. The shimmer in this polish has a very glowy quality and the darkened edges when on the nail. I am all about this lovely micro-shimmer right now. I used Three coats of this shade.
O.P.I Deutsch you want me Baby?
This did not photograph right. It is not quite this vivid of an Orange. I would call it a Burnt Orange with Coppery undertones,
DYWMB?
is also rocking the micro shimmer, this time in Orange and Golden. Very Fall, totally gorgeous! This shade also has a great formula and does best in Two coats.
O.P.I Danke-Shiny Red
Danke-Shiny Red
is a lovely, metallic Candy Apple Red. This Red is packed with shimmer and the formula is so perfect, it could almost do with One coat. I did Two for my photos. The only way I'm a fan of Red is when they are this amazing!
O.P.I Unfor-Greta-Bly Blue
Unfor-Greta-Bly Blue
is a jewel-toned metallic Blue with just the slightest Green undertones. This is a pretty shade but with such amazing shades in this collection, this one feels a little flat to me. I used Two coats for my swatch, formula-wise it is a great polish.
O.P.I Suzi And The 7 Dusseldorfs
Suzi And The 7 Dusseldorfs is a medium, Red toned Purple shimmer. There is a hint of Blue shimmer in the base. It is a really pretty color, but much like the Blue shade it falls a bit flat for me. It's pretty but I think my standards were set waay to high by the first three shades in this post and even some of the cremes!
I am a huge fan of this entire collection and I am hereby placing it under my Epic WIN tab. Those shimmers!! Seriously guys! Get them now while they are readily available! Colors like German-icure and Every Month is Oktoberfest are the colors that keep us talking for years. They will become classics, I can feel it :D. I love the range of colors and variety in this collection, there is something for everyone. I am so glad I am around for these colors and that I actually have them!!! You guys know what I mean right (Hello Mad as a Hatter)? I shall cherish them for ever!
Which are your favorites?
(**O.P.I products provided for review by PR company**)
Thursday, August 9, 2012
Good morning lovelies!
   Finally the day has come when I show you my swatches of Zoya's Fall masterpiece collections: Designer and Diva for New York Fashion Week 2012. Zoya Fall Collections have had a special place in my heart since I started blogging because it was Four Zoya Fall colors (Shawn, Kelly, Staci and Harlow) that started my love affair with this spectacular brand. Since then, I eagerly await for Zoya's Fall colors year 'round and they have not disappointed me thus far. 
  This year they released their usual Two complimenting collections for Fall. The Designer Collection is made up up six deliciously sultry cremes. The Diva Collection is the more flashy half being made up of Four jewel-toned metallic shimmers and Two mind-blowing glassflecks. When I think of Fall, it doesn't get much better than these colors right here. 
 Trust me, you definitely want to see close up-s of these babies! ♥.
Tuesday, May 22, 2012
Hi loves!!
Sorry for this super late post today. I had a lousy morning and better part of my day and I am just starting to feel better now. I hate days like this. Luckily I have some awesome polish on my nail and another awesome polish to show you guys today.
Chick Nail Polish
was kind enough to sponsor our
Beauty Bloggers of Central Fl
meet-up we just held this past Saturday. So a HUGE thank you to Julie and
Chick Nail Polish
for sponsoring our event :D! I managed to get my hands on a Chick shade I had been really debating for whatever reason.. I'm so glad I have it now! I love me some Vampy Nubbies :D.
This is Chick Nail Polish in
Hen House.
This is a delicious vampy Plum. This color is deep and sexy and perfect for a night out. The formula on this color is SO easy to work with, it practically applies itself. This is not a super dense creme so it gives this Plummy shade a touch of squishiness and I love that in my deep shades.
I cant wait to see more shades from Chick Nail Polish. I seriously LOVE their chickie logo and I'd love to see more of them lined up on my racks haha.
Thoughts on
Hen House?
Thursday, May 26, 2011
Hi loves!!!
So since I have some serious nubs going on I decided that instead of swatching my pretty new colors on my short ugly nubs that I would save them until the nubs grow out and show you guys some of my older colors instead. Today I decided to wear Zoya's
Stacy
because I love vampy shades on short nails.
Also, I'm playing around with my lightbox. It is not going as well I was expecting because I cannot get the lighting right. I'm having to make do with what I have and the pics are not 100% to my liking but I hope you guys will still enjoy them and bear with me while I figure out the stupid lightbox.
I have shown you guys Stacy before, it was my very first FAIL post lol. Not because of the color but because my attempted nail art sucked majorly lol. Stacy is a lovely vampy Burgundy creme with some slight Plummy undertones. The formula on this one is not your typical Zoya creme formula. This one is a bit runny and hard to control IMO. I needed Three coats to get it to even out. Once this color is on and you get the hang of it it's so freaking beautiful. This color is rich, classy and super lady-like - All the things I am not loool! Maybe that's why I don't wear it more often. I have to be in a mood for this color and my short nails were definitely calling for Stacy today.
What do you guys wear when u have nubs going on?
<3 Cristina
Stamp: Essence Just in case
Thursday, March 17, 2011
that today was a holiday...
My friend Ellen asked if I was doing a mani for St. Paddy's and I just couldn't come up with anything I liked so instead I'll show you some amazing polishes that I received from the awesome Stephanie at
Imperfectly Painted
. Both brands are unknown to me but this always excites me because you never know where your next favorite will come from!
I'll start with Savina's
Morning Glory.
Stephanie featured this color not too long ago on her blog. Of course being a Grey I couldn't help but love it.. AND THEEEENN she mention that not only is it Grey... It is a jelly. Yes, you read right... A Grey jelly. So, I commented on the post about how much I loved the color and without missing a beat she Tweeted me to see if I would like a bottle for myself (She knows I have a serious Grey fetish). I am eternally grateful to her for getting this beauty to me (lol) and for being so nice to me for no reason other than I liked the color (like, Like like the color)! And this is why beauty bloggers are amazing! Anywhoooooo..
Be still my heart... A Grey jelly... This is like someone took Zoya's Caitlin, made it a jelly and gave it a shot of Blue to give it depth. The formula on this was great, I find that jellies are pretty easy to apply IMO. I am so madly in love with this Color it's not even funny. It's squishy, shiny and translucent, but not at the same time. After Three coats it is perfectly opaque and there is no VNL. For some reason when I looked up at my rack Flurry Up! was demanding I layered it over this beauty and so I did... And I'm so glad I listened!
She also included this hawtness in there. This is Daring Imagination's Vampire Red. This is one of the few times I enjoy being so pale! These colors really pop on my skin and who doesn't love a hawt vampy mani? The formula is great on this polish. It is thin but not runny and it is very well pigmented. It actually has quite a bloody look to it. I only needed Two coats for evenness and the end result is an awesome deep Reddish- Maroon that is extremely sexy.
I love these two shades, especially Morning Glory. Again, a big huge thank you to Stephanie for sending these two amazing polishes and making my collection even more awesome!
<3 Cristina
Sephora by OPI Flurry Up!